Thank you for your interest in K0MD and my station. I enjoy contesting and Dxing.
My recent Club Log Totals
| Callsign | 160 | 80 | 60 | 40 | 30 | 20 | 17 | 15 | 12 | 10 | 6 | 4 | 2 | 70 | 23 | 13 | Total | Slots |
| --- | --- | --- | --- | --- | --- | --- | --- | --- | --- | --- | --- | --- | --- | --- | --- | --- | --- | --- |
| K0MD | 100 | 185 | 2 | 277 | 47 | 301 | 193 | 278 | 141 | 235 | 4 | 4 | 0 | 0 | 0 | 0 | 319 | 1767 |
CW is my main mode of operation but I also do SSB and RTTY.  Most of my operating is contesting. Outside of the contests, I try to stay in shape by running DX on 10-40 CW. I welcome calls from US/VE/Caribbean stations though and am happy to have a longer QSO on CW or SSB if you want one. I typically upload to LOTW nightly so you can find your QSO confirmed quickly.
You can get a nice view of my on the air activities by clicking on this link:

https://foc.dj1yfk.de/activity/K0MD

Home QTH: Rochester, Minnesota
Home Station Style: SO2R HP or Multi-2 style operation
Rigs: Icom 7800, Icom 7851, Elecraft K3s.
Amplifiers: Acom 2000a and Expert 1.3
Audio: W2IHY EQ Plus and 8 Band Audio Equalizer. This makes my audio much better.
Microphones: Heil 781, Heil headsets
Antennas: Primary tower is a Rohn 55 g at 130 feet with a K0XG rotating system. Second tower is a Rohn HDBX 48.
A rotating tower is the only way to mount all of these antennas efficiently. The above picture shows the array from the top down!
The 55g tower with the contest station antennas - 4/4/4 for 20, 7/7/7 on 15, 14/14/14 on 10 meters, 2/2 on 40 meters, 2 ele on 30, 4 ele on 17 meters and 3 ele on 12 meters.
The picture below this text highlights the antennas in the following order (Top to Bottom):
Force 12 Yagis include:
130 feet: Magnum 240 N 2 element 40 yagi
125 feet: C49XR multi-monobander for 10-15-20
80 feet: C49XR multi-monobander for 10-15-20
75 feet: New N6BT Magnum 240N, 230N
55 feet: N6BT 17/12 multi-monobander with 4 ele on 17 and 3 ele on 12 meters
40 feet: C49XR multi-monobander for 10-15-20
This translates into:
10 meters: 14/14/14 stack (at 125/80/40 ft )
12 meters: 3 ele at 55 ft
15 meters: 77/7 stack (125/80/40)
17 meters: 4 ele at 55 ft
20 meters: 4/4/4 OWA stack (125/80/40) on Rohn rotating tower - 0.5 dB less than a full-sized 6 ele
30 meters: 2 ele N6BT Magnum model
40 meters: 2/2 130/75 (Force 12 Magnum 240n + N6BT new Magnum model)
K0XG rotating base unit
All guys are Phillystran
My second tower (not shown) has the new N6BT SS3E - three active monobanders on a single boom at 50 feet with:
2 elements on 20 meters
2 elements on 15 meters
4 elements on 10 meters 
--This array is used as a multiplier antenna and my SA/Caribbean yagi for so2r contesting
80 meters: 4 SQR array using Sigma 80 vertical dipoles 
80 meter 4 SQR array with view to EU below in photo. Force 12 Sigma 80 vertical dipoles are used to make the Four SQR array. These require no radials and have a smaller footprint vertically than a full sized vertical.
160 meters: Magnum 160 vx2 vertical - seen in the background of above photo - It is electrically shortened and has 2 elevated radials.
Receiving antennas: Still sorting out.
Computer Logging: N1MM for on the air and back up the entire log into MacLogger DX Plus and LOTW
CW is my preferred mode of operation.  I use Begali keys (http://www.i2rtf.com) now exclusively. I have the Sculpture, the Signature, the Pearl and the Traveler Light. I have the Bencher BY-1 keys as back up but the Begalis are in a class by themselves.  If I had to pick only one - I use the Sculpture 90% of the time - it is a much smoother paddle than the Pearl or Signature.  The Traveler Light is an amazing and durable key for traveling. I do not use it for the home station. 
I am primarily a contester doing SO2R or M-1/M-2 events from my QTH and overseas. I also continue to work DX to add to my DXCC totals. I hold 7-Band DXCC, WAZ, CQ WPX and WPX award of Excellence, WAS and ARRL Triple Play awards.  I am working toward the Honor Roll. 
I also operate overseas in contests - VP5S, VP5/K0MD, CE2/K0MD  and in 2007 I worked the CQ CW WPX with B1Z. 
I have 319 DXCC entities worked (Club Log) and 316 confirmed (LOTW).  I have 7 Band DXCC confirmed and am closing in on 160 for DXCC status (75 confirmed). While I have been a ham since 1977, I started computer logging in 2007 and all awards are due to LOTW uploads with 82,533 QSO's uploaded and 48,367 QSL confirmations. 
The antenna farm as currently configured was a decade long process.  I put countless hours of analysis and thought into what was possible and feasible.  N6BV was helpful in setting up HFTA for my use and I analyzed every antenna at every height for sucess with DXing to Europe, Asia, South America and the rest of the world.  
I have to express appreciation to W0GJ for the inspiration to persevere, N6BT for making multiple trips to Minnesota to help me with the project and to build or re-build most of these yagis, to K9CT for the challenge to go for maximum gain and to a large number of local hams who helped me immensely - W0VTT, K4IU, W0SHL, NY0V, W0VB, W0AIH, Ernie Vielhaber and others.
K0MD - a few years ago at the start of the  project - I had no idea how much work and fun it would be...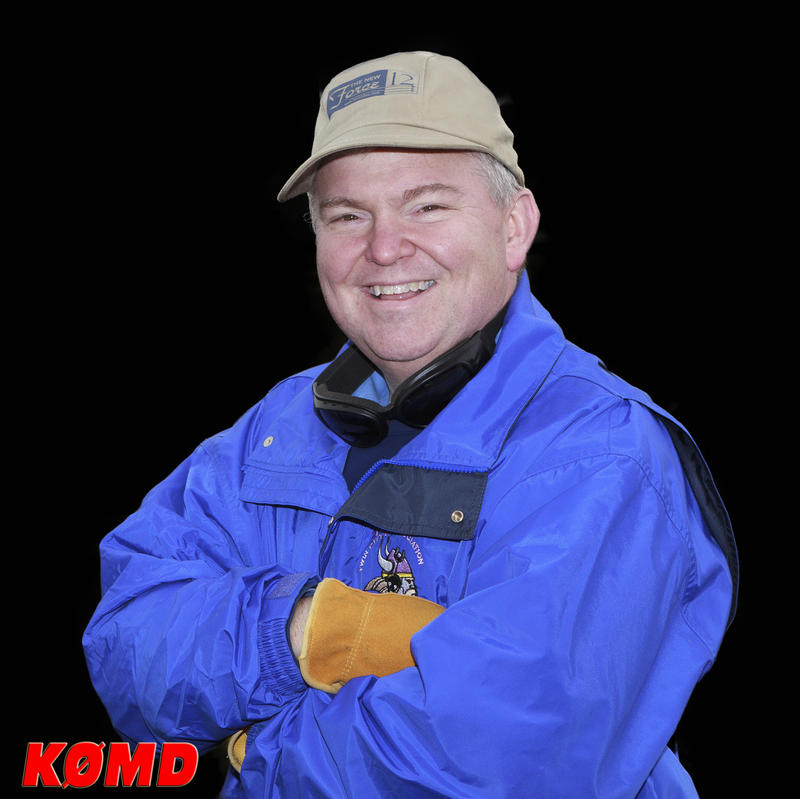 Home Station - K0MD - SO2R set up
80 Meter 4 SQR set up - Force 12 Sigma 80 verticals - designed by N6BT
-----------------------------------------------------------
Overseas Operations: I also enjoy operating overseas. I contest in VP5 with friends from the MWA - W0GJ, K4IU, AC0W, NY0V, WA0MHJ and N0HJZ and in Chile (CE) usually alone.
Chile Operations
I often operate in Viña del Mar at Hotel del Mar or Hotel Capducal. I also have been privileged to use the station of CE2AWW, as pictured below (Begali Pearl is my paddle that I brought):
Picture above is during my CQ WW CW operation in Chile - November 2014 @ CE2AWW's QTH
2016-2017:
The RF Noise at Hotel del Mar was higher than my Icom 7000 can easily tolerate so I have started operating at the home of a friend in Tunquen (25 miles South of Valparaiso).  The QTH is right on the Pacific, 100 ft above the Ocean waves. My Force 12 Sigma 40 xk performs very well there. The take-off angles for my antennas are perfect - located 100-150 ft on a cliff right above the beach and ocean. It is now wonder that a small vertical dipole can do so well at hearing DX from Europe and Asia as well as North America.
I operated in Tunquen again in August 2017 - the noise floor at this location is amazingly low. While band conditions were poor, I was able to work JA, TI5, HK3 and US stations. I appreciated all of the QSO's - it was clear that my 100 w radio did not have enough power to be heard in Europe despite the EU stations being S 5 to S 7 on the s- meter.  The time spent in Tunquen with friends was relaxing and the geography is lovely.
The trusty Icom 7000 and Begali key have been an awesome package for some relaxing DXing Holiday style!
Plans are to try a SVDA or my 2 element SteppIR Yagi for a future contest, once solar conditions improve.
December 2016
My friend Rienzi Diaz organized a BBQ so I could meet some Chilean amatuer operators and re-connect with others. 
Below Left to Right
Luis CE2LML, Scott - K0MD and CE2/K0MD, Matthias CE2MVF, Roberto CE3CT and Dale CE2AWW
Roberto is the chief architect of the CE3CT contest station and is a super contester. He is frequently joined by Dale and Matt. Dale is a Contest Hall of Famer and mentors many Radio Sport operators in Chile and Canada.  Matt is a young business man in Chile who will be a WRTC competitor some day as he is one of the top contesters in South America.
Luis retired from the Organization of American States as a top executive and spends six months each year in Chile to avoid the winters of DC.  He is always a welcome beacon of warmth from the Southern Hemisphere on CW.
Overseas Contesting Equipment:
I have used all of the following:
Icom 7600, Icom 7000 and Elecraft K3s - they travel well. 
Microkeyer II
Expert 1.3
Antennas: Force 12 Sigma 40 XK vertical dipole and/or a 2 element SteppIR and the antennas of VP5JM at her contest Hamlet in Provo for our team and individual operations at VP5 (Force 12 XR-5 and 240B yagis).
Chile: I frequently use a Force 12 Sigma 40xk vertical dipole on top of a local hotel. The antenna travels in a golf club case and the rig travels in my brief case. It is easy to assemble, low profile and loads across 10-40 very well, either with adjustment of the T-bar arms or by using an outboard tuner. Tom Schiller of N6BT.com has some newer versions which may perform even better. I am particularly interested in his vertical dipole that is a carry on antenna. I expect it performs much better than the minaturized antennas which are also advertised as carry on for vacation operations.
VP5 Contesting
Jody Millspaugh is a great hostess and her location is great for DX contesting. Contesting from the Caribbean is a blast.
I have operated VP5H during the ARRL DX SSB contest with my friends W0GJ, WA0MHJ and N0HJZ for several years.  Thank you to all who worked us!
I have led the VP5S team since 2013 for the ARRL DX CW and CQ WW SSB Contests. 
2013: We were a four operator group - K0MD, K4IU, AC0W, NY0V. We had a great time and enjoyed the contest.
In 2014, VP5S had K0MD, K4IU, AC0W and K0PC as operators.
In February 2015, VP5S included: K0MD, AC0W and K0PC for the ARRL DX CW Contest.
In October 2015, VP5S included: K0MD, K4IU, AC0W and W0BM for the CQ WW SSB Contest
October 2015 CQ WW SSB Team pictured below (Left to Right: K0MD, K4IU, AC0W and W0BM)
We used an Icom 7600 with an Acom 1010 for the contest. They were a great combination! The big secret is our location though. See the VP5S listing on QRZ for more details and QSL information.
2016: VP5S - K0MD, K4IU, AC0W and W0BM.
60 Meter operation - I credit the three hams above with making sure a 60 meter dipole was up and working. I made 60 meter QSO's with Eu, SA and NA during my time. All QSO's are uploaded to LOTW.   A special thanks to W8GEX for recruiting me to get on 60 and publicizing the operation before CQ WW SSB.
Organizational Support: ARRL, ARRL Diamond Club, ARRL Maxim society, ARRL Second Century club, ARRL Life Member,  Rochester DX and Contest Club, Minnesota Wireless Association, TCDXA, Missouri DX and Contest Club, NCDXF, Radio Club de Chile, Turks and Caicos Amateur Radio Association, Rochester Amateur Radio Club
DX Awards: DXCC, 7 Band DXCC, WAC, WAZ, CW DXCC, SSB DXCC, RTTY DXCC, CQ WPX Award of Excellence, WAS, 8 Band WAS, Triple Play award
K0MD was an official host station of W1AW during the June 2014 ARRL Centennial celebration as W1AW/0
---------------
QSL INFORMATION
For QSO's with me when I am operating outside of the USA, I request US and Canadian hams to send their cards directly (NOT via the BURO) with a SASE or a SAE with appropriate US postage/cash. If I receive your card without a SASE, it may not be answered in a timely manner unless you email me to request I send you a card. 
QSL's from non-US/Canadian Hams: I upload all of my QSO's to LOTW quickly. If you want a QSL, please send me a SASE and 2 $ USD or US postage stamps. The US Postal Service discontinued IRC's. My local post office accepts them for a few more months. I prefer US stamps or $2 USD to buy the International postage. If you prefer, you can email me specific requests and explain your circumstances if the postage is a financial hardship. You can also send me a QSL via the buro, I typically reply to all buro requests annually in May when I go to Dayton and drop them off at the ARRL booth. I am behind on opening buro packets at this time also. If you are in doubt, please email your request for a BURO QSL and I will fill it out and put it in the pile before I find your QSL as a courtesy. 
SWL - I get a few QSL cards from short wave listeners. I really don't know what to do with the requests. I am happy to send you a QSL card if you send a SASE. I do not fill them out - and I am uncomfortable returning SWL cards via the ham radio buros. Please email me if there is something you need other than a blank card.
*** All my QSO's as K0MD, CE2/K0MD, VP5/K0MD and VP5S are in LOTW. If our QSO is not matching, please email me to inquire about the QSO.***
For QSO's with K0MD, I do LOTW and paper QSL cards. I prefer direct with SASE but I also answer Buro cards, albeit late.
I do not do eQSL.  Try LOTW - Thank you ARRL!
DX Calls: BY1/K0MD, CE2/K0MD, CE7/K0MD, VP5/K0MD, VP5S, VP5H
Past Calls: WD4HAD (1977-1989), KF0FW (1989-1994), AA0PS (1994-1997), WK4W (1997-1998), AA0PS (1998), K0MD (1998-Present) and W0SAA (Rochester DX and Contest Club station)