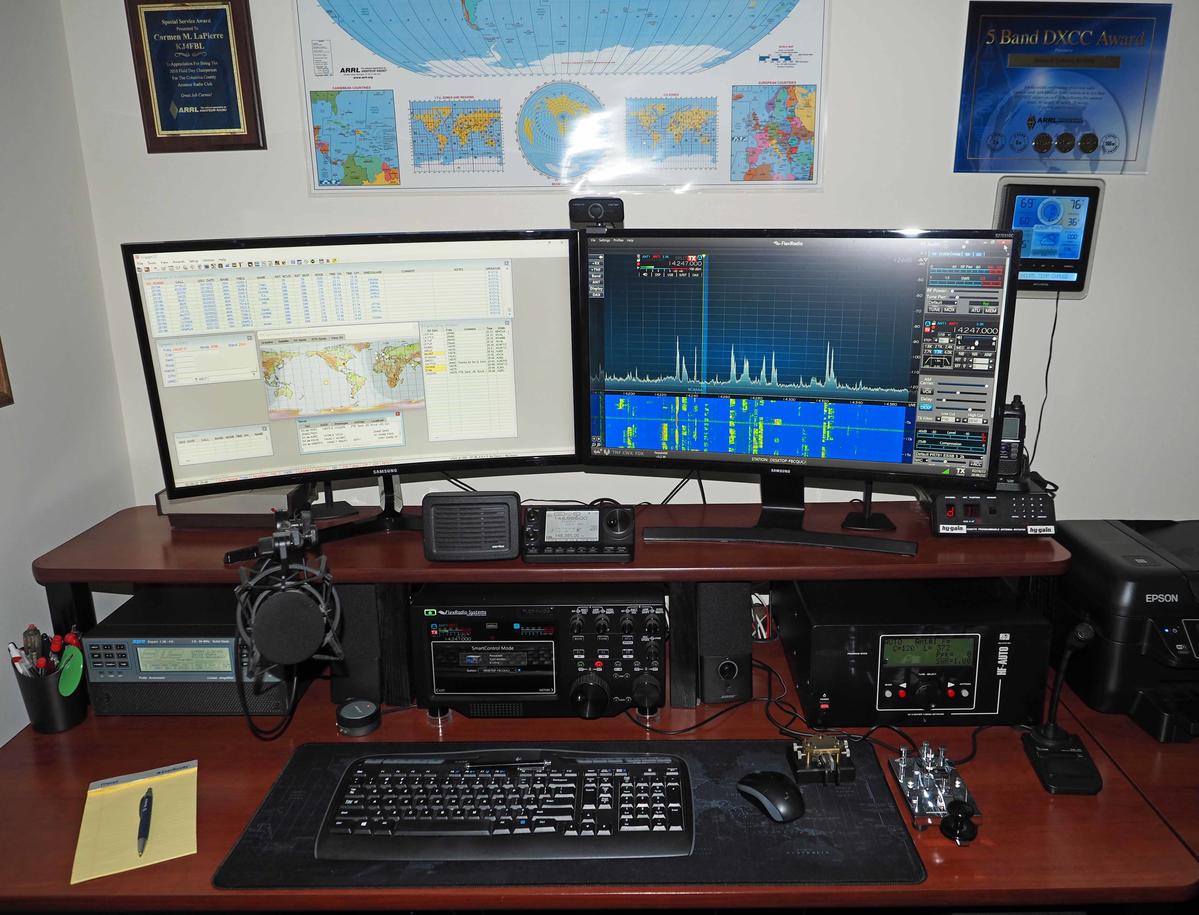 Pete and Carmen's Ham Shack
            Operating from Myrtle Beach, SC
I'm a former submarine sailor (Gato, Grayling, Teddy Roosevelt, Henry Clay, Will Rodgers, M.G. Vallejo, and COB on the Casimir Pulaski) of 25 years.  I originally licensed in 1959 as KN1OYQ and I am very involved with the hobby now that I am retired.  My wife Carmen is K4EQQ.  QSL:  LOTW is preferred or Direct.... In order to simplify my life - No Bureau, No eQSL, No QRZ, No Clublog ------ I'm too old to track and mangage them all ... Sorry.
Pete and Carmen's Ham Shack
Shack
Transceiver = Yaesu FTdx-3000D and Icom IC-7100

Power Supply = Jetstream 30A Linear Power Supply

Amplifier = SPE Expert 1.3K-FA

Mike = Heil PR-781 on the Yeasu and an Icom SM30 on the IC7-100

Speaker = SP2000 on the Yaesu and Icom

Headphones  = RS20S by Radiosport

IC-91A = handie-talkie FM and DSTAR

DVAP on a Raspberry Pi DSTAR Hotspot
Antennas
Hustler 6BTV =  80 – 10M with over 60 radials and 17 &12m add ons

Hexbeam  = 20 – 6M up at 25 feet on a rotator

Alpha Delta DXCC = 80, 40, and 30M at 40 feet

Active receiving antenna  =  Wellbrook ALA1530LN magnetic loop on a rotator used for 160- 10M receive.

2M/70cm = Diamond XN500HNA up 30 feet

Various Buddipole configurations depending on conditions.
Go Kit
FT891  - Amazing rig!   FT817ND backup.

Icom IC-4100 = 2M/70cm DSTAR and FM 50W mobile

Astron Pwr supply = 25 W

Battery = 33 amp/hr with RigRunner 4004 Anderson Power Pole distribution block with 2 USB ports mounted on a carry case

Tuner = LDG Z-100+ & MFJ-945E 80 – 6M

CW Keyboard Keyer/Reader  = K1EL K-42

Paddles =  American Morse KK2 

Antenna Analyzer – FG-01A by YouKits & MFJ 269

Buddipole Antenna System = 80 – 2m  - all kinds of configuration
Software
Logger32 = main logging and digital software program (PSK and RTTY)

Win4Yeasu

LP Bridge 2 = used to allow multiple software programs with rig control

DRATS = Digital Data for DSTAR

Expert Console = amplifier software for control and monitoring SPE 1.3K-FA

WSJT+ = digital comms

Various rig control and programming software 

N1MM+ for Contest
73
Pete K1OYQ & Carmen K4EQQ