Tranceivers 
Rohde & Schwarz XK2100L 150 watts 2-30 Mhz 
Kenwood TS480HX coupled with Remote Rig to operate HF base in Bogota, Colombia
Flex 5000a 100 watts 100 watts
Yeasu FT-847 100 watts used mostly on 6 meters and VHF SSB.
Amplifier
QRO HF2500 Max. 1500 watt
Antennas
3el Steppir Yagi at 43 Ft.
23 ft. Shakespeare Marine Vertical
Random dipole fed with 450 ohm line

Repeaters
I build and maintain VHF and UHF repeaters in various counties of Florida.
I work as VE coordinator for Marco Island hams who are very active in giving free Ham radio classes during the tourist season as well as testing sessions.
Much of my time is donated to the Marco Island Civil Air Patrol as communications officer for the past 12 years. We have built one of the better CAP communications centers in the USA.
Mobile Operation
Kenwood TS480HX 200 Watts Max.
Hamstick on large Mag mount on roof
2007 Honda Odessey van
BMW R-1150RT with Icom IC-208H dual band VHF/UHF
Newest version of operating position.  The TS480HX head with remoterig box runs the TS480HX body in my apartment in Bogota, Colombia.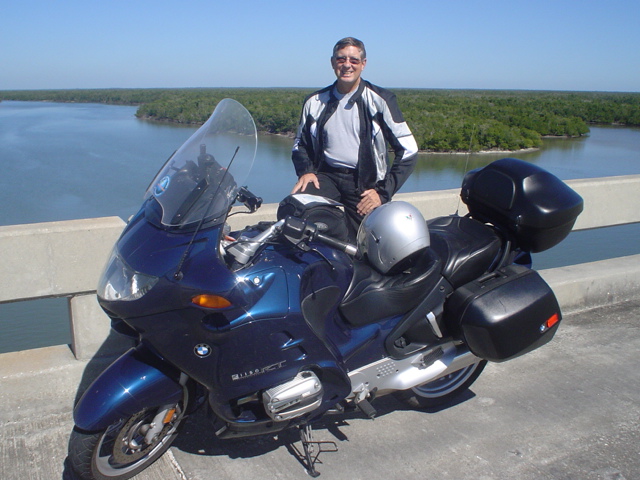 I survived 49,000 miles so far on various trips to Mexico and USA destinations aboard my trusty 2003 BMW R1150RT. Icom IC-208H keeps me in touch with fellow hams.
3el Steppir on 40 ft. Alumatower with 3 el Cushcraft 6 meter yagi and Comet GP9 dual band on top.
Osprey and other birds love my antenna. Osprey eat their catch and drop the skeleton and skin on the roof to clog the rain gutters.
South tip of Marco Island at Caxambas Pass
Marriot Hotel Complex Marco Island Beach
South Barfield on Robert's Bay
Marco Island Civil Air Patrol hanger where I have built and maintain various communications systems.
Version 2009 after various years of part time work on Civil Air Patrol communications systems with very limited funds. TS2000S can be run remotely via IP using Ham Radio Deluxe. Antenna is a 3 element Steppir at about 53 ft.  A long ladder line fed dipole on a SG230 automatic tuner covers all Red Cross, Fema, Civil Air Patrol and Goverment frequencies 2-30 Megahertz.