EDDIE PALMER------K4JP
Licensed ---------1955
Extra Class License  /  !st Class Radio Telephone
Live in Kingsport, Tn. in the summer and in Venice, Fl. in the winter.
Born--------Nov.14,1939
Retired and enjoyoing every minute of it.
Married to Wilma for 53 years, children all grown and gone.
Enjoy working on building and repairing two way radio equipment and repeaters.
Get Your Own Visitor Globe!
ing DX, building and repairing equipment.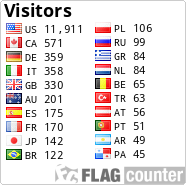 6255435 Last modified: 2015-07-16 00:26:51, 1154 bytes
Login Required

Login is required for additional detail.
You must be logged in to file a report on this page
Public Logbook data is temporarily not available for this user
United States Counties Award

#3323


Granted: 2016-07-25 01:04:45 (K4JP)



Endorsements:

250 Counties Mixed

100 Counties Mixed

250 Counties Mixed

United States Award

#1050


Granted: 2015-04-11 20:23:32 (K4JP)



Endorsements:

Grid Squared Award

#4569


Granted: 2015-02-26 02:58:17 (K4JP)



Endorsements:

5 Band Mixed

10 Meters Mixed




15 Meters Mixed




17 Meters Mixed




20 Meters Mixed




40 Meters Mixed




World Continents Award

#2185


Granted: 2015-02-09 01:35:03 (K4JP)



Endorsements:

5 Band Mixed

10 Meters Mixed




12 Meters Mixed




15 Meters Mixed




17 Meters Mixed




20 Meters Mixed




40 Meters Mixed




DX World Award

#654


Granted: 2015-02-04 05:21:55 (K4JP)



Endorsements:

5 Band Mixed

10 Meters Mixed




15 Meters Mixed




17 Meters Mixed




20 Meters Mixed




40 Meters Mixed