The Back wall is from the pages of the State of Maine Delorme Atlas Map that my wife wallpapered page by page for me.
    "Steve"
My Primary Radio is now the a "IC-7610" using a Icom SM-50 Desk Mic. or Heil Pro Head set. Also a ICOM 756 Pro with SM-20 Mic. A Elecraft KPA 500 Amplifier with Elecraft KAT 500 Tuner  use with the IC-7610 For digital modes I use a Tigertronics Signalink. Also have the  -Yaesu FTM-400 for 144 / 440 mhz. Mirage B 2518 G AMP / Jet Stream mobile for 220 mhz. /CS-801 for DMR Digital VHF. Using a Yaesu G-450A Rotor controller with New installed Hex Beam  also a /OCF Dipole up 70 Feet and on occaision a Hustler Vertical.. I have a Icom 7100 with SM-30 Mic for remote use while on camping trips or field day or occasional shack use.
New to the shack is the ICOM 7610    with a Monitor 
Just recently qualified and joined the Quarter Century Wireless Association #37594
---
Hexbeam below installed June 2017 with my son Ross and Clarence AA1PN
The tower with NA4RR Hexbeam is 14 Meters/45 Feet with a 13B2 Cushcraft 2 meter Beam and  a cushcraft 13b Beam underneath and a Tram 220 Mono Band vertical under that with a Home made N1STN 440mgz under that . 
Far Left, is my 80 meter dipole up 72 Feet(22 meters) and a OCF Windom up 72 Feet (22 Meters) Upper Right Corner.
Additonal OCF in a Horizontal V going South/West for a spare in case another Ice Storm takes one of my antennas down.
---
My first trip ever to Hamvention  was great this year with N1STN and KV1B. I was able to meet the W5KUB.com Celebrity and  Ham Radio Outlet Social Media Manager  Katie Allen  WY7YL  and took a selfie with her.
 
---
I also have a ICOM 7100 for field and event use.                        
Below is a clip from page 20 of the November, 2016 issue of QST with myself participating in the antenna shooting contest at a local Hamfest where I shot the capsule 150 feet and hit the white that was only 3 or 4 inches wide.
The City of Belfast, Maine "below" is about 8 miles from my Home in Knox, Maine
I live in the small Town of Knox, Population (850) about 8 miles West of the coastal City of Belfast, Maine (Above) on Penobscot Bay.
I operate both DX and Local HF with some digital modes along with 2 meter. I usually participate in the annual ARRL NovemberSweepstakes contest and maybe one or two other contests throughout the year. My digital mode of choice is  JT65.
Using only 100 watts with wire antennas for over 20 years, I finally purchased a Elecraft KPA 500 in 2015 and enjoying that using mostly 20 meters and my OCF windham up 70 feet. or Tower with Mini Mini Mosley 33-A with the 12 and 17 rotatable dipole elements.
Overall Winner in the Annual Wireless Society of Southern Maine 2 Meter Simplex Challenge in the First three Years of existance. 2011,2012,2013 and again in 2016 with a record 95 Towns contacted using simplex 146.580 MHZ
First place for Maine Section (low power) in the November ARRL SSB Sweepstakes in 1996,1997,1998, 2013,2014
I am a member of ARRL and the Waldo County Amateur Radio Association of Belfast, Maine ( N1TN ) Like us on the our Waldo County Amateur Radio Association Facebook page.
---
Below is my Hustler Vertical 5BTV, I use on (10-15-12-17-20 Meters) My elevation is around 350 Feet above sea level.  I have many tall trees around me  on my 20 Acres of property, good for holding up my wires.
Below is a drone Photo with my Phantom (my new hobby) of my Home Sept. 2 2017 with the Hex Beam that was installed on June 11, 2017
My 2013 visit to the ARRL Head
quarters in Newington, Conn. with Me (KD1O) operating the W1AW Station in the original Building that I am standing to the side of. The actual headquarters is beyond the parking lot that I received a tour of. (not shown)
Below, I am Operating the W1AW Station at ARRL Headquarters in July 2013
Below: Jay ( N1RWY ) and I (KD1O) opertating 20 meters and 40 Meters JT65 using W1AW/1 MAINE during the week long Maine  Op's of the ARRL Centennial Celebration . (2014) Made over 1300 contacts for the weekend
(Above) My gift received from the ARRL for WAS & Participation in the W1AW/1 Maine 100 Year celebration
 (Below) Myself  (KD1O) Right/ with Fred Loyd ( Founder and CEO of QRZ.COM) at the ARRL Centennial Convention July/2014
Equipment ----Jetstream 220/Icom 756Pro/Two meter mirage amp/Yaesu Dual Band FTM400/Yaesu G-450A Rotor controller-Elecraft KPA500/ Amp-Kat500 Tuner/Yaesu FTDX-1200/Accurite Weather Station/ Also not shown/Yaesu FT2D/DMR Tytera MD380/Yaesu-VX8-/EC 12135 Power supplys-Using Alpha delta Antenna Switches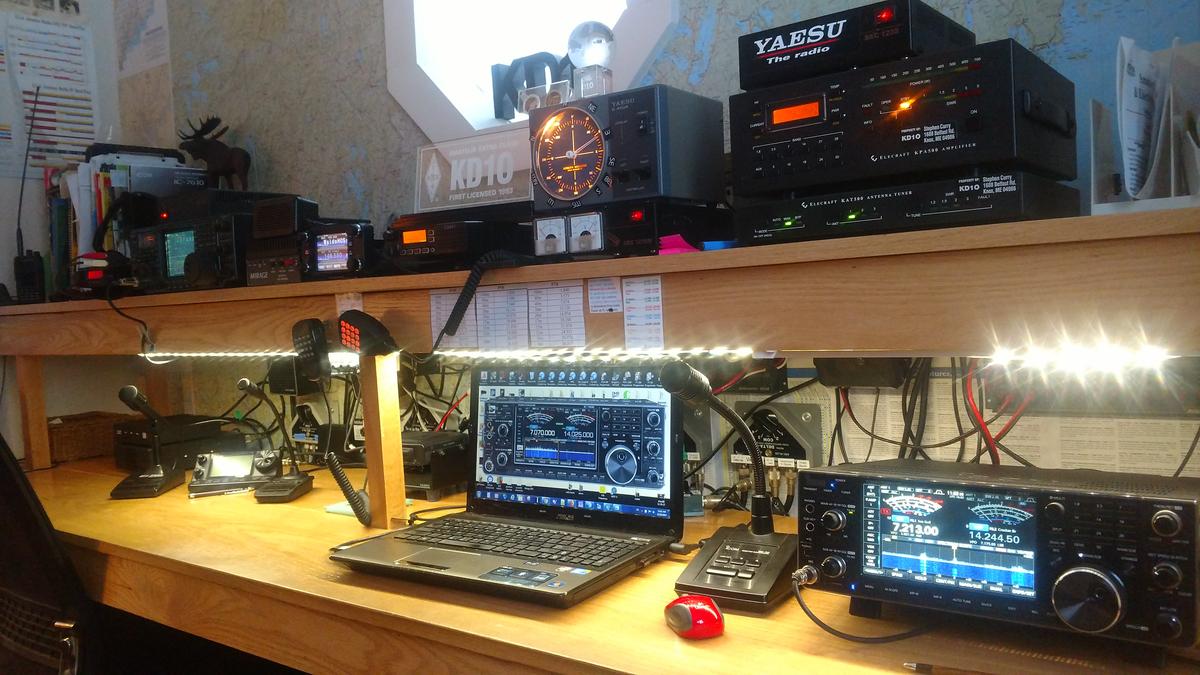 I now have two DMR VHF transceivers. (No UHF Here in Maine) TYT-MD-380 Hand Held and Just installed , Connect systems 801 next to my Yaesu FTM400 Dual band (Below Photo).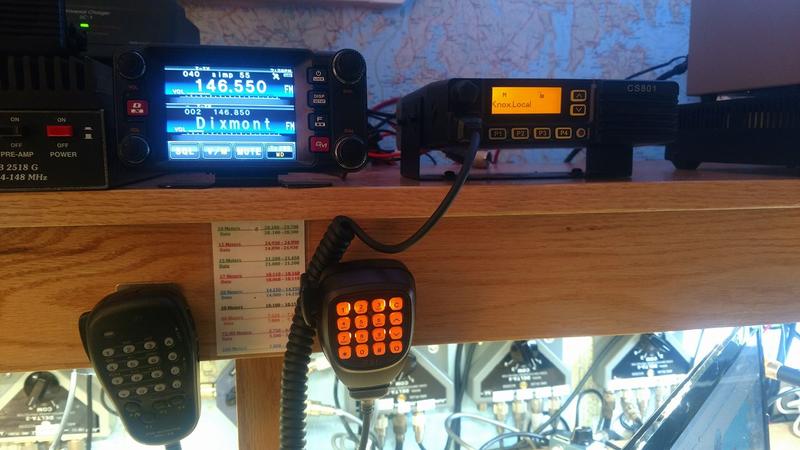 My 3YO Grandson on my Two meter rig. I'm in hopes he will carry on the tradition.. Also, my ICOM 756pro with SM-20 Desk Mic
Another Photo of the Belfast, Maine/ Penobscot Bay a few miles from my home. Taken by N1PBY
With Multi Antennas and radios, I wonder if I have created a too complicated switch sytem.
Enjoyed first trip to Hamvention this year at the Green County Fair Grounds and already have reservations for next year..
 
 

Another great Drone Photo by BOB N1PBY of Maine Foliage of Beech Hill, Northport Maine

Below: (Photo by KV1B) is Myself, KD1O at the most recent Antenna shooter contest held in Hermon, Maine . June 2017, Sponsored by the Pine State Amateur Radio

My Wife took a phone picture below with a little bit of editing fun

Looking forward to the next trip Hamvention. Xenia Great little Town to spend time in

I finally after many years of delay and thought, took the plunge and became a life member at the September 9, 2017 New England Arrl Convention