Hello, my name is Don. I was  licensed in 1993 as Technician and was inactive with no station except a 2M Icom IC-T2H HT until I upgraded to Extra Class in January 2015 when I decided to become more active in the hobby.
For base radios, I have an  Icom IC-7300 HF Radio with an LDG Z-11ProII  Autotuner and a TYT TH-7800 Dual Band 2M/70CM . I really like the IC7300 which I upgraded from the IC718. The Spectrum Scope and filters make everything so much easier.  For porable operations, I have a Icom IC-706MKIIG HF/VHF/UHF which I use in the my camper.  I also recently added an Ameritron AL-811H (800W PEP) Linear and a MFJ-962D Tuner in line also. 
I don't get on the air much on 2M/70CM except to participate on local Emergency Nets and an occasional QSO.  I mostly just listen to the local repeaters; however, I am set up on VHF Packet using a  Kantronics KPC-3 TNC. 
On HF, I  like to DX in digital modes. As mentioned, I added a linear to boost signal a bit as needed when I am having QSO's. 9dB of gain helps in some cases. I am a member of OMISS (#11424) and like to join the nets occasionally. I  do prefer the digital modes  over SSB phone and I am learning more all the time with the digital modes. My PC, HRD/DM870 software, and the direct USB conection on the IC7300 make it  so easy to use digital modes. PSK31 is my favorite so far with MFSK16 and RTTY close behind.   
When mobile, I use a TYT TH-9800 Quad Band and external dual band magnetic mount antenna.  I picked the TYT because it crossband repeats which is useful for extending my range when I am camping and hiking within range of my truck using my HT (Baofeng UV-5R or Wouxun KG-UV8D).
Pictures of my base radios (racked in a roll top desk in my living room), the antennas, and my mobile setup are below. I have been experimenting with different "homebrew" antennas over the last two years; however, looking for better performance, I  bought a Hy-Gain dual element tri-band (20M/15M/10M) antenna and rotor. It was  a compromise  with the shorter boom and only 2 elements, but it was as large as I dared go on my house. I could just never get it high enough to get good reliable DX AND IT DID NOT SUPPORT 40m.  I took it down for Hurricane Irma and decided to not put it back up. To replace it, I bought a Hustler 5BTV Vertical which I installed with a good radial field. I am using a RadioWayz DX80 (10M/20M/40M/80M) OCF Dipole as well (which was a free bonus when I bought the IC7300). The DX80 seems to work well but the 5BTV is much better for DX. I plan to leave that up with the Hustler 5BTV for regional reach. So far, the 5BTV is performning very well and reliably makes contacts in the Americas, Africa  and  Eastern Europe as far as Russia barefoot on 20M and 40m . Hope to get a little further now with the AL-811H online.
HAM Radio is just one hobby of a few I really enjoy. I like to ride my KTM dirtbike, Victory Kingpin cruiser,  hunt, fish, camp, shoot , PC's,  and SCUBA diving, but this is a HAM website so I won't bore you with those details. I have been very blessed in life with a great wife, 3 wonderful children ( 2 grandsons so  far) , a great technical career in Aerospace Industry (presently a Program Manager) and good health. I am thankful to the Lord for His many daily blessings. (Joshua 24:15b) 
I look forward to our QSO whether phone or digital. If you catch me on the watertfall calling CQ... be nice and say hi. 
I will return confirmation on QRZ.com and  QSL via LoTW and eQSL.cc (AG). Pics of my station and antennas below. 
73's
KE4EVL 
My Radio station:
A Pic of the AMP and Tuner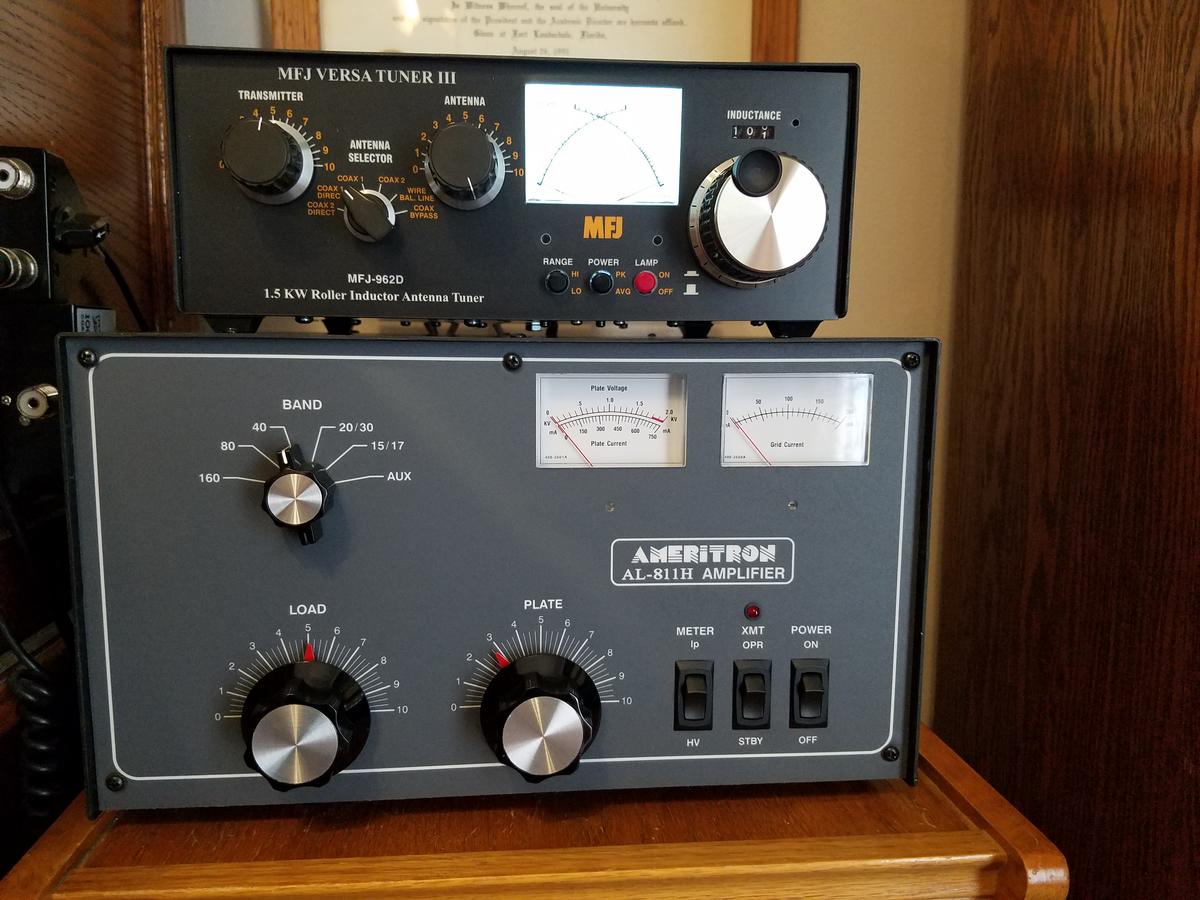 The Go Box with the IC-706MKIIG. I take the Netbook and Signalink with it to run difital modes.
The view of the antennas from the front yard. The Dual element antenna has been taken down recently.
Following is my Hustler 5BTV Vertical.  I installed it with radial 16 32ft  radials.  So far, it seems to be doing real well on 20M and 40M. 80M has a real narrow (50KHZ) Bandwidth, but work great. I have it tuned for the upper phone section of the band. 10M and 15M  seems dead most of the time, so I haven't used it on those bands yet, although they are tuned. 
All the ground radial connections. 
Here's a pic of my 2M/70CM vertical and the Dual Band Yagi (3 elements on 2M and 5 on 70CM) with the HyGain TH2-MK3 in the background. I can manually rotate this pole when needed for the Yagi.  The pole is also telescope using the same size piping I used for the Hy-Gain. The last 6 feet of it is Schedule 40 PVC however.  Vertically mounting the Yagi against a conductive pole would not be a very good idea. Given both antennas are very light, the PVC handles it well.
Here is a Pic of my Mobile HF setup in my homemade Toy hauler RV with the ICOM IC-706MKIIG and the HyGain AV-18VS with Wolf River loading coil on the outside for 10M through 80M. It works really well with the steel frame and all aluminum skin on the trailer as the counterpoise. I have a Signallink and laptop for digital I take with me if I want to run digital. I also carry an LDG Auto Antenna Tuner and some wire antennas I can throw up in trees if I am camped somewhere where that is possible. I use the house batteries which are solar charged to run everything. 
My Mobile setup. The TYT TH-9800. I really use it for 2M-70CM but like the extended ranges to monitor CB channels and the 10M and 6M FM bands. I didn't want to put a quad band antenna on the truck for the rare times I may want to use those bands for transmit.  I am impressed with the TYT radios. They seem to perform very well, especially for the price.