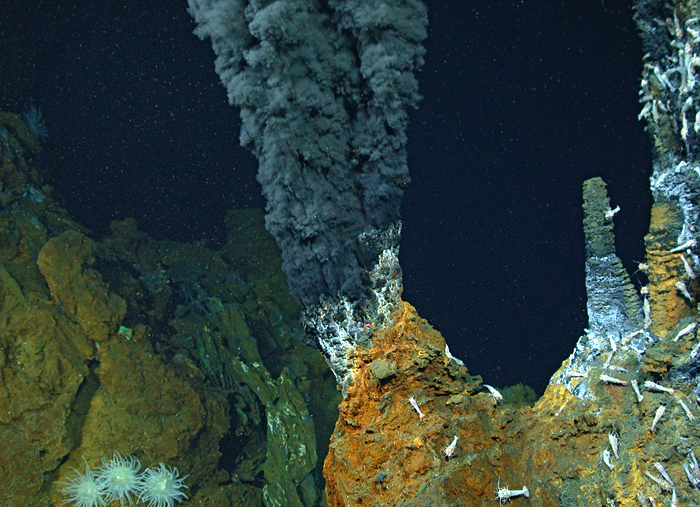 CROESO (WELCOME) TO THE COPPER MOUNTAIN STATION!
A 440 million year old hydrothermal vent that, in the late 18th century, was the largest copper producer in the world
Warping the fifth dimension since 1997. 
Anglesey was named by the Vikings in the 10th century A.D.  The 'ey' part means 'island' in Old Norse.
Photosphere immersive image here.           A short history here.
SCAMMING: If you get emails about money from me, it's not from me!   QSLing: LoTW usually uploaded daily.  NO EQSL NOW.  No Bureau!
Acid mine drainage harbouring plenty of bacterial life, at a typical pH 1, underground Parys Mountain. Copper from here went across the world - and clad the hulls of Britain's timber warships. The mineral Anglesite (PbSO4) was named after being discovered right here!
My Interests include astronomy, middle and upper atmosphere research (noctilucent clouds and PMSE) and most aspects of science. I have been a regular contributor to Astronomy Now magazine for over 20 years. I was elected a Fellow of the Royal Astronomical Society in 2012, but since left as I don't agree with paying society managers £70,000 a year!
[Above: Using the radio in aviation is much more disciplined than on the ham bands! You can see the narrow (seawater) Menai Strait, which separates Anglesey (left) from the Welsh mainland]
[Below: Early days of operating FM satellites.  All antennas are homebrew timber-and-wire, using 4W handies; we enjoy very early horizon-clearing of sats, allowing good trans-Atlantic working.]
[BELOW] Marconi Station at Cefn Du, a few miles from here, where the first ever direct QSO with Australia (at Wahroonga) was made on 22nd September 1918, where mutual sentiments of gratitude were exchanged for each nation's part in the Great War. It took 160kW to do it! The photo on the right shows the matching inductor for the 1100 metre long inverted-L antenna system, keyed remotely from the receiver site, several km to the south. Operating frequencies varied with experimentation, but were typically about 50-100kHz. Steam was often reported to rise from the ground beneath the antenna during winter!
I work DX with this simple 20m homebrew delta loop with apex at about 8 metres. It was initially corner fed with coax and a 4:1 voltage balun.  Years later, I changed it to be fed 0.08 wave up from the bottom corner, with 300 Ohm twin running to a 4:1 current balun.  On obtaining an analyser (SARK-110), which gave an accurate assessment of system impedance (275 Ohms), I obtained a perfect match with a 6:1 voltage balun.  I prefer current baluns, but a 6:1 unit made professionally gave a slightly higher resonance point, so I've stuck with my homebrew voltage unit!  The loop is very quiet on receive, and resists strong winds very well. Sections are kept in place with Spiderbeam 'jubilee' (hose) clips and rubber pads, placed at the bottom of each section, and never slip.
[Below] ARRL Terrain assessment, beaming North America (blue) and South America (red) with my 3-ele Yagi for 12m.  It's a good place for radio, but note how the intricacies of terrain have big effects upon the gain at low angles.
[Below] 12m is a lovely band for DX. This Innovantennas loop fed Yagi, seen against a midsummer noctilucent cloud display (it's not cirrus!), gives excellent results, and resists severe gales throughout our winters.  Hats off to Kenpro's rotator, which is about 30 years old, still withstanding, and rotating in, regular hurricane-force winds.
[Below] Spare-time activity often involves magnetic loop construction and experimentation, working alongside G3JKF, who has perhaps the best multi-loop array to be found anywhere.  Here's a big, three (parallel) loop array of about 4.5m circumference for 60m-10m, and a tiny loop, 1.5m circumference for WSPR tests at 21MHz.  A 17-500pF vacuum capacitor adjusts the tuning for both, and both are fed with a pseudo-gamma match (no 'Faraday' loops used here!), via a 4:1 balun.
[Below:]  Being at just 53 degrees north doesn't mean we don't see the aurora!  In fact, we see auroral glows on very many nights of the year, but big displays like this 'St. Patrick's Day' aurora of 2014 are limited to solar cycle peaks, two or three times a year.  I've managed good SSB aurora contacts on 6m with just 80W and a 2 element quad - one just has to speak clearly and s..l..o..w..l..y.., and not use a narrow beam, high gain antenna.
[Below:] The narrowest point of the Menai Strait (Anglesey on the left), showing Thomas Telford's world-famous Menai Suspension bridge (1826.) The strait is a series of about three ancient fault lines, which from time to time slip to cause brief tremors up to about magnitude 6.5 (e.g. 1984); smaller events about M 3.0 happen every few years (e.g. 2013.)
[Below] Some national science broadcasting on BBC Radio 4 during 2010 and 2011.
[Below] 46.5MHz array at Capel Dewi, Aberystwyth. 160kW pulsed (5% duty cycle max.) Operated by the Natural Environment Research Council, this MST RADAR examines the atmosphere up to about 85km, and I have the pleasure of collaborating with this facility (image credit: NERC) I also work with IRF Kiruna, Sweden, and even with the Australian Antarctic Division, examining the distribution of dust in the stratosphere after the Chelyabinsk meteorite event in February 2013.
[Below: SKiYMet meteor scatter (decay rate = derived mesospheric temperature) RADAR at Esrange, Arctic Sweden. Image: Nick Mitchell/University of Bath (approx. 2kW pulsed)]
[Below] My summertime research - noctilucent clouds at 82km (mesopause level) capture sunlight and reflect it forward to the observer during the summer twilight period. There are no known records of NLC prior to the mid-19th century, and a link with climate change is strongly implied. This shot looks north out over the Irish Sea towards the Isle of Man. The clouds are several hundred kms away.
Other activities over the years have included Wales-wide aerial archaeology surveys, where perhaps the best discovery was of several Bronze Age burial mounds on the north coast of Anglesey (seen in a line, below the farm buildings.)  These were previously entirely unknown, but lie in close association with a known standing stone and a known small settlement, visible as a ring to the centre left of the image.
Usual award stuff: