SWL since (1979) SP6-15039-OP, SP9MDY since 1981(CEPT class 1), I like CW, my first QSO 13.06.1981at 19.19utc with OK3KFV in CW, im also chief operator of SP9KJU Club st. (SN9K /SN10P / 3Z900R / SN0RC / SP0KJU / HF2010FCY / HF2012EFC / SN330VW / SP50KJU / HF31ROT/ SN1050KJU/ HF800RC). Also member SP-CW-C 036, SP-DX-C 615, SP-CONTEST CLUB and PZK. My equipment IC730 , ant : Dipole for 80m and 1 el.Delta Loop for 40m and up. Qso with me give point for polish awards : G - for POLSKA awrd, RC - for SP-PA award, RC07 - for PGA award ( http://www.awards.pzk.org.pl / - info for awards).
More info and photo of my expedition with radio (and my Club SP9KJU) -
https://picasaweb.google.com/110395185778207420153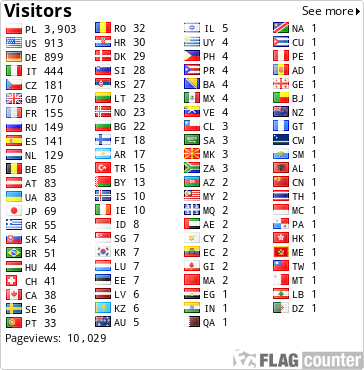 8169427 Last modified: 2017-06-19 21:17:17, 1967 bytes
Login Required

Login is required for additional detail.
You must be logged in to file a report on this page
Public Logbook data is temporarily not available for this user