Please Sign my web contacts! 
 Thanks!
IMPORTANT. THE LAST PAYPAL QSL´S WILL SENT ON JANUARY 2018 VIA MEXICO MAIL. PLEASE DON´T SENT QSL´S CONFIRMATION VIA MAIL TO MY COUNTRY, THE POST OFFICE DON´T WORK, IS CLOSED.
THANK YOU FOR OPPORTUNITY TO CONTACT YOU. 
SORRY NO BUREAU (I DON´T MEMBER) NO ELECTRONIC QSL PLEASE ONLY PAPER . TG9AHM averages 15,000 QSO´s per year. If you don´t want sent your QSL card to me then use PAYPAL, (u$ 3.24)  will OK to me, my mail to deposit is: tg9ahm@yahoo.es
THE REPORTS OF S.W.L. STATION ARE WELCOME !
(I always visit thePost Office the last Friday of month)
THIS IS MY RADIO SHACK; ON THE PICTURE GUGLIELMO MARCONI 1874-1937
April 25th. INTERNATIONAL MARCONI DAY .
SHACK II FT DX 5000 FT DX 3000
 Diana Maria and Rocio Alejandrina.
                          Diana María, Rocio Alejandrina, Ana Lorena & Diana Leticia.
TRANSCEIVERS: YAESU FT 2000 (ALL DIGITAL MODES), YAESU FT DX 5000 (PHONE 10-12 and 15 METERS) YAESU FT 2000 (2) (ONLY PHONE 17 METERS) YAESU FT 847 (ONLY PHONE 20 AND40 METERS) ; MICROPHONES: YAESU MD-100 MD-200
ANTENNAS: SOLARCON A-99 to: 10-12-15 and 17 METERS , DIRECTIONAL MONSLEY TA33 ONLY DIGIMODES 10-15-20 METERS and DIPOLE to 40 METERS, HUSTLER 6BTV 20 METERS PHONE.
EXTRAS: PC DELL PENTIUM IV AND DATA MANAGEMENT UNIT YAESU DMU 2000. INTERFACE HANDMADE (EB4FMT)
MEMEBER: 30MDG2401 EPC7718 DMC411 TGzone001 Hell1785
IN THIS DAYS MY FAVORITE MODES ARE BPSK-31 on 10, 15, 17, 20, 30 and 40 METERS; HELL and MFSK on 20 METERS; also PHONE on 10, 12, 15, 17 and 40 METERS. CQ ZONE: 7 ITU ZONE: 11 GRID SQUARE: EK44ro EK44ro.
I AM 58 YEARS OLD (01.01.1960). I AM A LICENCED RADIO AMATEUR SINCE 1992. I LIVE WITH MY FAMILY AND PETS IN GUATEMALA CITY.
PUPPET (30.07.2008)
ENJOY !! MY PETS CHESTERFIEL & PUPPET ON VIDEO:
http://www.youtube.com/dmmm27#play/uploads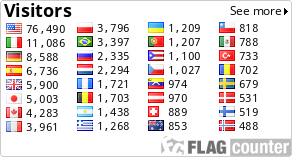 MR. CHESTER
ALL THE BEST TO YOU AND YOUR FAMILY, MANY HEALTH and DXs IN 2,018 de TG9AHM.
Large Visitor Globe
SKYPE INFORMATION: TG9AHM
CHECK THE PROPAGATION NOW !!
https://www.hrdlog.net/graph.aspx?type=p&square=1&pid=Sat%20May%208%2021%3A00%3A12%20UTC+0300%202010
REGARDS. 73's
EMMANUEL H. MIERES