FOLDINGANTENNAS.COM in first picture, damaged by me, the NA4RR replacement in the next two.
Welcome, thanks for looking me up!
The picture is of Engine #2 where I ride as a Lt. at Station #2 pictured below.  This is the newest of the 4 stations that Schenectady has. You may catch me on the air, remote from the firehouse. 
CURRENT PROJECT.....  Remote base stations.  1 for HF, 1 for VHF.   HF mobile is awesome, but it's also a hassle, especially in the NE winter months.  Next best thing?   HF while mobile, but remote back to the base station!  I'v used netbooks, utilizing my WiFi hotspot on the phone, a headset and VOX with good results.  HOWEVER!   It's cumbersome.   In my ever continuing quest for simpler operations without performance compromise I found RemoteHams.com  They have some great software, including an Android app.   Find my stations on the air at the link, unless I'm using them, of course.   I have one HF 6-80m and a local VHF for simplex and the K2AE Schenectady NY Repeater, along with some others.
I operate phone, CW, and digi modes, mostly CW.
Will be trying to work HF QRP with a FT-817 from around during openings on the higher bands. Can't wait to see what happens. Hoping to be able to work some digital QRP also.  I've added a Wolphilink interface, and some Android digi software in order to be able to acomplish this. 
Special thanks to K2UYK, W2XAD, W4AFD, NY2U, K2HAT and so many others for helping me along the ham path.
I will QSL 100% via the buro for international friends and direct for domestic. NO SASE required, you pay your way, I'll pay mine.  Happy DX!
Triple Play Award
WAS in CW, Phone, and Digi!   Chased HI for over a year on digital, finally was able to grab them on RTTY and confirmed on LOTW.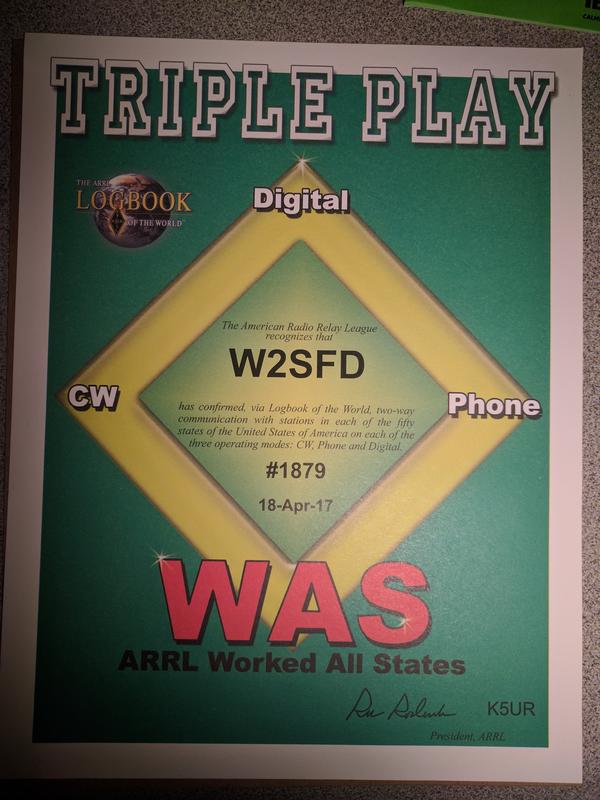 Large Visitor Map
2017  Contact Map
Last updated 4-29-2017
Rolling over the pins below will bring up a little QRZ info on each contact.
73, de W2SFD