Note, if we worked on jt65 and/or jt9 between 2014 and early July 2016, I am now at a new QTH in an adjacent grid (DN14), so feel free to work me again!
Completed WAS Digital on 80 meters 7/14/17!
First licensed July 1994 as KC7DRL. Upgraded to extra in the spring of 1995 and applied for a new callsign and got AB7IZ. Snagged vanity callsign WR7X in May 2002. Formerly from northeast Washington (DN08/DN18), I moved to Pendleton, Oregon (DN05) in May 2002.  In May 2010, I moved to Canyon City, Oregon (DN04).  In July 2016 I moved to Baker City, Oregon (DN14).
WR7X callsign previously belonged to Burns M. Landrum (1928-1995).
You'll probably hear me answering calls in various contests on SSB, I'm not much for ragchewing.
My setup includes a Kenwood TS-480SAT, an Icom IC-706MIIG, a Yaesu FT2D dual band handheld, and my lastest addition, an Icom 756Pro.  At home I use a Double Bazooka on 80 meters, a G5RV on 40 through 12 meters; a Moxon on 10 meters; and a Cushcraft 3 element on 6 meters.  I also have an old Antron 99 vertical I haven't put up yet, waiting for 10 meters to open up again (I might be waiting awhile, hi hi).  For VHF portable ops I take a Cushcraft 3 element for 6 meters and a Cushcraft 10 element for 2 meters.
11/7/2014 made my first JT65hf contacts.
12/18/2014 made my first JT9 contact.
7/20/2015 I made my first SO-50 satellite contact.
7/13/2017 I made my first FT8 contact.
I use LOTW and eQSL.
This was my first 'serious' attempt at VHF Contesting, January 1995.  I didn't have a SSB rig yet, so all QSOs were FM!  I had to do a lot of recruiting to get folks over on simplex, and this was before ARRL allowed contacts on 146.520.
A little bit more serious on this one!  June 1996 ARRL VHF Contest.  By now I had separate SSB rigs for 6m, 2m, and 70cm.  The one you can easily see was the 6m rig.  Operating from 5800' on Stensgar Mtn. in DN18.
Operating from Sherman Pass, 5575', DN08 during the January 2002 VHF Contest.
Working the 6 meter Sprint in May 2002 from Tiptop Mtn. in DN05.
Some chilly January VHF Contesting atop Emigrant Hill in DN05.
Same location as above with much warmer weather during the June VHF Contest.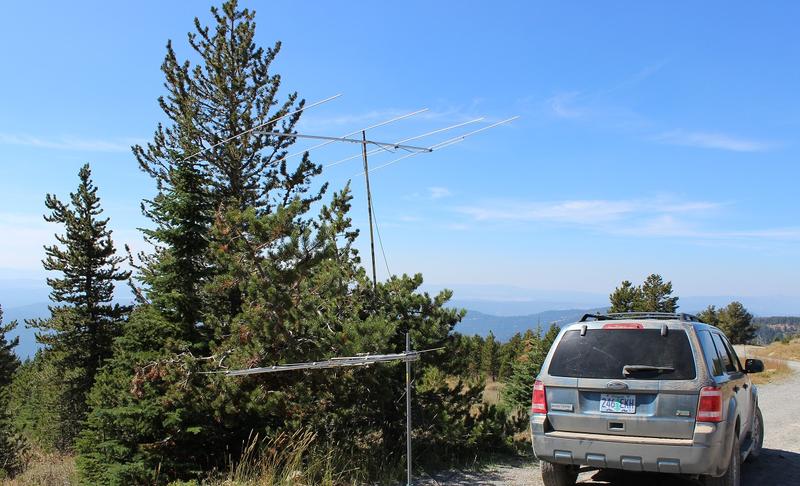 September 2014 VHF Contest at 8000' in DN04 at High Lake trailhead.
September 2016 VHF Contest at 7400' in DN04 along the Anthony Lakes Scenic Byway.