" ALL QSL-CARDS FOR XE2i, ARE ANSWERED "
IF YOU DO NOT RECEIVE MY QSL, SEND ME AN EMAIL, PSE.
AMATEUR RADIO SINCE 1978.
EX - XE2JNE,4B2SOL,4A2FN,4B1PAZ,XF4IAB,XF1SI,
XF1G,XF1M,XF1F,XF1P,4A2I,4C2L....
RADIOOPERATOR OF  RADIOMARITIME STATIONS MÉXICO.
XFM MANZANILLO, COL.
XFY GUAYMAS, SON.
XFK LA PAZ, BCS.
AND RADIO MARITIME MOBILE CALL SINGS.
XCTI M/V AVE DE TAITHI, 1965-1966.
XCDA M/V DON LORENZO, 1966-1967.
XCCM M/V COLIMA 1967-1969.
XCSN M/V SANTA TERESA, 1969.
XCMA M/V MORELIA II, 1970.
XCLP FBT LA PAZ, 1974.
La Paz., Baja California Sur, México. Julio 2014.
N & F
My career in telecommunications began in 1966 as a communications officer in the Mexican National Merchant Marines. That same year I developed the desire to become a ham radio operator and I began to practice from the ships that I served on. In 1968 I obtained my commercial radio telephone license number 1112 from the SCT (Secretary of Communications and Transportation). I functioned as a marine radio operator with the ships; XCTI, M/V Bird of Tahiti, XCDA, M/V Don Lorenzo, XCCM, M/V Colima, XCCM, M/V Cementos California V, XCSN, M/V Santa Teresa, XCMA, M/V Morelia II and XCLP, FBT/ La Paz.-
In 1978 I obtained the call sign XE2-JNE certificate number 3548 and in 2006 the SCT granted me the call sign XE2-I as a result of the SCT-COFETEL competition for the first contact with "9V1YC" of Singapore.
I have also participated in many ham radio expeditions to islands. The following represents the main ones; Whale Island, Revillagigedo Island/XF4IAB, San Ignacio Island/XF1SI and Guadalupe Island/XF1G, but the most extraordinary one was located in the Pacific Ocean N 29°11´ by W 118°16´ as was authorized by IOTA England.
In 1990 I obtained the ADJ/CW/Japan and in 1991 was the Mexican national first place station in the CQ WPX CW World Contest as 4A2FN (special station designator) with 348,672 points (See CQ Magazine 5/92). In 1992 I was the Mexican national first place station in the CQ WPX CW World Contest with 708,500 points (See CQ Magazine 5/93). In 1993 first place with 1,033,155 points (See CQ Magazine 5/94). In 1995, I earned the WAXE/CW certificate, and the Mexico/CW Diploma and the 6Z6/CW certificate and in 1996 the WAS/CW/USA certificate. In 1998, 2000 and 2001 I was the Mexican National Champion in the CW competition of the Federation of Experimental Radio Organization.
Annually I offer support and advice to the SCT and the Baja California Sur state government in times of national disasters such as hurricanes. In addition, I also advise the federal and state governments on matters relating to radio, television, rural telecommunications and satellite services
"I PUT THIS SPACE FOR THE WORLD TO SEE, A SPECIAL RECOGNITION TO NOEMÍ BRISEÑO DUEÑAS, MY GUIDE AND STIMULUS IN THE FIELD OF TELE-COMMUNICATIONS".
I am 70 years old and enjoy retirement as a federal employee of the SCT where I began in 1970 as a radio operator in the International Maritime Division. In 2003 I concluded my carrier with the SCT as the sub-director of Communications & Technology Development.
I spend some of my free time in my house in the desert 15 miles outside of the city of La Paz, I take walks along the waterfront of La Paz, I listen to music, spend time with my friends and, of course, I am "on the air" in my radio room.
"TO LIVE A LIFE FOR OTHERS IS A LIFE WORTHWHILE TO BE LIVED"
José Félix Núñez Enciso
XE2 - I
http://www.youtube.com/watch?v=seHEcRfEYUg&feature=youtu.be
INICIO DE BANDERAS VISITANTES: SEPT. 7 / 2014.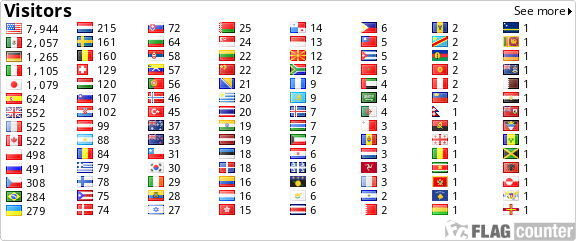 Large Visitor Globe