ZF1DM

Cayman Islands




Login is required for additional detail.

QSL: QRZ Logbook, LOTW, EQSL and Direct.

Email: Login required to view

Premium Subscriber Lookups: 23829



Right so you will catch me on HF, 2m and 70cm, I'm using nearly all the modes to include Phone, CW, RTTY, PSK, OLIVIA, Feld Hell, MFSK, Thor, FT8, JT9, SSTV, Digi Voice, JT65, ROS and any other mode I can get to use. I realy do like the digi modes for poor conditions, it just gets through the muck of the HF clutter.  Whilst at home I use a combination of a Macbook Pro 2010 laptop and FLdigi for digi modes, or when I don't feel like getting the laptop out I will use my Nexus 7 Android tablet with Droid RTTY, Droid PSK and AndFlmsg.

  
As for QSL'ing I use QRZ Logbook, LOTW, EQSL and I will do direct. ( I have no problem sending my card out to you, no need to SASE)
I am currently testing a very impressive antenna by GM0SDV, this is the Magnetic Loop 8 system which is capable of being used upto 500w, (Although I am only using 100w). So far this antenna is comparable and sometimes slightly better than my Inverted V, and it only sits about 6ft above the ground.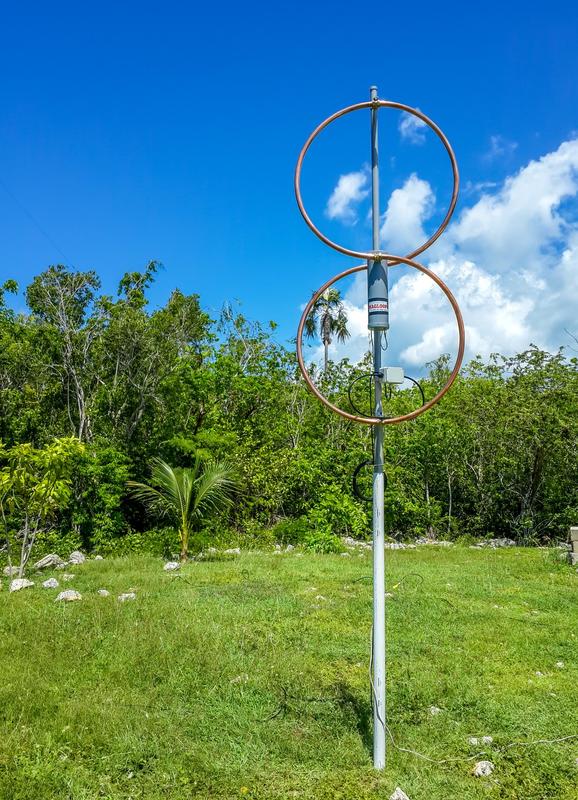 Current reports on DX have been between 58 and 59 + into Europe from the caribbean, which for an antenna which is low down to the ground, in my view is very impressive. There is some directivity to the loop and I have notice signal gains increase and decrease when pointing directly to a station, and away from a station.
The Station setup is a Yaesu FTDX 3000 and the FT857D with the LDG YT100 tuner working 100w SSB and about 40w to 50w Data. (Both of these rigs are amazing pieces of gear I must say) 
My main antenna is an Aerial-51 Model 404-UL Inverted V antenna on a Spiderbeam 40ft fiberglass push up mast (Which is in a 040 degress/220 degrees or North East/South West orientation) results on this setup have been outstanding for a lightweight portable antenna in a permanant setup. 
I also use the a Baofeng BF-F9V2+ handheld on 2m and 70cm's with a diamond whip antenna for local repeater work, and the Arrow Antenna for working the FM satellites. 
As with most people in life, we all have passions, Ham Radio has always and will always be one of mine, however another one of my passions is creating hand made double sided coin rings. Just take a look at what I mean bellow, this is a 2003 Trinidad & Tobago 50 Cent and a 1944 British Farthing turned into coin rings, how awesome are these.
Anyhow , if you would like to find out more about my other passion in life, then pop over to my website, www.dannyraymaccoinrings.com where you will find much more information about coin rings.
73 and look forward to working or hearing you on the bands. 
8246249 Last modified: 2017-07-31 02:04:41, 6329 bytes
Login Required

Login is required for additional detail.
You must be logged in to file a report on this page
| | |
| --- | --- |
| | Latest Contacts for ZF1DM at QRZ.com |
| de | date | band | mode | grid | | Country | op | |
| --- | --- | --- | --- | --- | --- | --- | --- | --- |
| WB9TFH | 2017-12-12 | 17m | RTTY | EN53xa | | United States | Gil | |
| WT9U | 2017-12-12 | 17m | RTTY | EN71ao | | United States | James | |
| W5MIG | 2017-12-06 | 40m | CW | EM00kc | | United States | Jerry | |
| N4SEP | 2017-12-06 | 40m | CW | EM86om | | United States | Bill | |
| N4SEP | 2017-12-06 | 20m | CW | EM86om | | United States | Bill | |
| AE5ZA | 2017-12-06 | 17m | HELL | EM22mw | | United States | Cliff | |
| AE5ZA | 2017-12-06 | 17m | RTTY | EM22mw | | United States | Cliff | |
| PP5FZ | 2017-12-01 | 12m | FT8 | GG42uf | | Brazil | Fabio | |
| PU2MMD | 2017-12-01 | 12m | FT8 | GG66PL99 | | Brazil | Carlos | |
| PY2FUL | 2017-12-01 | 12m | FT8 | GG66qk | | Brazil | Fulvio | |
| PY2CX | 2017-12-01 | 12m | FT8 | GG66qm | | Brazil | Mauricio | |
| W7VS | 2017-12-01 | 17m | FT8 | CN94he | | United States | Walter | |
| K6NX | 2017-12-01 | 17m | FT8 | DM03xr | | United States | Boeing Employees Amateur Radio Society Of Huntington Beach | |
| KM4CZL | 2017-12-01 | 17m | FT8 | FM05bl | | United States | Donald | |
| AD7UZ | 2017-12-01 | 17m | FT8 | CN87vv | | United States | James | |
Book Totals: 3060 qso's 1263 confirmed
Get a free logbook at QRZ.COM
c
United States Counties Award

#1272


Granted: 2016-07-19 19:14:42 (ZF1DM)



Endorsements:

100 Counties Mixed

250 Counties Mixed

Grid Squared Award

#10710


Granted: 2016-02-20 01:10:02 (ZF1DM)



Endorsements:

15 Meters Mixed

17 Meters Mixed

20 Meters Mixed

World Continents Award

#12003


Granted: 2016-02-20 01:05:02 (ZF1DM)



Endorsements:

17 Meters Mixed

20 Meters Mixed

40 Meters Mixed

Mixed Digital