ZL2WL Cell  +6422612892
New Zealands Frist Ever QRZ Life Member 
EA7HBC
Spain
JUAN CARLOS CALVO TORRES
P. O. BOX: 154
SANLUCAR DE BARRAMEDA (CADIZ) 11540
Spain
QSL: VIA BUREAU OR DIRECT - 100 % QSL   NEW QSL Manager for ZL2WL thanks Juan Carlos...
For stations'm manager, please direct route is preferable and should send SASE and IRC's and 3 $. I also work for the bureau but the service is much slower. . PLEASE DO NOT E-QSL ELECTRONIC ,,,, NO EUROBUREAU   Please do not send stamps on the envelope will be returned through BUREAU   Please do not send stamps in the envelope, will be returned via the bureau.
Now Use Google Chrome was on Firefox check Web contacts on BOTH  Google / Firefox
EA7HBC QSL MANAGER PARA:
For  ZL2WL ,A61DD, CE1UMY, CL6RK, LU2DC, LU5DTF, LU7YS, LW1DVB, LW6DW, LW6EGE, OA4GL, RJ22GF, RU3GF, VK7ROY, VY2ZM, VY2CAR, YY2AVT, ZL3JAS  todate . 
Para las estaciones que soy manager, por favor via directa es preferible y deben enviar SASE y IRC's y 3 $. También trabajo por el buró pero el servicio es mucho mas lento. .
PLEASE  NO  E-QSL  ELECTRONIC  ,,,,  NO    EUROBUREAU
  Por  Favor  NO  envie sellos en el sobre , será devuelto a través del BUREAU 
  Please do not send stamps in the envelope, will be returned via the bureau.
Couple New Toys in the shack for 2016  TS 990-S , SPE Expert 2K-FA Amp , 5 Element Beam & 48ft Tower soon to be Planted DX3 Emtron as a spear Amp. Log Periodic 10 elements Mono Bander  up 64 ft tilt over tower , tune up on 80,40,20,17,15,12,10,6 meters 24ft boom, longest elements 38ft SWR 1.2 all bands with my zero noise give me a shout New SteppIR DB-18 up 60ft going up another 20ft soon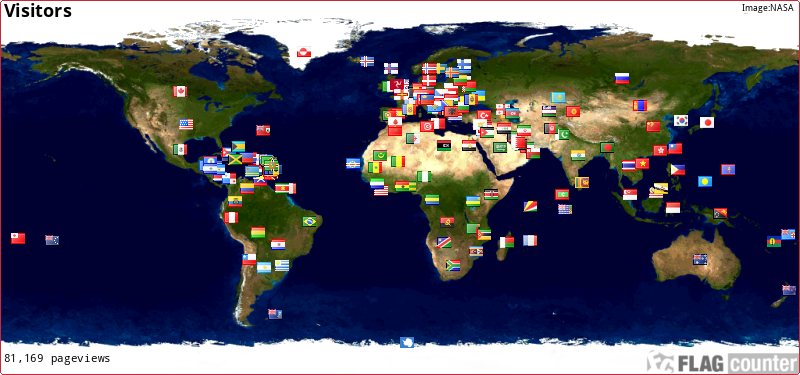 added 19 / 01 / 2017 Flag counter
Want to follow me on FaceBook join my page  ....Ham Radio
Shack New Zealand over 2 K members
My 10-10 number is 76359 for those folks who like to work 10 meters.
 
 

.

Email's sent to me after a ssb QSO on AIR (Happy to help)

Hi wayne, we spoke on 10 meters nov.10/11. We spoke before on 9/25/2012 I was qrp 1 watt when you asked me if I could go lower,so I dropped to 250 milliwatts. I just wanted to thank you for getting me to try qrpp. I have made some incredible contacts on .25 watts. worked 47 states so far on 1 watt or less.On nov. 11 I was running 100 watts and we barely made the contact with you and wanted to thank you by radio. you had my call sign off by 1 letter the call was also logged by me on QRZ. thanks again and 73 from KB3YYB/ Drew in Delaware

HI Wane .It s been one day since we talked and you helped me with the menu on my Brand New FT 950 Yaesu. To sound like your's nice & clear on air .Well I talked with my friends on 7.185 this afternoon and there were 7 or 8 stations and about 4 stations commented on my audio .They all said : have you been playing with the Yaesu again and if so PLEASE leave it where it is now as we have not heard you sound so good: They all thought that I had changed radios. I also did some DXing on 20 mt and the reports I received from stations in the USA and Germany were to say the least were very complementary. 2 stations even took the time to ask what rig I was on and and also what type of microphone I was on I kid you not. One even replied to me that he has heard many FT950s but not to the quality that mine was . Makes me feel great and all thanks to you Wane. Also I went through my book and in pencil copied all the menus numbers down that you set them to so now if I do anything silly I can refer back to my operating manual. Once again Wane thanks for the help. Regards VK2YLS Rob.

................. . . . . . Kia ora ( HELLO )............ I am a Local Native of N.Z. NOT a Transplant to ZL Currently First Place in ZL for Web Contacts, On QRZ Home page , NOW Number 5 spot on .... QRZ Data base.see for yourself click the Logo on top of this page then look hard Right side

the WEB button above And asking any of your Ham Friends to do the same.  watch this space ......73~88

Please log-on and add your call to my log ( under "Web" under my email address above )

Like to check who has left any comments on your Web Contacts when they left their call sign on YOUR Web Contacts, here a step by step to view on your page Make sure you are Logged In to QRZ first

1 Using Blue Bar  on top of QRZ page click on EDIT your call sign see a drop box then click on

2 Next page Manage Your Web Contact Logs click this then Contact Log Details. Now Read any comments want to save to your page easy at bottom of this page See Enable colum,scroll to bottom of page click on empty circle to turn BLUE now click on save tab.Now on the left of this page click on Done Tab to return you to Call sign Manager at botton again click Done .This will return you to YOUR QRZ .com PAGE  Give it a go have trouble email me.......

 

3

"The Beauty About Amateur Radio......

You never know whom will be your

next QSO."

---

Please Note: ZL2WL does not respond to HAM'S who call using only their suffix.

Good operating tip would be to give your full callsign once, then listen 4-5 seconds to see if I have heard you or am replying to someone else before you make a second call.

I consider stations who call - call - call repeatedly without pausing to listen to be QRMers and will be ignorTh Contact og* is a simple visiog her hmswho visit this pag Nau Mai Haere Mai Welcome

I also Log our HF contact on QRZ Logbook which can be found by clicking Logbook at TOP of your page to view

CONGRATULATIONS

On 4th of March 2010 EA4EUN started my WEB contact counter,Now on 11th of March 2013 KG7AUL hit my counter to clock up 3000 a BIG THANK YOU to all who clicked onto my WEB Button ABOVE

10 - 12 - 2011 was the day i had 100,000 look ups on this page thankyou to all who looked me up and On 7 - 3 - 2012 had my 2000 HIT on my WEB Contact Button , AGAIN A BIG THANK YOU

 

210 different countries have visited this site.1,297 flags collected.

ON 20.07.2013 I had 250.000 Look Up on This Page Thanks again

Thanks for SPOTTING ME ON CLUSTER If YOU do it allow other DX stations know where we are working to leave a space to STOP SPLATTER or bleedover
Living 8 km East of HASTINGS CITY ON THE EAST COAST OF THE NORTH ISLAND for the last 19 years

ZL1 and ZL2 North Island , ZL3 and ZL4 South Island

Member of the Taupo Amateur Radio Club Branch 60 Taupo town is situated on the north shore of Tapuaeharuru Bay, Lake Taupo, central North Island, New Zealand.Also known as Taupo Nui-a-tia The area is part of the Volcanic Plateau with farmland, scrub and pine forest sloping away from the lake to the ranges of the Kaimanawa in the East and the Hauhungaroas in the West. Looking south across the lake, Mt Ruapehu (2797m), Mt Ngauruhoe (2291m), and Mt Tongariro (1968m) dominate the sky line.Lake Taupo dominates the region. This lake was formed in the giant caldera (collapsed crater) of one of the worlds most active and violent volcanoes - The Taupo Volcano. The Taupo Volcano began erupting about 300,000 years ago with the last eruption being around 186 AD. Lake Taupo is New Zealand's largest body of fresh water. It is also the second largest body of fresh water in the Southern Hemisphere. Brown and Rainbow Trout were first introduced into the Taupo Catchment in the late 19th century. Since the introduction of smelt, a small fish, in the early 1930's, Trout have continued to flourish in the Lake Taupoarea, providing a fishery of international repute. The fishery relies on natural spawning to sustain its stock.

 

ZL1REG Group Branch 89 in Hamilton

After 40 or so year's in Taupo & 3 Years Perth in Western Australia. Been involved with Radio's since 1966. A Cabinetmaker By Trade, where I learn't the Trade of (wooden) Boat Building, turning 38 ft wooden hulls - 1 every 10 weeks.from scratch while in Perth , Last 20 years back home in the Auto Trade.

Lat Long 39 38 .8 -S 176 54 .6 E GRID LOCIATOR SQUARE IS: RF 80 KI , Hastings ( Population 124.400 )

My, Noise floor is a S ~ 0. Yep Zero -.Click Detail Button to view QTH Location

Antennae : For HF ONLY and equipment in the Shack

When not working I am home Dxing.

My Son Russell 33, a Ta Moko (Tattoo) Artist they has 3 daughters, My Daughter Nikki , 30 a Q .C. on a Mother ship Hoki Fishing Vessel.they have a 2 year old son also

Click on the detail button at top of this page to see my current location.& Apple Orchard 80 Acers ,8,000 tree's

There are scroll bars below all pict to see more across the page

New pictures  The shack is now the inside sleepout, pic of Apple Orchard 80 Acres in total.8000 fruit tree's. Our house water Well supply Orchard in water is my earth leg for the Shack,& Tower 6' casing steel pipe 20 meter into the ground sitting in ( H20 water ) stream helps with the zero noise floor

Other local Cities - Auckland 363.24 Km away & Wellington 259 Km away from this QTH

Looking for 6 ,10, 17 ,15, 20 meter contact most days.after July Remember to drop in and say Hi, every contact is logged.

We answer to Full Call Signs Only when on air. I place the voice with your call to receive correct call sign calling me. Contest weekends we don't work due to splatter.

Special Big Thanks for Building this Page UA6JD and on going service to keep it updated
To all Amateur Radio Operators: Facebook is now allowing Hams to add their callsign to their profile. If you want to do it, here's how it's done:

- 1st) Open up "Settings".

- 2nd) Under "General Account Settings", on the line that says "Name", click "Edit".

- 3rd) Enter your callsign in the space marked "Alternate name".

- 4th) Check the box for "Include this on my timeline".

- 5th) Save these settings by entering your Facebook password in the box marked "Password.

- 6th) Click on the box marked "Save Changes".

- Now return to your Main page and your callsign will appear under your name.





---






---

recorded by ON4EDM, 26 Jan 2012
recorded by KA5KBM, 22 Jun 2012
recorded by PA3GEG, 16 Jan 2012
recorded by W4ILT, 2 Aug 2014

BOSS HOSS ZZ4 V8 motor bike 350 Chevy, Auto . That's me - ZL2WL

Christchurch NZ - Taken as it happened on the ....!!February 22 , 2011 "Courtesy of Weather Station Camera


Farewell from THE LAND OF THE LONG WHITE CLOUD kei konei ra (said by those leaving) haere ra from Aotearoa New Zealand ZL2WL WAYNE

NB - QSL Cards .QSL DIRECT to Scott WH2IHJ....... In Maori Ka kite Goodbye, Haere Ra Farewell

MY XYL ZL2MAB NOW A  SILENT  KEY. 29.04.1960 ~ 07. 11 .2011 GOD BLESS

                   


 

 

 

New Zealand Time

Visitors

Worldwide Visitors

USA Visitors

Canadian Visitors

French Visitors

England Visitors

Japanese Visitors

Russian Visitors

Italian Visitors

Ukranian Visitors

Egyptian Visitors

Spanish Visitors

German Visitors

Australian Visitors

Brazil Visitors

Netherland Visitors

The counters below

install Jan 2016