Hello to everybody, my name is Pier Luigi (Peter Louis) Anzini. My nickname is Gigi. I was born in 1957, in Busto Arsizio, a small town of 82,000 people,about 35 Km (22 miles) north-west of Milan, North Italy. I am Pharmacist and I work in a Pharmacy. I am licensed since 1993 (full license,class 1 CEPT). I am married and I have two daughters, born in 1985 and 1990. Their names are: Massimiliana and Debora. Massimiliana is a SWL, her call is I2-4912. On May 10th, 2007 I got my U.S. License (General Class) with the call KI4VTY, on May 30th, 2007 I changed it with the Vanity Call N2UVR. On May 10th, 2008 I earned the Extra Class License. In 2002 IZ7ECB and me started the "International Pharmacists Ham Group". Graduated Pharmacists-Radioamateurs from all the world join us! The Web site is at: www.iphg.altervista.org , please have a visit! Recently the C.D.N. of the A.R.I. nominated me "HF National Award Manager". I am currently manager of WAIS and EURA / EUCC Awards. All details at: www.aribusto.it Also I am co-author of the freeware HAM Logging Software "BBLogger". You can download it at www.bblogger.eu I wish you and your families all the best. 73's de Pier Luigi, IK2UVR / N2UVR. Personal web site: www.webalice.it/ik2uvr
Some info about QSLing:
I like Paper QSL card, so I am used to send my QSL cards via bureau, and I hope you will send me your one, via bureau of course. Just one, it does not matter how many QSO we have had, or bands /modes.
This is my preferred way to exchange QSL cards: BUREAU
Also I always confirm the contacts via eQSL, LoTW, Clublog and HRD Log (automatically).
If, for some weird reason, you need my QSL card at once, via direct, please send me your card and a SAE + postage and I will reply at 100%.  Please don't put neither IRC's nor money into the envelope: postages can be sent only via PayPal: ik2uvr [at] alice.it as "donations". No postage sent? QSL card wil be sent via bureau. Not member? Sorry, not my problem.
Postages from Italy to:
Europe (except Kosovo) and Mediterranean Countries of Asia and Africa: € 1
Kosovo: € 3,50
North and South America, Africa and Asia (except Countries facing the Mediterranean Sea): € 2,20
Oceania: € 2,90
Rev: IK2UVR - Oct 2015.
would you like a Ham Car Plate like this? Click on the Plate!
Simon, ME0WW (2nd operator)
July 2015 setup: YAESU FT DX 3000; Kenwood TS450S
My clotheshorse: LZA-12-7 (10/12/15/17/20/30/40m)
Half sloper for 80m
Extra-radio hobbies: I like football (soccer). This is my favourite team: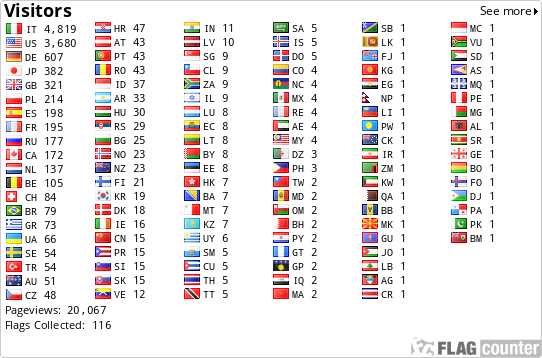 (U.S. Visitors since Jan. 16, 2013)