FIRST LICENSED: December of 1972 as WN6UPE, then General as WA6UPE, Advanced as KF6FM, and finally to Amateur Extra as WU6X.
CURRENT STATION: Yaesu FT-2000D and VL-1000 Quadra 1kw solid state amp. I can be found on all modes with CW as a favorite. A 40-foot tower supports HF antennas including a 2-element, 5-band Lightning Bolt quad at 45 feet, inverted V's for 40m and 80m, and a 2m "J" at 50 feet. I also work HF mobile with an ICOM IC-706 MkIIG and High Sierra HS-1800 screwdriver antenna (pictures below). My portable and RV station is an Elecraft KX3 and KXPA100 connected to a 40m 1/2 wave long wire or the screwdriver on the Jeep.
OTHER HOBBIES: RC sailplanes, float tube and stream fishing for trout and bass, computers, RV'ing, black powder shooting, and public service event support as a member of Sierra Foothills Amateur Radio Club (www.w6ek.org).
BIO: Vietnam veteran, active 68-70 aboard USS Hassayampa AO-145 as a Radarman, with 10 years total service in the Reserves, honorably discharged as Petty Officer 2nd Class. I'm past ARRL EC for Santa Cruz County (1970's) and Assistant Commander Santa Cruz Police Department Reserves. I've enjoyed many career paths including Hewlett-Packard as a microwave tech, Director of Facilities at Atari, and 16 years in management positions with the Grass Valley Group, once a premier Television Broadcast equipment manufacturer near here. I'm now enjoying retirement and RV trips with my XYL of 50 years (W6LPG).
I'm sure we have something in common, and hope to chat with you someday. I work all bands and modes, mostly 40m and 20m CW these days, and occasionally remote ops via RemoteHamRadio.com. You may have worked me as W1AW/6 and W1AW/7 (from W7RN), as well.
eAddresses: eMail: wu6x-at-hotmail.com; Packet: wu6x-at-ag6qo.#nca.ca.usa.noam; Winlink: wu6x-at-winlink.org
QSL Info: LOTW, eQSL or the ARRL QSL Bureau. If you need a paper QSL, please send a SASE ... or print my custom QSL card from eQSL if that will work for you. Grid CM98kw, CQ Zone 3, ITU Zone 6
Memberships: Sierra Foothills ARC, Northern California Contest Club, CWOps #1632, SKCC #16255, and ARRL.
If you hear me, please break-in and say hello.
BCNU and 73, Den (aka Greg)
---
BELOW: USS Goldsborough DDG-20, USS Hassayampa AO-145, and USS Ranger CVA-61 underway replenishment (UNREP) with other destroyers of the 7th Fleet awaiting their turn to refuel from the mighty "Hass" off Southeast Asia in late 1960's; 655 feet long, 86 foot beam, 7.8 million gallons of fuel capacity, and capable of 21 knots maximum speed, the Hassayampa was one of three "super tankers" built in this class, now retired to scrap.
BELOW: 5-band Lightning Bolt Quad (20 thru 10 w/WARC) with and without ice! 
BELOW: Mobile (ICOM IC-706 MkIIg), audio out through car stereo system AUX input; antenna is the High Sierra HS-1800 screwdriver mounted New Zealand style. 
BELOW LEFT: Field Day 1980 on CW and Son Justin (now N6FWD) looking over my shoulder. 
BELOW RIGHT: Field Day 2016 with Son Justin (N6FWD) logging for me. My Elecraft KX3 running QRP off deep cycle battery for 24 hours.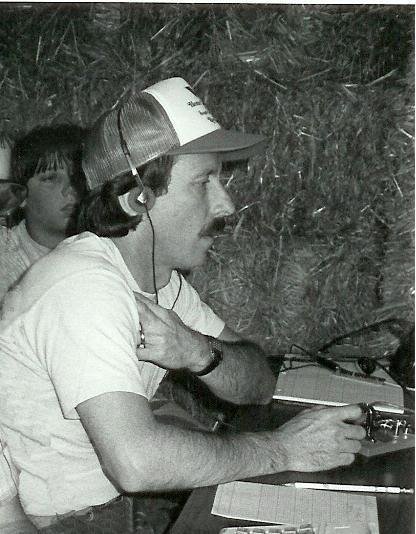 BELOW: I love portable ops ... That's me at the picnic table during a CA QSO Party from a Siskiyou County campground with my Elecraft KX3 running 15w from a Zippy LiFePO 8400mAh 13.2v battery. 
BELOW: My 2005 Winne 34' with Jeep in tow and High Sierra screwdriver mounted to tow bracket. This allows connection and operation of the screwdriver from the RV dash via RG-8X and control cable through the frame of the RV, and HF/VHF/UHF mobile ops in the Jeep on excursions (no HF antenna on the RV, only VHF/UHF). 
BELOW: My CW tools: a Vibroplex paddle and favorite bug, a 1946 Lightning are shown below. 
BELOW: My RV portable station (KXPA 100w amp on floor) connected with RG-8x to a 64-foot (1/2 wave on 40m) longwire matched with 64:1 homebrew toroid core, auto-transformer that works 5 bands, 40m thru 10m ... no counterpoise, no tuner required! Email me for specs to build your own if interested.
Catch and release fly fishing the McCloud River ... well, I might keep a few for breakfast!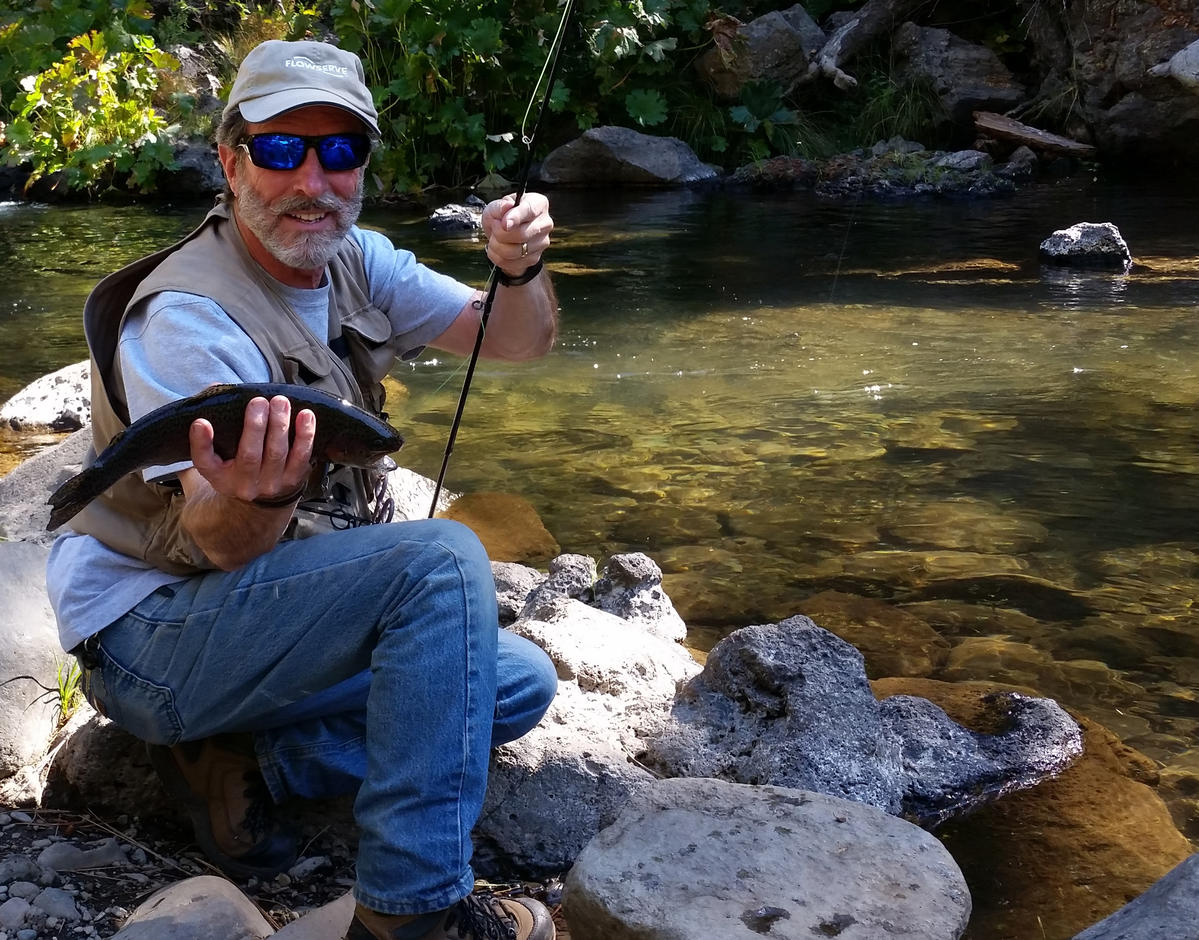 Station WU6X RF Flow Diagram: