Note...I am in the process of getting my first batch of QSL cards printed. Please be patient if you've sent me one...I will gladly reciprocate all direct QSLs sent to me...no SASE required, happy to do so...when they are printed. =)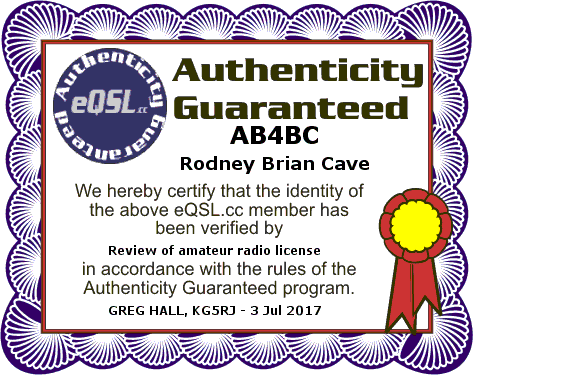 ***Important Update For eQSL users***
I have a backlog of over 500 eQSLs so please be patient as I work down the list. If you immediately need my confirmation for points toward an award you are seeking, first make sure you have confirmed our contact on either QRZ or LOTW (which is all I use for my own awards) and then shoot me a message and I'll be very happy to confirm your eQSL right away. Always happy to help. Thanks! 73!
****************************
I've been licensed for a number of years (since the late 1980's) and thoroughly enjoy most aspects of the hobby. My passions are vintage antique electronics and theory, building antennas, tube-based linear amplifier design and keeping a powerful and clean operating signal. I also have a strong interest in biological, botanical and chemical sciences.
**
My latest interest has me totally hooked...JT-65! Love it! I believe anyone that gives this a try will agree that it's addictive. =) Anyone needing a contact for all different bands, give me a shout on the waterfall and we can switch around. =) Working remote out of my home, I have a laptop set up beside my workstation to call CQ most all day...starting at 10/12 meters first thing in the morning to ending up around 40/80 meters by the end of the evening. I hope to give you a great signal report!
***
I love CW, though I am not at all proficient...still learning. If you hear my signal, please feel free to stop and chat. I'm always on the lookout for someone that would be interested in getting on a clear spot within a band and practicing CW. I have one last commercial license to get, and that license requires 25 wpm...nowhere close to that yet, but trying. =)
Have a great life...73.
Shown below: My VHF/UHF antenna array (Comtelco commercial VHF yagi, Decibel Products commercial UHF yagi, Comet tri-band (144/220/440) vertical and a Hy-Gain TV antenna rotor. All cables are microwave rated Aircomm Plus. If my signal is heard on 40m or 80m, then you're receiving that signal from the antenna in the second photo - a homebrew 40/80m NVIS "spider." Not shown is my homebrew 40-6m OCF dipole (slight neg. angle on each leg for inductance tweaking / matching) up 25 feet.