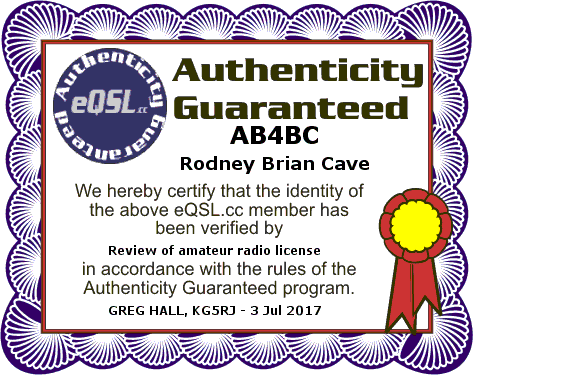 Shown above is my standard QSL card.
I'm totally new to 160m operation. As of 9/19/17, I began working the FT8 mode on 1.840 MHz. the antenna I am using is certainly not meant for this band, but it seems to be radiating my signal decently. A special QSL card will be printed within the next month or two or three that will be strictly for 160 meter contacts that each LoTW/QRZ confirmed contact will get. I'm pretty pumped up about possibilities. This will be somewhat of an experiment with this antenna, and I welcome any and all contacts. I'll be sending out a CQ each evening between 02:00-04:00 UTC and in the morning from 10:00-12:00 UTC. Thanks, and I hope to catch you on 160m.
***Important Update For eQSL users***
I have a backlog of 1000+ eQSLs so please be patient for confirmation as I work down the list. eQSL is not my primary logging site, and I check it only once or twice a month. If you need immediate confirmation, send me an email and I'll see if our logs match up and then get you confirmed. 73!
****************************
I've been licensed for a number of years (since the late 1980's) and thoroughly enjoy most all aspects of the hobby. My passions are vintage antique electronics and theory, building antennas, tube-based linear amplifier design and keeping a powerful and clean operating signal. I also have a strong interest in biological, botanical and chemical sciences.
**
My latest interest has me totally hooked...JT-65 & FT-8! Love it! I believe anyone that gives this a try will agree that it's addictive. =) Anyone needing a contact for all different bands, give me a shout on the waterfall and we can switch around. =) Working remote out of my home, I have a laptop set up beside my workstation to call CQ most all day. I hope to give you a great signal report!
***
I love CW, though I am not at all proficient...still learning. If you hear my signal, please feel free to stop and chat. I'm always on the lookout for someone that would be interested in getting on a clear spot within a band and practicing CW. I have one last commercial license to get, and that license requires 25 wpm...nowhere close to that yet, but trying. =)
Shown below: My VHF/UHF antenna array (Comtelco commercial VHF yagi, Decibel Products commercial UHF yagi, Comet tri-band (144/220/440) vertical and a Hy-Gain TV antenna rotor. All cables are microwave rated Aircomm Plus. If my signal is heard on 80m, then you're receiving that signal from the antenna in the second photo - a homebrew 40/80m NVIS "spider" - this antenna has a 90' square footprint, so there's much more than what's shown. =) (If you are seeing my signal on 160m, the spider is what is radiating my signal...so cool.) Not shown is my homebrew 40-6m OCF dipole (slight neg. angle on each leg for inductance tweaking / matching) up at 25 feet.