Some private words in memoriam of my beloved father Karl-Heinz  (*10.10.1934+12.02.2013):

                                Dad, I miss You!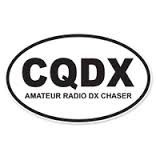 "We are not strangers, we are friends that have never met!"
Hi dear friends,                                                                                         
I got my ticket in 1981, after 2 years learning CW , radio technics and
laws at the local adult college with Harald, DJ3AS, as CW-Trainer.
Until starting this process I did not know that Ham-Radio exists ...
I was active, sometimes day and night, to work every DX coming across until 2002, when my son was born.
Suddenly I was fed up with pile-ups, bad condx, split-operations etc. and sold the whole station equipment and I only worked for the scenic railroad and did the model-railroading with enthusiasm.
This break lasted until August 2012 when the guys I knew from my beginning rerailed me with talking about PSK, low power to work the whole world. Now I know that it is a fairy tale to work the world with a wire and 20Watts or so (hi). That may be OK with a beam but not with wires.
I didn' t want to spend money in a beam and a rotator again nor to climb on the roof, so my decision went to dipoles as main antennas.
I now have fun working "normal" DX to W, VK/ZL/YB, PY, ZS etc, for example, with this simple antennas.
Of course,if there is a rare one among the QSOs, the fun will be greater!
For example, I worked my 1st JA in over 30 years on 40m in 2012 ,my first VK/W/PY on 80m,my first ZL/LU/YB/9Y on 40m in 2014, all with that 5-Band-Dipole, not very high in my garden - and thanks to Tony, ZL2AGY, my very first ZL on 30m. By the way, Tony put a real 589 into my RX!
That success encourages me to to focus myself more on the Low Bands, also there is my aim to work
And, please, I learned only to answer a CQ-Call when I'm in the called area.
When I'm calling DX: that's outside Europe for me. Thanks for remembering this because Non-DX-replies on my CQ DX-Call will be ignored!
As I wrote above, there is no need for me any more having stress with "mooing" stupidly my callsign for hours like a cow on the ranch, especially in phone, being aware of having no chance.
My interest in operating radio is to bridge great distances, so I am enjoying every contact outside Europe.
I am also very interested in AM- and FELD-HELL-DX-QSO's! PSE SKED!
Let me write some words about QSLing nowadays after reading several sites here on QRZ:
I'm a member of the traditional operators and ,- of course -, I use the different ways of electronical QSLing in addition - but the final courtesy of a QSO IS a paper QSL.
Why? That' s simply be answered: I can show erverybody asking about the hobby what is possible holding a card in my hand and who has never heard anything about HAM-Radio.
I cannot understand, why paper QSLs are more and more sent only on request DIRECTLY, knowing that there are working bureaus in most countries.
In the days of my start with radio, directly sent cards were only usual when working DXpeditions or stations in countries with only a few OPs, where no club or bureau is established.
My paper QSL are filled out and signed the old-fashioned way: By pencil and they are free, as we are HAM's and no Commercials, who have the $-sign in the eyes, hi.
But please, direct QSL ONLY on request! 
QSLs are a tradition still alive in HAM Radio, that is why    
I will try to keep this tradition and send paper QSLs for EVERY DX-QSO!
This year, 2015, my son Nils has begun a training course for a HAM ticket, so my heritage is hopefully secured, HI!
He got his class E licence in DL on December 3rd, 2016!
His call is DO1NSP.
Now here I will show You my second hobby:
I' m active member in the scenic railroad club "Hessencourrier" here in my hometown Kassel.
I hold the clubcall DL0MHC for use at special events of the scenic railroad, such as station activities and so on. The paper QSLs for this Club Station are sent via GlobalQSL and electronically via eQSL(AG).
Operating as DL0MHC/p on October, 24th, 2015 in Naumburg near Kassel.
It is the "End of Track" of our Scenic RR "Hessencourrier".
In my QRL I am a locomotive engineer und my third hobby is digital model railroading.
Here is a view into my Railroad-Shed:
Me, at my QRL.
I am a member of FIRAC in the German branch EFA.
I am active on HF in CW and SSB up to 6m and additonally in Digi-Modes on HF to 6m and now also on 4m.
Clubs: DARC DOK F73 - ARRL - EPC #19025 - FH #4636
This baby above is DXer's Love ...!
​​​I am still interested in some major awards.
Here​ is a list of achieved awards:
​DXCC: Mixed - Phone - CW- Digital - 10m - 12m - 15m - 17m - 20m -30m - 40m - 80m - Challenge 1000 - 5-Band
​WAZ Mixed, WAS Mixed, WPX Mixed, WPX Digital, WAC, WAC 30m, WAC 17m, WAC 12m, WAC 5-Band​, WAC 160m.
​DXCC 160m & 6m? Worked some amazing DX, but think I won't get it in lifetime, HI!
​BAD CONDX? No sunspots ? No problem..
This is the ultimative medicine!
Just one shot in the desired direction will bring EVERY entity for DXCC!
My playground:
Yaesu FT-450D
Yaesu FT-847
Yaesu FT-991
Yaesu FT-817 2x, mainly for SSB/FM-Sat operations             
Yaesu FT-8900 Quad-Band FM                                   
Transverter for 4m (70MHz)
Alinco DJ-7GE, mainly for 23cm /p
Ameritron AL-80 BXCE, Nickname: "Fat Berta"
LDG-1000ProII Auto-Tuner
LDG-200Pro Auto-Tuner
LDG-YT 847
Antennas:
Dipole 10/15/20/40/80m
Dipole 12/17/30m
​Short Dipole 60m by DK9FN
Vertical MA-160V 160m
HB9CV 4m            
HB9CV 6m
Buddipole 40-6m and YP-3 Yagi for occasional /p - operation
X5000 for 2m, 70cm, 23cm (Diamond)
Alaskan Arrow II  for /p-Sat-Operation
Here is a photo, viewing my actual antenna setup. On the right You see the support for my dipoles, carrying also the Diamond X30 for 2m/70cm local communication (I do not operate on 2m/70cm DX now because the lack of time). My 5-Band-Kelemen-Dipole (with those characteristc "bird feed"-rings as traps)
for 80/40/20/15/10m routes from the roof to the support pole, where the Balun is mounted, to another flag pole in left corner of our garden.
This dipole surprised me with DX on 80m/40m in JT65 to PY and VK...
The 30/17/12m dipole routes to the roof, where a another support holds the opposite end of it.
Also this hand fan-type dipole works excellent on DX.
Height is max 7 meters above ground for all wire-antennas.
Recently I performed my comeback into occasional satellite operation with my FT-847 and 4 Element
Twin-Band LPDA for 70cm/2m on FOX1A, FO-29 and SO-50.
September 2016:
Recently I got my Alaskan Arrow Antenna directly out of the USA, joined it with my Euron HT-720E and made several QSOs via SO-50 and AO-85 (FOX1A) in FM right out of my hands with around 5 Watts. This antenna really is a "weapon"; it works great!                        

                                                           
I also made my very first QSO with Imre, HA1SE, via the Oldtimer AO-7, launched in 1976 when I was a schoolboy at the age of 12 and did not know anything about our hobby; nearly 40 years in space and still alive!
For this contact I used my Yaesu FT-847 with the 4 Element LPDA on a light photo tripod.
​Now I extended my /p-Sat operations into CW/SSB/FM with a twin of 2x FT-817 and the Alaskan Arrow II mounted on a tripod ... I do not have as much arms as a temple godess, hi.
​
My 160m-Story:
I raised my Cushcraft MA-160V 160m-Vertical during the last week of September 2015. This antenna has to prove its suitability to work​ DX across the pond (Update: This hairpin made it in the meantime, although the QRM level inside a city is extremely high).
​Here is the opinion local fellows told me about this 160m-pole and DX:
The future will show, who's right ... 

 !
My idea is to work some DX in JT65 or maybe in CW. It's THE band I had never been QRV in 34 years of​ HAMming.​
My very first NA-DX on Top-Band: Frank, VO1HP, was CQing and caught 0n November 2nd, 2015 in JT65 on 23:45 UTC --> This pin made it across the pond!!!
The next DX came from Kazakhstan with UN5J, Vladimir, and UN1L, Gennadiy, in JT65:

​October, 10th, 2015                                                              November, 11th, 2015
But: I am still waiting for my FIRST USA-Station in these modes ....

!​
​My shack looks like this after a nightmare of CQing JT65/9 on 160m USA/DX without any response in the morning when going QRT:
​Any further questions?

Update Dec 10th, 2016: The nightmare above came to a sudden end with Jimmy, KS4OT, appearing on
4:24h UTC (5:24 Local)on the waterfall:
Thank You, Jimmy, for confirming despite of Uncle Murphy's work to glitch the software just in the
moment of TX-ing Your report...

!
​Then, during ARRL-160m-Contest 2015, I was able to reach VY2ZM, K3ZM & K1LZ (still waiting for QSL from K1LZ) in CW:
​The absolutely best and ODX follows with a bridged distance of 5622.8 miles (9049 km):

​Kuni-san, JA7NI, in CW on January, 10th, 2016 !!!! Simply: WOW !!
Danke lieber OM Boris, 4K4K for Azerbaijan on Top Band in CW!
February, 25th, 2016
And further on I managed to catch one of my Maltese friends - John, 9H1XT:

​Thanks, John for making it possible on March, 9th, 2016!

Followed by 7Z1SJ - Thanks dr Sulaiman!    -      and A41zz,Khalid on November 28th. TU!
TNX dr Alex for Israel & Shalom from Kassel!
​Recently I had a QSO with PY5EW in JT65 on Top Band - personal distance record!
View on my simple wire antennas:
​
Here is a view of my little shack:
This photo shows my wife Sylke, my son Nils - Co-Operator - and Me.
It was taken during a holiday in Malta, 9H, at the fishing harbor of Marsaxlokk.
The next pic shows me (w/ hat) at my visit of M.A.R.L.-HQ in Attard, saying "Hello" to the friends of Malta. Thanks to all for great hospitality, especially to John, 9H1CL (on the very left side) and his wife.
I had the temporary callsign 9H3BP. Vacation in 9H was from Aug 22nd to Sep 5th, 2014.
My next vacation with HAM Radio was from July, 22nd to August, 5th on Mallorca Island, Balearics, as EA6/DL4ZAB.
Equpment: Kenwood TS-50 & Buddipole
 
Remember: Life is too short for QRP and waiting! 
  from Kassel into the whole world,
Bernd, "Ben", DL4ZAB