Hi and thanks for looking at my QRZ page.
                                                                                                                                                                                                                                                                                         This is Robbie my Scottish Terrier   
​Some of the links are not yet working!!
Well as you can tell from the call sign I have been licensed for over 30 years and I am now retired. For most of my work life I operated construction and Road Rail machines in 1999 i decided that i wanted to get out of the seat and possibly move over to training, and use some of the experience i had gained over the years. So i started gathering the qualifications I needed to become a CITB Plant Instructor and assessor.
In 2005 I was headhunted by a national company and was soon promoted to the role of Compliance and Competence Manager, but thats a story for another day.
I retired early on the first of March 2014, to persue a career under the management of my station manager, Jayne (also licensed) 2E1EXK
The story so far:
I left secondary school at the age of 15 years in 1966, the middle of the swinging 60's to go out in to the big wide world and find a career for myself.
So in August 1966 I started my working career as a trainee mechanic at the Heavy Haulage Company of A.G.Bird, Featherstone Staffs, who specialised in all areas of transport from General haulage, Tippers and Abnormal loads and Heavy Haulage, and ran a mixed fleet of vehicles including Guy, Leyland, BMC, AEC and ERF, Along with both conventional trailers, low loaders, specialist bogies and rear steers and some ex American army 70ft 4 and 6 axle step-down trailers nicknamed Multies.
Unfortunately after a couple of years the company went into liquidation.
So it was time to find a new adventure, and after several jobs I applied for and was accepted for a job as a JCB Operator  at a local Plant Hire company, mainly due to the fact that my brother knew the JCB  control levers  and told me what each of them did, anyway I passed the test and was offered the job. Little did I know that this job was to keep me with the company for the next 33 years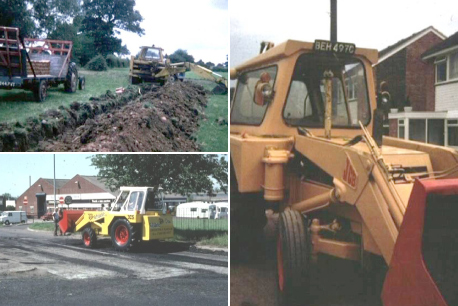 It was a small company when I started, but it grew into one of the best rail machine and plant suppliers in the country.
During this time I operated excavators both 180 diggers and 360 tracked and wheeled excavators, dozers, articulated dump trucks and all sorts on construction and access machines and Low Loaders
In 1982 the company was accepted to be able to work on British Rail Infrastructure, and so the move over to Road Rail machines, RRV's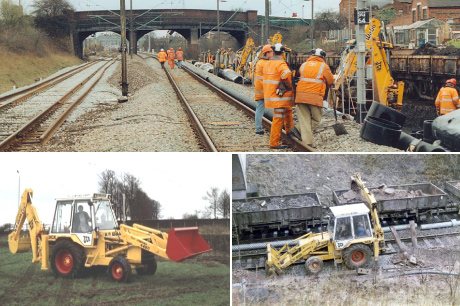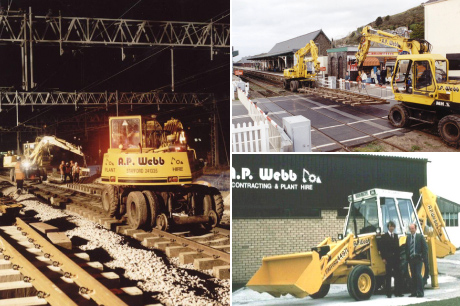 And I must admit it was the best job ever.
Link to  A.P. Webb Plant Hire Ltd. Website
TO BE COMPLETED
Lets push on!
My Radio Hobby so Far
Having passed the RAE examination, I was first licensed in 1983 with the B class callsign G1IRU, which as you can imagine I was very pleased to hold, although this was not my first foray into radio. Like a lot of people I started my radio hobby on AM CB radio in about 1970, when I was the proud owner of a 23 channel AM radio, along with a DV27 antenna on a mag mount, from this point I was hooked on radio operating.
After many years and many, many radios I decided to get my radio amateur radio licence, and along with a couple of friends enrolled for a night school course in Rugeley , my tutor was John Teace  G4DBR who was a avid fan of CW and radio in general, he was also a very good tutor. The course culminated in attempting the 1983 RAE examination (which was a City and Guilds Qualification) I was very pleased when I had my results and had passed with a credit and a distingstion in each of the papers and applied for my Class B Amateur Radio Licence and was issued the call sign G1IRU.
In those days a B class licence allowed you to operate above 144 MHz,  my first radio was a Trio TR2400 handheld, all two watts of power on FM only on two metres.
As time and various radios went by I decided I wanted to work SSB and first brought a Yaesu FT290 followed by a FT790 for 70Cms, at this time my location was not the best at only 275ft ASL, my antennas we quite modest with a 5 element beam on 2Mts and a 7element on 70Cms and a Ringer Ranger for vertical contacts.I passed my 12 wpm morse test at the BT radio station on Anglesey and applied for my current call sign.I moved to my current location in December 1986, so now with an ASL of 740ft the first thing I did was to put up a 6 element Jaybeam Quad and a 19 ele Tonna fpr 70 Cms (Stacked)                                                                                                                           
During the following 2 years I worked mostly 2/70 SSB with good contacts into Europe on both bands, I changed my 2 Mtr  radio to a Trio TS 700s along with a Nag 144 XL linear which gave me up to 250Watts on SSB and improved my station no end.
The 70 Cms station stayed much the same during this time with just 1 watt from the FT790 and the 19 ele I worked all over the UK and Europe, with what I consider my best contact on to the African continent with  contact in to Ceuta a small Spanish province on the African continent surrounded by Morocco.
Alas in a gale in 1988 my antennas came down, and I never did get round to putting beams back up and to this date only used Diamond collinear's,for 2/70Cms. I have used both the X700 and the X510 /X7000 and have had some great contacts over the years, working all over the UK and in addition, Ireland, Isle on Man, Northern Ireland, Scotland and the Western Isles, Norway, Denmark, Holland, Belgium, Germany, Switzerland, France, The Channel Isles, Northern Spain and Portugal, all on FM with a white stick with less than 100 watts.
I have always loved VHF/UHF along with various modes, RTTY, yes on 2 Mtr's there was once a RTTY repeater on Winter Hill Bolton. SSTV, Packet Radio, I also ran a node called Chase and ran APRS.
Currently I am enjoying using both 2/70 on FM Analogue and love it or hate it Digital using D-Star, DMR and Fusion, using radios and a DV4mini and a Shark openSPOT hotspot.
Hotspots     
           DV4mini, 1.77 firmware and Software                                                                             Shark RF OpenSPOT
DV4mini Software
Both the DV4mini and the Shark openSPOT are very easy to use, once you get use to them, as you can see in the picture of the dv4 software above, setting the frequenct and changing reflectors is quire strightforward, the Shark software is web based and again is quite rasy to configure, the main benefit of the Shark is allows you to cross mode, and at the moment ot will do DMR to Fusion and vice versa.
Both great pices of kit.
Latest versions of Firmware and software can be found on the link below.
Link to Wireless Holdings Website                    
http://wirelesshold.com/manuals.aspx?ct=t(update_user_manual7_24_2016)&mc_cid=e6e130f8ae&mc_eid=f700e84a04
Link to the openSPOT Website                               
https://www.sharkrf.com/products/openspot/
About my station
My station is located on the edge of Cannock Chase, an area of AONB  in IO82XR Square, WAB-SJ90 and has an ASL of 740ft at the base of the antenna
Antennas:-
VHF/UHF at 25ft AGL
                        Diamond X510N
                        Diamond X7000
                        Diamond X30
                        EA Antennas 2/70, dual band, 4/5 ele horizontally polarised.
HF                   High End Fed 5 Band End Feed, In an Inverted V configuration with the centre at 45ft AGL at the centre.
Radios            Yaesu FT 817ND +LDG 817 Tuner
           Yaesu FTM400XDE
           2 x Yaesu FTM100DE's, One used as Node radiO
           Yaesu FT1DE
            Tytera MD380 70Cms DMR/Anologue Handheld
            Boafeang UV5R Dualband Handheld
​M0AQC Digi-modes interface
http://www.gb7ch.co.uk/qcint.html
I use the interface mainly to work low power on JT65 
CANNOCK CHASE ANOB
Cannock Chase was designated as an AONB in 1958 because of its beautiful landscape its wildlife and its history. It is the smallest AONB in the UK at 26 square miles, but Cannock Chase is still the largest surviving area of lowland heath land in the Midlands
Lowland heath is an internationally scarce and threatened wildlife habitat. The AONB also has extensive areas of forest and woodland along with areas of designed parkland, sand and gravel quarrying and mixed agriculture
Cannock Chase and its associated animal and plant communities are part of an historic landscape dating back thousands of years. Wild deer still roam the Chase and are probably descended from the original herd introduced in Norman times for hunting purposes.
There is now considerable economic and recreational pressure on this beautiful landscape and the new Cannock Chase AONB Management Plan aims to ensure the right balance is maintained to conserve and enhance the area whilst maintaining it as a living, working environment.
Below are a couple of interesting locations near the Chase
Tixall Gatehouse, nr Shrugbrough Estate.
Tixall Gatehouse was built around 1580 by Sir Walter Aston (1529-1589) a prominent Staffordshire protestant, and son of Sir Edward Aston who built Tixall Hall in 1555.
More information on the Gatehouse and other local information can be found on the website below
Shrugbrough Hall
Ancestral Home of
Thomas Patrick John Anson, 5th Earl of Lichfield was an English photographer from the Anson family. He inherited the Earldom of Lichfield in 1960 from his paternal grandfather. In his professional practice he was known as Patrick Lichfield.       
Cannock Chase
Cannock Chase was also home to many of our troops, who were housed in temporary camps on the chase before embarkation.
This is where it was located.
The old RAF Hednesford camp, boasted the largest parade ground in the UK (Not the one shown in the picture) it is now long gone, there is now a small museum on the site of the camp which is now a visitor centre.
Hednesford Camp
and now
Marquis Drive Visitor Centre
Pictures to be added
Cannock Chase War Cemetries
A Commonwealth Cemetry.
And a German Cemetry
Both Cemeteries are kept immaculate year round as a mark of RESPECT.
     "They shall grow not old, as we that are left grow old.
       Age shall not weary them, nor the years condemn.
        At the going down of the sun and in the morning
        We will remember them."
KATYN MEMORIAL
Besides the two cemeteries there is a Memorial to 14,000 Poles who were executed in the Katyn Forest in 1940.
Lots of information on the cemetries can be found in the links to the websites below.
https://www.cannockchasedc.gov.uk/custom/WW1/war-cemeteries.html
http://www.northernmemories.co.uk/Cannock/Cannock.htm
   Thanks for viewing I hope you like my page and found something of interest,
 I hope to work you on air in the future.       .-.-. -.-