Welcome de....
I T 9 R Z U
"

J

O

E

"

A.R.I. LOGO
Copyright by IT9WKU
EU025- SICILY ISLAND - ITALY

SEND QSL CARDS ALWAYS VIA BURO 100% and LOTW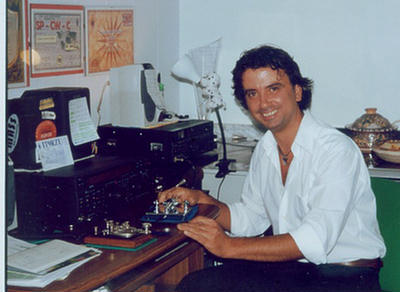 I T 9 R Z U

HELLO, I AM GIUSEPPE ( Joe ) IT9RZU.
I WAS BORN IN MISILMERI IN THE PROVINCE OF PALERMO, A SMALL TOWN APPROXIMATELY 15 KM. FROM PALERMO.
SICILY ISLAND - IOTA EU025-
video
MISILMERI IS A CITY FULL OF HISTORY, AND IMPORTANT VERY BEAUTIFUL MONUMENTS TO VISIT
THE MAIN PRIDE FOR MISILMERESI IS THE "EMIR" CASTLE
OVERLOOKING THE VALLEY OF RIVER ELEUTERIO (as you can see down) .
MISILMERI KNOWS THE ARAB DOMINATION IN 999 a.d. AND THOSE NORMAN AROUND 1500.
WITH THE " MOTHER CHURCH " BUILT IN 1553. WITH VALUABLE STUCCOS OF FIRRIOLO, A STUDENT OF SERPOTTA.
AND AN URN, WHICH HOUSES THE REMAINS OF OUR BELOVED PATRON OF MISILMERI, SAINT GIUSTO.
THE FIRST BOTANICAL GARDEN IN EUROPE (1692) , TRANSFERRED THEN TO PALERMO.
THE "GREAT FOUNTAIN" OF CIVILETTI, AND THE FAMOUS GREEK-PHOENICIAN SARCOPHAGUS (6th century B.C.) FOUND AT THE "CANNITA", NOW PRESERVED IN THE ARCHAEOLOGICAL MUSEUM OF PALERMO .


EMIR CASTEL NOW !!
EMIR CASTEL BEFORE
---
PASSIONATE ABOUT THE MAGICAL WORD OF RADIO SINCE 1975, BUT ONLY in 2002, I ACHIEVED THE AMATEUR RADIO LICENSE.
I FAVOR TELEGRAPHY PARTICULARLY, FOND OF THE LIFE AND WORKS OF THE GREAT GUGLIELMO MARCONI , UNDISPUTED FATHER OF THE INVENTION OF RADIO ,WITHOUT HIM, TODAY THE RESEARCH WOULD NOT HAVE MADE STEPS SO IMPORTANT IN THE WORD OF COMMUNICATION
INTERNET, TELEVISION AND MORE UNIVERSAL, ARE WORK OF ART OF GUGLIELMO MARCONI.
Member of the clubs listed below:
A.R.I. – ITALIANS ASSOCIATION OF AMATEUR RADIO - PATENT N. 805 -TELEGRAPHER
MARCONI RADIO CLUB - A.R.I. LOANO - TELEGRAPHER N. 646
U.F.T. - FRENCH UNION TELEGRAPHER N.1151
S.P. CW. C. - POLISH CLUB TELEGRAPHER N. 287
C.T.C. - CLUB TELEGRAPHER CROATS N. 536
S.K.C.C. - STRAIGHT KEY CENTURY CLUB N° 7643
FROM MY SMALL STATION AND WITH MY RADIO YAESU FT 920, -100 W !! I AM PRESENT IN MAJOR NATIONAL AND INTERNATIONAL CONTEST, PREFERRING TELEGRAPHY .
ONE OF IR9Y OPERATOR CONTEST TEAM ( 2009
-2013)
MY 160/80M ANTENNA 
ONE OF IB9T CONTEST TEAM 2013
Copyright by IT9WKU
IB9T LOGO
Copyright by IT9WKU
IT9ZGY (SK)   &   IT9RZU
PIERO IT9ZGY  ( SK )

IB9T LOGO
Copyright by IT9WKU
IQ9PA QSL
CLUB STATION PALERMO - SICILY ISLAND ITALY
Copyright by IT9WKU
IT9RZU logo
---
M U S I C   AND   D R U M

MR.EDDIE GOMEZ AND ME
ME AND  ANY  MUSICIAN FRIENDS 

---
     GIOVANNI FALCONE   AND   PAOLO BORSELLINO






---

IT9RZU ONE OF O.S.C.T.
CONTEST TEAM BY IT9EJW
O.S.C.T.
Oriental Sicily Contest Team
---
SEND QSL CARDS ALWAYS VIA BURO 100% and LOTW