Hello.
My name is Nicola "Nic" I am 48 years old and live exactly
in the middle of the provinces of Bologna and Ferrara.
I work for GEA (Gestione Energetica Ambientale)
a company that operates in the field of clean energy,
I support a high power internal combustion engines powered by Methane gas and Biogas
Live with Serena (my wife) Ilaria (my daughter)
Ettore (our beautiful labrador)
and Lillo (the tailless cat)
My amateur radio activity start in the 1975/6 when  playing with the first woki toki .
Since 2007 I have the license of radio operator with the name of IZ4NIC, in 2009 I got the special call IR4C that use in international contests from my home station
From 2013 I work in the main contest world from Romagna Contest Team IR4M (Tnx IK4MGP)
I love everything that is electronic and mechanical self-construction, all my antenna, towers and part of the rotors are self-built
---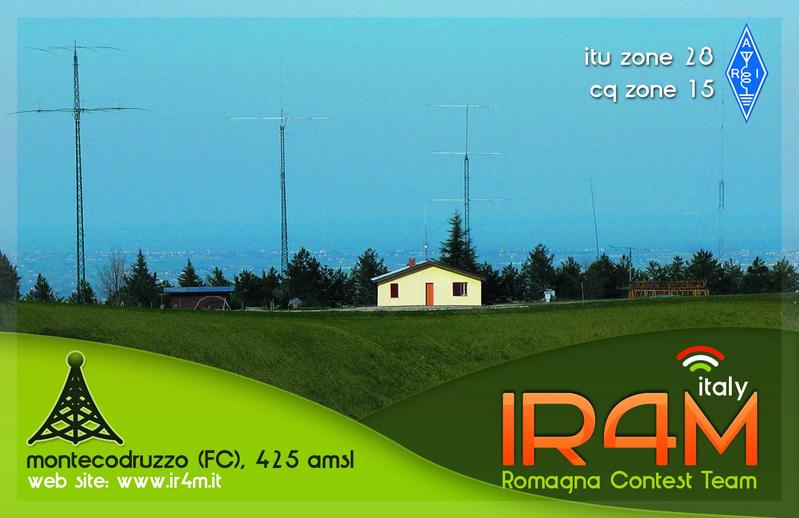 IR4C my Home Contest Call        IR4M Codruzzo Contest Call             Cento DX Team
My antenna system  home made
2m - 9 el. yagi / vertical 
6m -5 el. yagi
10 m -5 el. yagi /3 el. quad /vertical
12 m - 3 el. quad / vertical
15 m - 5 el. yagi / 3 el. quad / vertical
17 m - 3 el. quad / vertical
20 m - 3 quad / vertical
30 m - rotary dipole / vertical
40 m - 2 el. ray beam (TNX I4LEC) / vertical /dipole
80 m - vertical (TNX IK4SPB)/ dipole
160 m - vertical L (TNX IK4SPB)/ dipole
rx antenna for low band  6 beverage (TNX IK4SPB)/ k9ay  
31/08/2012-09/09/2012 IZ4NIC/IL7 Tremiti IOTA EU-050
8662315 Last modified: 2018-02-19 17:58:37, 10357 bytes
Login Required

Login is required for additional detail.
You must be logged in to file a report on this page
Public Logbook data is temporarily not available for this user
United States Counties Award

#6925


Granted: 2017-07-26 09:12:02 (IZ4NIC)



Endorsements:

250 Counties Mixed

100 Counties Mixed

250 Counties Mixed

250 Counties Phone

100 Counties Phone

250 Counties Phone

World Continents Award

#10516


Granted: 2015-09-19 05:55:02 (IZ4NIC)



Endorsements:

5 Band Mixed

10 Meters Mixed




12 Meters Mixed




15 Meters Mixed




17 Meters Mixed




20 Meters Mixed




30 Meters Mixed




40 Meters Mixed



5 Band Phone

10 Meters Phone




12 Meters Phone




15 Meters Phone




17 Meters Phone




20 Meters Phone




40 Meters Phone



5 Band Digital

12 Meters Digital




15 Meters Digital




17 Meters Digital




20 Meters Digital




30 Meters Digital




Mixed Digital




Grid Squared Award

#9167


Granted: 2015-09-19 05:50:04 (IZ4NIC)



Endorsements:

5 Band Mixed

10 Meters Mixed




12 Meters Mixed




15 Meters Mixed




17 Meters Mixed




20 Meters Mixed




80 Meters Mixed



5 Band Phone

10 Meters Phone




12 Meters Phone




15 Meters Phone




17 Meters Phone




20 Meters Phone




80 Meters Phone




Mixed Digital

DX World Award

#2582


Granted: 2015-09-19 05:50:03 (IZ4NIC)



Endorsements:

20 Meters Mixed

Mixed Phone