Born and raised in Los Angeles Califorina, went into the navy out of high school in 1972.Boot camp was in San Diego and then placed on the USS Tripoli LPH-10, a helicopter carrier. Made 2 west packs in 3 years, loved the navy and shipped over for 4 years.Got transfered to the USS Dixon AS-37, a submarine tender at Point Loma. Was on that ship for 4 years and the navy extended my service for 1 yr. and transfered me to Midway Island,which I loved. Moved to Kansas in 1979, went to work at a skelly service station in Eureka Ks. In 1988 went to work for the city of Eureka at the water dept. Worked there for 26 1/2 yrs. and retired at 59 yrs old. I now live in the country 12 miles  north of Eureka on 10 acres, and plenty of room for antennas. I currently use a Mosley CL-33 classic at 45 ft. for 10, 15 & 20 meters, and a Alpha Delta DX-CC inverted V for the other bands, apex about 40 ft. Tnx for stoping by
73's Conrad KØFCL
Yaesu FTDX 1200 
Current Hamshack 
                                                         This is the hamshack.
                                          The Ameritron AL-80B right out of the box
In my spare time which I have alot of  cause I'm retired my friend Tim (KØKSU) and I are either at my house, or his lake place talking radio.  Please check out KØKSU page. http://www.qrz.com/db/K0KSU
Old Shack Picture below
I'm running an Yaesu FTDX 1200  100w to a Imax 2000 at 30ft, also a Alpha Delta fan diapole 32ft peak at the center insolator at a inverted "V" for other bands.
                                                                                       2ND CLASS BM
Above:  Mosley CL-33 three element tri-bander at 45ft.

                Mic is a Heil PR 40
BBQ outside this spring enjoying the nice weather talking on all bands with a Alpha Delta LB Plus.
Bunkhouse!!!!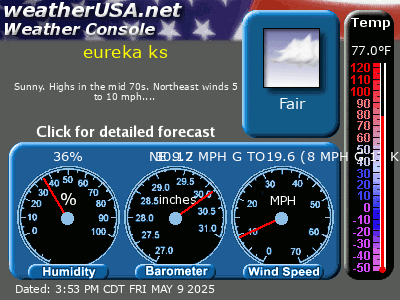 Eureka Lake May 2015