My new QSL card, Thanks to Gennady UX5UO for a great card !
Pics of my Rohn Tower project are below.....
I am the QSL manager for the following stations:
Please observe the dates.....
A52UR from Sept. 28, 2007 thru October 3, 2007
9M6/N1UR - Spratly Island DXPedition- March 22, 2008 thru March 30, 2008
N2OB/150 - From 28 Dec 2008 thru 31 Mar 2009 (QSLs can also be mailed to N2OB in QRZ.com)
Due to a postal rate increase, $1 is no longer sufficient postage for mail sent outside the Continental US.
All QSL requests require an SASE for stateside, or SAE w/ 2 GS or Current IRC to cover return postage. QSL requests may also be sent via Bureau. Direct QSLs received without proper postage will be returned via Bureau.
For QSL Information Details, see my home page at http://www.K2RET.com
Pics of the Tower Chronicles
    Start Digging                                Setting the form                   5ft 4in base section
   Base section with #4 rebar     Bitumastic coating on base leg stubs   Setting the base in the hole
   Base of tower              Locking everything in to plumb    11/10/14 All plumb, inspection time
 Power Buggy to move concrete     11/10/14   Floating the top        Just another angle
11/12/14 Removed the forms    Finish grading around pad   One of the Rohn GAS604 guy anchors
The concrete base for my tower is 36in. x 36in. x 42in. deep with a 6in. curb.  Top is crowned for water run off and edges are rounded off.  The Rohn anchor is the  galvanized GAS604, 5/8" solid rod, 4 feet long with a 6 inch helix. What is in the ground has 2 coats of Bitumastic (coal tar epoxy coating) painted on.
Started errecting tower today 26 Dec 2014
When you don't have a gin pole handy, a 21 ft piece of 1-1/2 galv pipe with a pulley on top works great....
Was able to get 22 ft of tower up and rotor plate mounted today.
Installing 3rd section (Top) with Gin Pole.  Now ready for antennas !
24 Feb 2015 - Mast Lift Rigging and 2 guys installed.
Boat Trailer winch,  1-1/2" dia x 7" steel pin in base of mast, Pully with rope tied to pin and loop hooked to strap on winch.
Two guys installed,    Ceramic insulator at 14ft mark on guy to break up cable into non-resonant length.
25 Feb 2015
All guys installed,  One of the anchors with turnbuckle,   3rd guy goes through Cedar tree (tree saved !)
12 Apr 2015                                                                                                         13 Apr 2015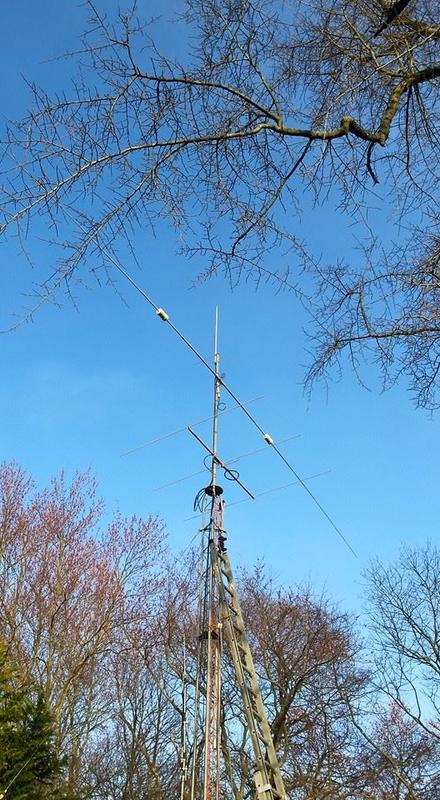 Re-sealed 40m balun feeders    M2 - 6m antenna on mast  3 of the 4 are up, 2/440, 40m, 6m
30 May 2015 - Finally mounted Force 12 C3S on tower.