I go by "Bob", and my favorite mnemonic for my callsign is: Kilo 4 Very Bad Memory!
PLEASE CHECK K4VBM/4 regarding my portable operations in the 4th calling area.
A big thank you to Al Savio, N2OBH, who helped me set up my first station and has helped troubleshoot problems countless times.
My station:  Kenwood TS-870S with a MC-80 microphone (found the MC-85 was sometimes introducing a bad hum), running 100 watts barebones. I have noticed and recently got a FT8 report that my signal on 30m has issues -- I monitored it myself and it has a very raspy sound -- this is the first problem I have had with the TS-870S. It has gotten so bad that the radio sometimes will not transmit on 30m anymore - hope to troubleshoot the problem cause soon.  New Astron RS-50A power supply - thanks for reports of the clicking/clipping on my signal which told me the old one was starting to die. UPDATE: I recapped the old Astron RS-50A and put it back into service. It seems to be working fine - if you disagree, please let me know!  Also have a Kenwood TM-V7A that I use for 2 meters and 70cm. In September 2016, did complete rework of the station grounding, and it seems to have solved the reports of RF on my signal. Please do give me feedback on my signal quality - always trying to improve.
***********SPECIAL NOTE***********
K4VBM (me) will be one of the operators for the 13 Colonies Special Event in 2017 during July 1, 2017-1300 UTC to July 7, 2017-0400 UTC. This is my 3rd year. Please check out the 13 Colonies website. I will be calling using the callsign K2G for the state of Georgia (GA), using modes SSB and digital.
Please check www.DXsummit.fi for spots for the 13 colonies special event stations including K2G during the event.
Any questions, concerns, comments or compliments - please contact the GA state coordinator Nate at K4NHW@arrl.net
I will log all contacts I make when I operate as K2G under my personal call sign, K4VBM,  in Clublog, HRDlog, QRZ, LoTW, and eQSL (K2G is not set up to upload logs to the popular places).  I have been uploading logs usually by the next day. If you check Clublog, HRDlog, eQSL and/or QRZ and you don't see a confirmation for your QSO with me (will be with K4VBM and not K2G), please email me and I will work with you to correct it - it's always possible that I mis-typed it.  At the end of the event, all K2G ops will each turn in an electronic log that will be consolidated and then turned in to the 13colonies.net master coordinator which will be used to check QSOs for the 13 colonies certificate.
I will NOT paper QSL for any 13 Colonies Special Event contacts as K2G.
Please see the QSL info below:
For a 13 Colonies Special Event Certificate send via KU2US.
For Georgia QSL only .... QSL via NF4GA with SASE for a K2G card.
Thanks for all the contacts this year - hope you all had fun! See you next year!
***********END SPECIAL NOTE***********
I have been restoring a Kenwood TS-940S that I picked up at an estate sale. I replaced the 2 tabbed button battteries with battery holders/sockets which will make changing the batteries very easy going forward - that brought back the display to working condition again. The next thing was to put all new capacitors on the power board which was tedious but successful.  I also have added a Piexx interface board so I can do CAT control of the radio, and added a Signalink USB and cable to the rear ACC2 port.  The radio is now operational and on the air (made a FT8 digital QSO using it.) - but a new problem has surfaced: the frequency display will randomly lose power! A tap on the case will make it go away and come back! Based on what I have researched, a bad solder connection has occured on one of the boards due to my wiggling of cables and probably other stresses (the soldering on these units was notoriously bad, and I saw this on the power board where the connection tab soldering actaully broke when I removed the tabbed wires - which I re-soldered while I was working on it). BLEH - have to take it all apart again! See power board pics, and battery holder / new interface board pics below:
| Before | After |
| --- | --- |
| | |
| New Piexx interface board and new battery holder to the left | New clock battery holder |
| --- | --- |
| | |
HF Antennas:  Home-made 164 foot dipole about 25 feet up in the air between a couple trees, fed with homemade ladder line, tuned with a Johnson Viking Kilowatt Matchbox tuner. The new 520 foot  home-made loop antenna is finally up about 30 feet and tunes well (1.0 to 1.1) for 15m - 30m, but unfortunately it doesn't tune well at all for 10m, 12m, 40m - 160m -- I think the feed line is too long. The loop is amazing - I can hear some places I couldn't hear with the dipole, and some people seem to be able to hear me better and louder with it. Trying the new loop was interesting and fun -- I think I will be trying to make and test some other types of antennas. I would especially like to make one that will work on 160 meters, because I can hear 160 currently, but not transmit and be heard. It's just amazing what you can do with 100 watts (150 watts on the new/old TS-940S) and some wire!
VHF/UHF antenna: Home-made J-pole for 2 meters and 70cm made from copper tubing. It seems to work well, but I need to get it up higher.
And some day I will get an HF amplifier ... but for now, 100 watts and some wires seems to be working pretty well!
HF Tunable bands: 10m, 12m, 15m, 17m, 20m 30m, 40m, and 80m.
The best part of ham radio is meeting new people and making new friends. I'm fairly new to the hobby having gotten my Technician class license in 2013 and upgrading to General class in 2014. Upgraded to Extra class 6/12/2016. My radio is 2nd hand, and I am slowly learning how to use all the features. I want to thank all my ham friends who have helped me get this far in what is probably one of the best hobbies in the world! I enjoy a good ragchew, and even the short contact is just fine. I also like chasing DX on all bands and modes. Got my LoTW Worked All States (WAS Mixed, Phone, Digital, JT65, JT9, FT8, 20m, 40m, 20m Digital, 20m JT65). Got my 100th DX country (Iceland)  verified in LoTW on 12/10/2016 YAY! Current LoTW DXCC status:
Mixed DXCC count = 130
Phone DXCC count = 101
20m   DXCC count = 103
Finally made my first PSK31 contact 8/9/2016 with a RigBlaster Pro that I bought used (thanks to the help and expertise of Neil Foster, N4FN). Another thank you to David Ross, VA3MJR, for the valuable pointers and tips on JT65. JT65 is just amazing, and I have made a number of DX contacts as well as some USA contacts - I have found that I really like the JT65-HF HB9HQX Edition software. Also have MMTTY software installed and trying RTTY. Made a few RTTY contacts, but still working on MMTTY config and getting logging working. Tried WSJT-X by K1JT software that does JT9 and made my first 2 contacts 12/7/2016, another interesting mode that I will surely do more with as I learn better how to use the software. Discovered a new Joe Taylor mode today: FT8 - have to use the BETA software. FT8 uses 15 second cycles instead of 60 second cycles, so QSOs go much more quickly - lots of other hams trying it out also - seems to be very popular - give it a try. 8/15/2017: All FT8 QSOs uploaded to LoTW using mode of DATA, have been re-uploaded using mode FT8 - Going forward all will be uploaded using mode FT8 -please contact me if you think one is missing.  Watch out for me in the digital spectrum now :)
Also have acquired some Morse Code keys and starting to learn CW, but it is taking longer than I hoped - wish I had more time in a day!
73, and hope to meet you "on the air"!
Bob
K4VBM
I try to follow the DX Code of Conduct, and urge others to read it and follow it.
Peanut Power Number: 53
SKCC #: 15978
OMISS #: 10319
Digital Modes Club #: 08503
Feld-Hell Club #: 5885
I joined OMISS, and they are a great bunch, having some fun nets run by great people. It is a really good way to practice your skills, making contacts and picking out and trading information in various conditions on different bands. Also good for making some new friends. They also have some nice awards you can chase. Speaking of awards, OMISS had a QSO party in 2016 and I heard K2EZ, Andrea OMISS #10321, calling OMISS QP and made the contact during the QSO party. Now, that one contact turned out to be my only one for the OMISS QSO party, but I duly sent in my log, and guess what? I ended up getting 1st place in the state of Georgia. Thanks, Andrea, for your help in achieving this award! It just shows that it pays to make the effort.
Here is another radio contact made during a QSO party that turned into a first place in the state of Georgia.
It's fun making contacts over ham radio, whether they be long ragchews, or short hellos. It's also fun to see where and what mode all those contacts are as they are made over time. I do logging on paper and transfer them to electronic form. And I know I make mistakes typing in QSOs into webpages and software. Many hams like to chase awards related to their contacts. I try to regularly upload my logs to QRZ.com, LoTW, and eQSLcc (I am AG on eQSL - please take the time to get AG certification on eQSL) so that other hams can get verifications of contacts to be used for awards. Below are some of the awards that I have achieved because other hams have taken the time to upload their electronic logs to various websites that I participate in. SWL reports on eQSL are welcome - please include the call sign I worked and signal reports for verification. If you had a QSO with me and it doesn't show up in QRZ.com, LoTW, or eQSLcc, then send me an email and I will be happy to correct my mistake if the QSO is in my log. Please make the effort to upload your logs to QRZ.com, eQSL, and LoTW, even if only once a year - you could just make someone's day special!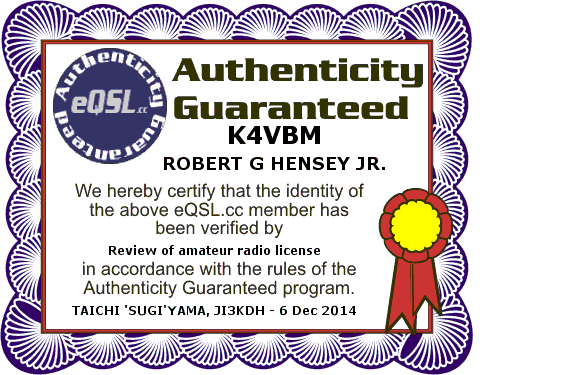 Visitors since 6/20/2016