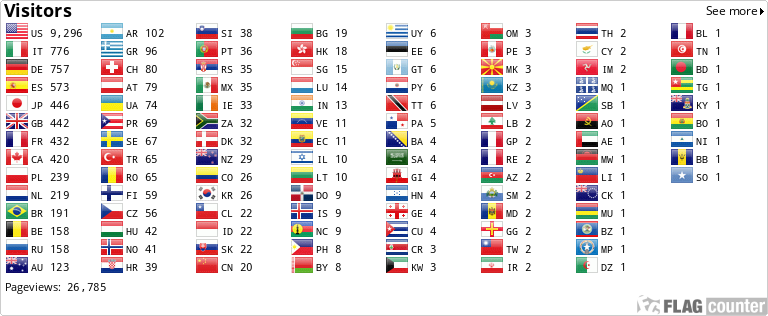 FLAG COUNTERS STARTED APRIL 17,2015
​​Main picture was taken April 2016 from Cleveland Clinic rooftop observation deck.  Operating rooftop portable using a Yaesu VX6R working N8SIW 145.130-110.9 repeater Polk, Ohio at roughly 70 miles. 
Hello  Fellow Hams,
. If u send any QSL, PLEASE use the address PO BOX 48, CANTON,OHIO 44707-0048. Elevation at QTH is only 950FT which is very low compared to rest of the area. I'm at the bottom of a 300 FT hill which is 1 mile from here all around.Like a soup bowl and I'm at the bottom. This pic is taken from top of the hill on my street and looking south.  Any bands that require ground waves to work any distance are an obstacle for me.  Any contacts that come via skip aren't such a problem as anything I long to live on a hill top instead of "down in the hollar".
Look me up on APRS.FI Now running APRS mobile as well as base. Using Kenwood TM-D710. With the GREEN LIGHT LABS gps attachment in the mobile. . GREAT RADIO. and GPS unit work great together.  Search under these call signs,  KB8OTK-9 ( personal mobile ), KB8OTK-5 ( home digipeater ). The digipeater is the newer Kenwood TM-D710GA. For the most part it runs 24/7-365. Unless I use the vertical on a different radio for ssb.  Even though the antenna tops out around 85 ft, it's not high profile by most standards.    Thank you to Ralph, K8HSQ, 2014 President of MARC for all his advise in the APRS field.
In February 1993 I took my first ham license for novice class and passed. Thanks to AA8RS Mike for getting me started. I was 17 then and when the license came in the mail on my 18th birthday i couldn't wait to get on the air. Later on I upgraded to Tech + after the NO CODE TECHS started to appear. I kept my KB8 call sign to show i had been a novice first. Eventually upgrading to General class and for the same reason have chosen to keep my origional Novice call. Hopefully I can upgrade to Extra class this year.
March 2014
Recently I purchased an AMERITRON AL-811H amplifier from a local ham that decided he wanted a solid state amp.  This is my first HF tube type amp and I am still learning every day with what works properly, and sounds decent.  If you have any suggestions for me, please send them along as Every day I learn something new in HAM RADIO.
A new antenna this year is a Diamond 6M vertical, CP-62. Haven't really used 6M much before so this will be a good starter antenna. Thank you to KD8TNF Chris for your help with all my questions about everything 6 meters and then some.
2013 Update. Base station equipment is now KENWOOD TS 2000 with MC-60 amplified desk microphone. Really like this radio. LDG AT200 PROTUNER. Also happy with this. Antennas are both up 85 FT. For HF is still the old A-99 which will tune 20-6M. For UHF/VHF I still have the Diamond X510HDM. For a vertical I'm hitting repeaters up to 100 miles away on 2M even from my horrible elevation. An other HF is G5RV 102FT LONG WIRE as a flat top with a height of 50 FT. Soon I'll have up the G5RV max 204 FT long wire. The 102 ft will not tune to 160M so I"m opting for the 204FT. Will try to run both wires at once and check results.
If you happen to be in northeast Ohio, try out the Massillong Amateur Club Repeaters (MARC) . 2M 147.180 +0.600 110.9hz which is a Yaesu System Fusion C4FM digital capable and analog FM with both going out as analog FM. The 440 repeater is  442.85 F7W(C4FM), F3E(FM) 110.9, and 442.85 131.8 F3E (FM ANALOG). The club tower is about 170ft high with the DB224 2M 4 bay vertical dipole array topping out nearly 200 ft.  The 440 antenna is also at the top to the left of the 2M antenna.  These antennas were a great investment for the club and have provided fabulous performance. Photo courtesy Jim, WA8GXM and his drone. 
My mobile equipment is as follows. Yaesu Ft2900 75W. great mobile rig, easy to use and see all buttons and big display which is easy on the eyes. only drawback is NOT a dual bander. It has it's purpose though. Works great in the semi truck. Sure can take a beating. Also i have Yaesu FT8800 dual bander. great for when i'm on road trips or even around town. The cross band repeater function gets used often. So i can run my VX7R YAESU HT through the 8800 without the choppy signals you usually hear with someone using an HT. Drawback, display is smaller than the FT2900 and the buttons are not backlit which is awful for using while mobile and moving. Newest mobile Yaesu FT7900R dual bander. Thank you TUSCO ham club for the door prize at 2013 ham fest. Tuscarawas County Ohio club repeat 146.730 71.9hz W8ZX. Great display, similar controls as FT 2900 and even buttons are back lit. Great asset for a mobile. Drawback, no cross band repeat, single display. But it's got plenty of great uses as well. Very happy with all my mobiles. Antennas for HF mobile is a 5/8 Wave magnet mounts that came from Antron in Youngstown Ohio. Great cheap antenna. Works better than $500 screwdrivers when using a tuner. my cost $50 for the whole antennas and mount, coax. HAHA. HF mobile rig is RCI2970DX 150W. 10/12M only. And also the new version RCI2970 DXN2 @ 250WATTS. i'm able to work anyone i can hear with this set up. For VHF/UHF i use the MFJ 1432 Hyper gain. great antenna for the price and quality is as good as the diamond 7900 SG, but half the cost. Highly recommend this for a dual band mobile antenna. I have 4 of them.
This is a picture of the big tower. May not look like much, but You looked me up on here because we talked on the air. So, it's working even though it may not be pretty or professional.
On the tower on left, left antenna, which is now crooked, (its 20 years old, surprised its still functional.) an old A-99 10M groundplane top height of 85FT. which will tune 6-20 meters with ldg auto tuner. The antenna on right, Diamond X510 HDM.TOP height of 85ft. Great 2M/440 antenna.Long wire on top at 60Ft is 204FT G5RV MAX. The wire under that at 50 FT is G5RV 102FT LONG WIRE. Short tower is I MAXX 2000 with ground plane attachment. designed for 10/12 Meter, but will tune 20-6 Meter with the auto tuner. Height of 55 Ft at top.
73's GOOD DX., KB8OTK, MICHAEL
View from tower top looking East., North
View from tower top looking West, and South.
Working on moving the I - MAXX 2000 ground plane up to top of tower at 60 FT. Oct 2013
Porky will come in handy next field day in case we need to hang wires on his horns.  He's only 1 1/2 years old in this pic.
">
     ​This year of 2016, I'm attempting to learn how to work satellites.  That's part of the reason I purchased a 2nd Kenwood TS 2000.  It's supposed to make satellite operation easier with built in controls.  Eventually I will have base satellite set up, but for now I only have the "Alaskan Arrow" portable on a camera tri pod.  So for a radio I use the mobile Kenwood TM D-710G.  Having a duplexer on the antenna so I can hear the downlink at same time.  If anyone has tips on using birds,  please advise.  So far I have only used the FOX 1-A bird and one local balloon launch from The University of Akron, W8UPD group that had a cross band repeater on it.  QSO date was Field Day 2016.  Since I'm only using a portable antenna, I use the the android app ISS Tracker Pro.  It's easy to use but has all kinds of bird in it that are no longer active.  If you know of some popular birds to use, please fill me in.  I don't know anyone locally who works satellites to ask for advise.  If by chance we do work by satellite, please also email me. KB8OTK@GMAIL.COM.  Things happen so fast that I'm not coordinated enough to adjust for doppler, keep the Arrow pointed in the right way and actually remember your call sign even during the qso exchange.  I've tried to work lots of birds during passes and never seem to get into them.  Same with using the International Space Station as a digipeater.  I can hear it fine, even on my base vertical, but never has it heard my APRS beacon.  Even with running 200 watts either on the Arrow or my vertical antenna.  Again I can receive it great, and get each packet it digipeats, but it never digipeats my own packet.  If there is something special I need to do please let me know.  My base functions fine as a fill in Digipeater just not through ISS.  Every day is a learning experience in ham radio, that's what keeps it fun and interesting, especially for someone like me with ADD and short  attention span.  This update June 28, 2016, 73's de KB8OTK k
​University of Akron W8UPD balloon launch with cross band repeater Field Day 2016 link below.
https://www.youtube.com/watch?v=MT6fLAcX1QM
​I have finally corrected my radio settings to digipeat through the ISS.  Thank you to Ed, W4TBD for his advise on getting this to finally work.  Here is the message I received from him on June 9, 2017 @ 02:00 UTC during a great visible pass of the International Space Station.  Everything here is done manually with me as a live operator.  So if you happen to receive a packet or message, I have actually sent it, not an automated computer program.  Maybe some day I will get to do that.  
Operating rooftop portable from The Cleveland Clinic in April 2016 with Wade WD8MIU ( on left ). Looking west with Cleveland skyline in the background and lake Erie to the right. Spent 27 days in the hospital due to Crohn's disease. When I was finally allowed outside, the rooftop observation deck was the first place i went with H T in hand. Was able to work repeaters on 2 / 440 @ 75 miles on a rubber duck. Due to complications from Crohn's,  this year i was forced to retire at the age of 41.
Ham radio is  something I got into as a teen because I was often too sick to go to school because of Crohn's disease. 23 years later , it has come full circle in my life. Being retired now has allowed me lots more radio time than I ever had when I was working 60 + hours a week. I'm finally ready to retake the extra class test on Oct 23 at the Massillon Ham Fest 2016. I'm tired of missing out on D X that is always in the extra portions on HF bands. Hopefully I will finally reach DXCC this year. Working a new dx is still exciting , even after 23 years of ham radio. 
​Finally I have passed the element 4 extra class test. It has taken me 23 years and 7 months to go from a Novice class to Extra. Special thank you to the members of the Massillon Amateur Radio Club ( M.A.R.C.  WWW.W8NP.ORG ) for everyone's help and advice for helping me jump this hurdle. 
     ​January 2017.
​     Finally I am getting into digital modes on HF.  I'm having a blast with all these new modes.  Using the WSJT-X  program has opened up my eyes to a whole new digital world.  So far I have worked with jt-65 and WSPR modes.  I will get to the others soon.  The wspr will now run when ever I'm not using the radio for something else.  Even over night.  Learning more about propogation will help me become a better operator.  So far the most exciting dx has been Antarctica station DP1POL on 60M JT-65.  These digital modes should finally get me to DXCC shortly and WAS. Even if it is mixed bands and modes, I'll be happy to get there.  Eventually it will be for each band/ mode, but I've only been working HF for a few years now. Some days I just don't feel like picking up a microphone so the JT modes have been getting a lot of use now.    All JT mode qso are confirmed immediately on QRZ.COM log. Then usually daily, sent to LOTW and at least weekly to CLUBLOG. Since the JT qso are so slow, I take the time to look up your call and qrz page and read about you.  While there, soon as I get your signal report I log it.  No qsl cards are necessary, but as soon as my new batch of cards is in, I will be happy to return one to you. NO SASE, NO GREENSTAMPS, NO IRC, NO CHICKENS OR GOATS REQUIRED.  LOTW is sent from QRZ  so that makes it very easy to merge the 2 logs.  Club log is now current with LOTW + QRZ.  I like the way you can get your own statistics much easier than lotw is why I use it.  Also now uploading to EQSL now that I have figured out how to sync all the logging files. 
​   If you happen to see any issues on my signal on your waterfall, please advise.  A couple of you have and I thank you.  I'm still very green on the digital modes and I know I have lots to learn. Mostly learn by my own mistakes, or blowing apart equipment.  I guess if you aren't blowing things up, you aren't trying hard enough. 
​​   Thanks for stopping by, 73's.
​