All time contest record holder 8th call area
2015 ARRL International DX CW Contest
Single Op All Band QRP 8th Call Area
8    KE8M                         793,968  2015  SQRP  CW
CQ WPX RTTY Contest Score Records for United States 8th Call Area
Single Operator - QRP
Category     Call     Year     Score     WPX
QRP ALL     KE8M     2015    669,383    403
CQ WW RTTY Contest Score Records for United States 8th Call Area
Single Operator Assisted - QRP          
Category        Call      Year     Score  QSOs States Zones DXCC
QRP ALL     KE8M     2015    379,132    552     79        55    165
CQ WPX CW Contest Score Records for United States 8th Call Area
Single Operator Assisted - QRP          
Category         Call      Year      Score     WPX
QRP ALL     KE8M     2015    713,210    365
CQ WPX  CW  Contest Score Records for United States 8th Call Area
Single Operator Assisted - High
Call        Year    Category          Score       QSOs  WPX    
KE8M    2016    SA HP 20M    858,420    628    502   
december 2015 newest arrival K3s sn#10495
dec and jan holidays under construction
gladiator 8 ft workbench
dec 30 2015 new set up
left to right
Ameritron ATR 15 Antenna tuner      Ameritron ALS 600 amp     Kenwood TS 450   Kenwood TS 2000
Elecraft K3s     Kenwood TS 2000     Ameritron ALS 1300 amp     Ameritron ATR 30 Antenna tuner
3 - 32" led tv's serve as pc monitors 
Some selected qsl cards from my collection of 26 years
https://www.flickr.com/photos/81669712@N02/page1/
qsl's prefered method LOTW, Eqsl and direct sase for a paper qsl and as of nov 2012 i have a qsl manager and will accept cards via the qsl bureau
(picture above) new antenna aug 18 2013 hy gain lj 204 ba on a new 50 ft rohn tower !
i was born 1958 first licensed 1989 was issued the call kb8gqt i found by studying and learning the code to become a ham radio operator that i began to love cw ! and then the dx bug bit me! later advanced through the testing recieved kf8tm and made it to extra class 1998 got the vanity call ke8m 1999 was inactive 2002 - 2007 getting back into it have recently added some new equipment and antennas most of my operating is cw and digital contests and here lately with the sunspots up working my favorite band and mode with the new antenna 10m cw in the mornings before i goto work as a millwright in a factory last 35 years
my other hobby riding my 1999 kawasaki zrx 1100 (my son took this picture riding next to me with his phone @ 55 mph)
june 2013 project : installed a new antenna system for my dx elmer ed k8qwy slideshow video on you tube
hy gain lj 105 ca going up summer of 2010 @ 45 feet solarcon imax 2000 above it @ 48 feet
cushcraft a4s went up nov 2010 @ 42 feet took down july 7 2013
july 7 2013 new antenna ! hy gain lj 155 ca
sept 2013 has been a dream of mine since 1989 to someday have monoband performance on the contest bands 10 15 20 but difficult on 3/4 acre lot !
i now have hy gain long john yagi's now 105ca @ 45 ft 155ca @ 42 ft 204ba @ 50 ft
october 15 2015  new amp ! ameritron als 1300
nov 6 2015 new tuner ! ameritron atr 30
october, nov 2015 : 160m antenna is now shared with the full size 80m ground plane
                         with switching at the feed and the addition of shunt loaded coil and a additional 37 160m
                          1/4 wave radials added
                         total various sized radials on the 160/80 ground plane now = 175  20-200 ft
other antennas :  full size 80m ground plane 175 radials ,  40m vertical loop, 40m full size 1/4 wave ground plane @ 25 ft
nov 2015  40m full size 1/4 wave ground mounted vertical 120 1/4 wave radials
iota operations : always wanted to be on the other side of a pile up so i went to some islands during the month of july for the rsgb iota contest
july 1997 kf8tm/4 from st george island florida iota na-085
july 1998 kf8tm/4 cudjoe key florida na-082
july 1999 ke8m/4 key west florida na-082
these can be confirmed easily by lotw i have uploaded all qso's as a ham to lotw
past calls :1989 to 1992 kb8gqt
1992 to 1999 kf8tm
1999 to present ke8m
c u in the pile ups
dave/ke8m 73
 antenna work 0ct 2011: full size 80 ground plane redid the 120 ground radials connections
nov 24 2011 full size 1/4 ground plane for 7mhz on a 25 ft tower for cqwwdxcw went up
latest wallpaper :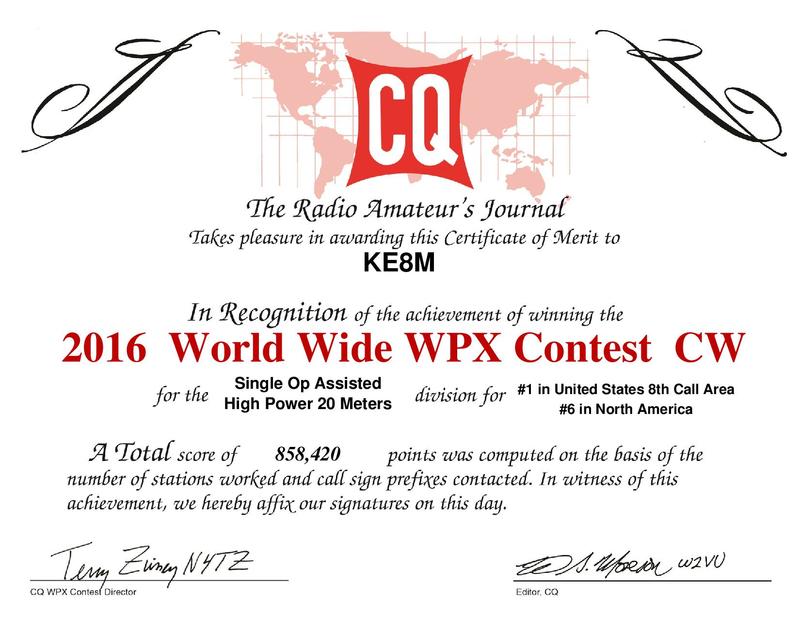 old wallpaper:
in memory of my father and elmer eugene aa8dl sk 1998 rest in peace dad
visits since march 28 2011