About Me
Hi, and thanks for stopping by... I'm George, a 28 year old university graduate with a Ph.D in Electronic & Electrical Engineering, working in the research field of MAC layers, wireless sensor networks and energy scavenging.
I was first licensed as 2E1ZZZ in June 2002, when I was aged 13. In June 2003, aged 14, I passed my full licence exam and finally became M1GEO. I held M3PKT for a short while alongside M1GEO, to allow HF use on what was a class B (VHF and up) licence.
More about me here.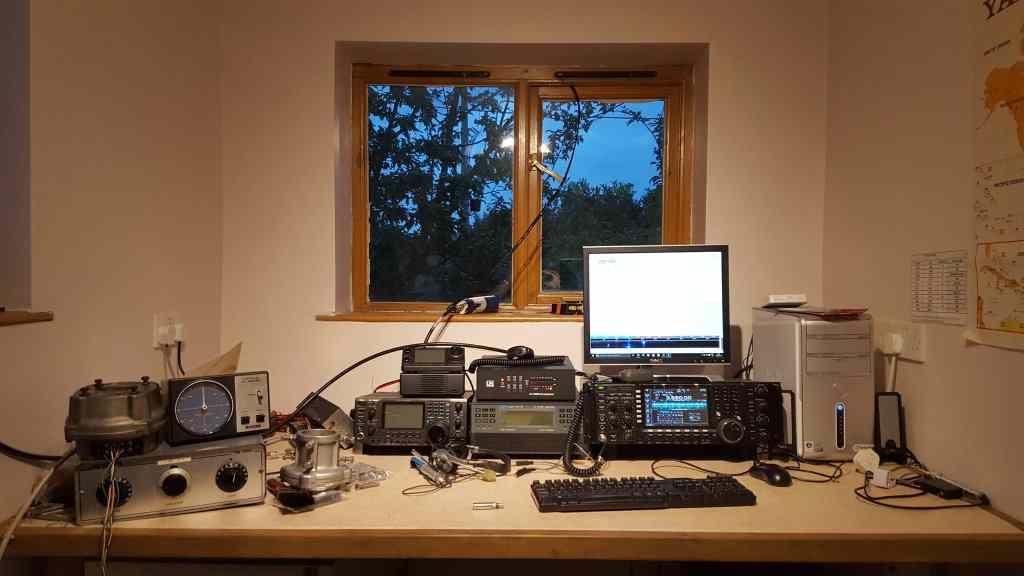 Homebrew Standalone HF (160m-10m) SDR with DSP = mcHF Project
If I have worked you on air with my homebrew mcHF Transceiver, then below is a picture of the radio out of the case. The project is an open source hardware and software project, headed by Chris M0NKA. Every part on the boards is hand soldered by myself. I am in the process of making a second transceiver, and this is my first. The soldering is a little poor on some of the parts, especially the LQFP100 ARM chip, which took a bit of patience to hand solder with an iron. More information about my build, and some more pictures of the juicy bits of the PCB can be found here: George M1GEO Wiki > mcHF.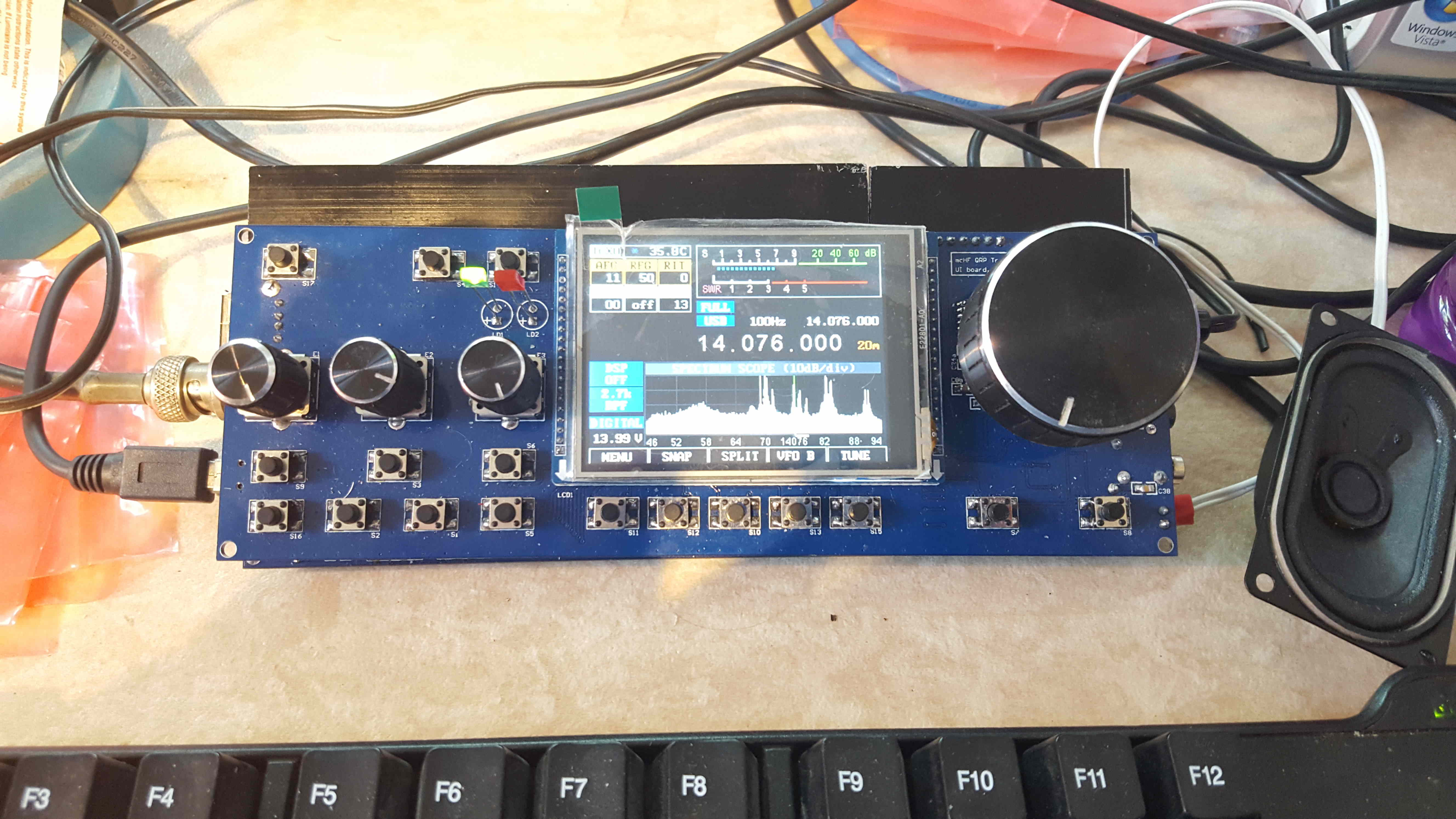 First attempts at EME
Early November 2016, a few of us decided to try EME. After some attempts, and trying different antennas, we have settled on a portable and quick solution: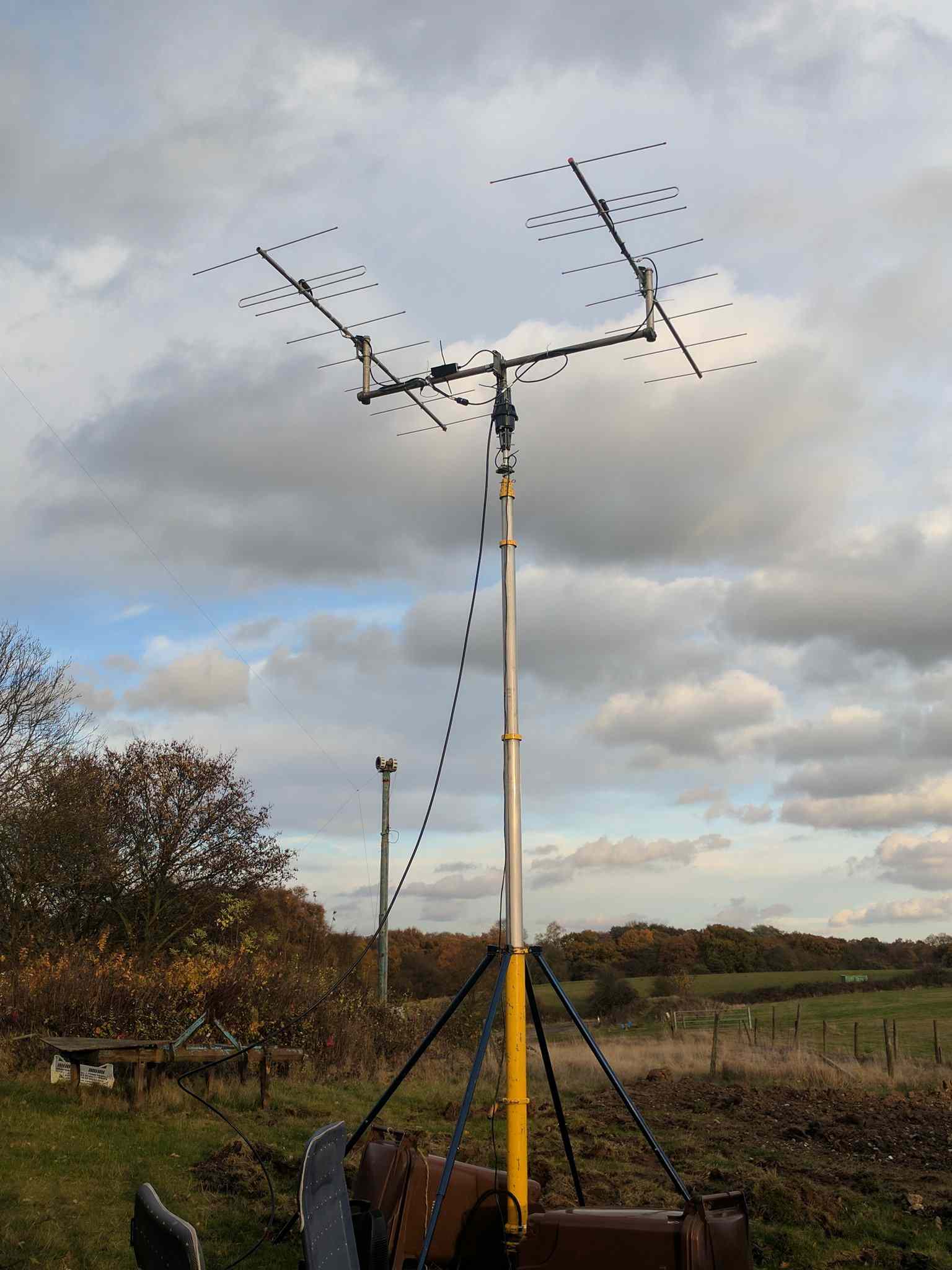 Typical Portable Setup
Most of my operating is done out portable. The image below shows a typical station in the club's caravan, though when not available it comes out in my small tent. The old amplifer keeps the tent nice and warm!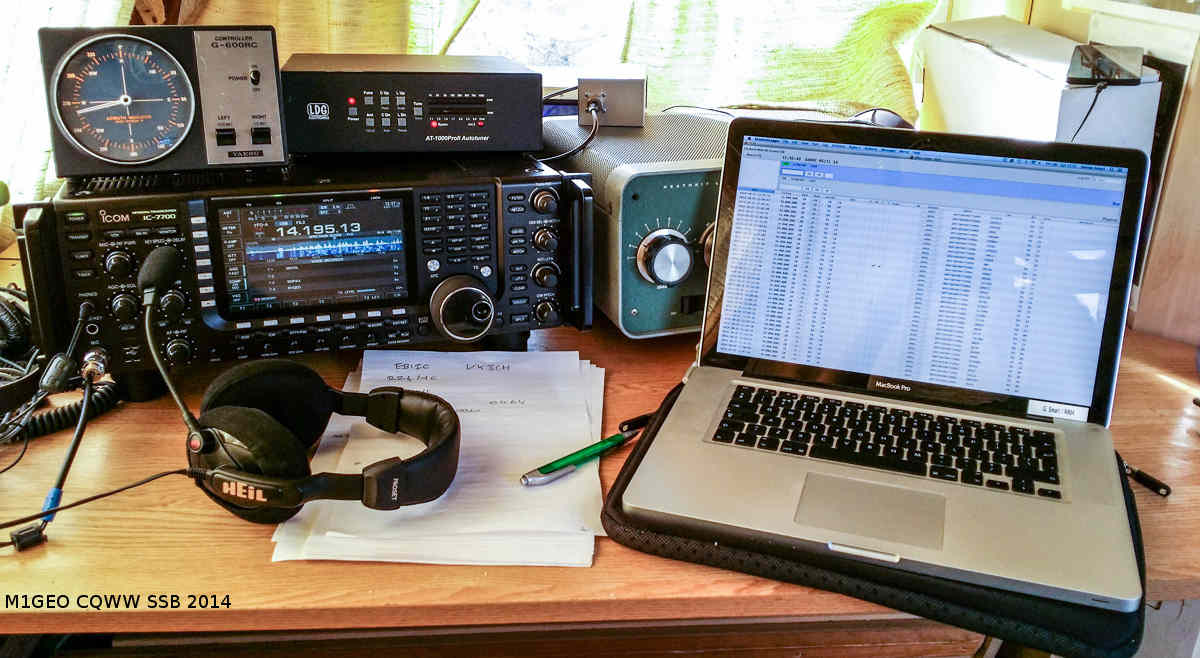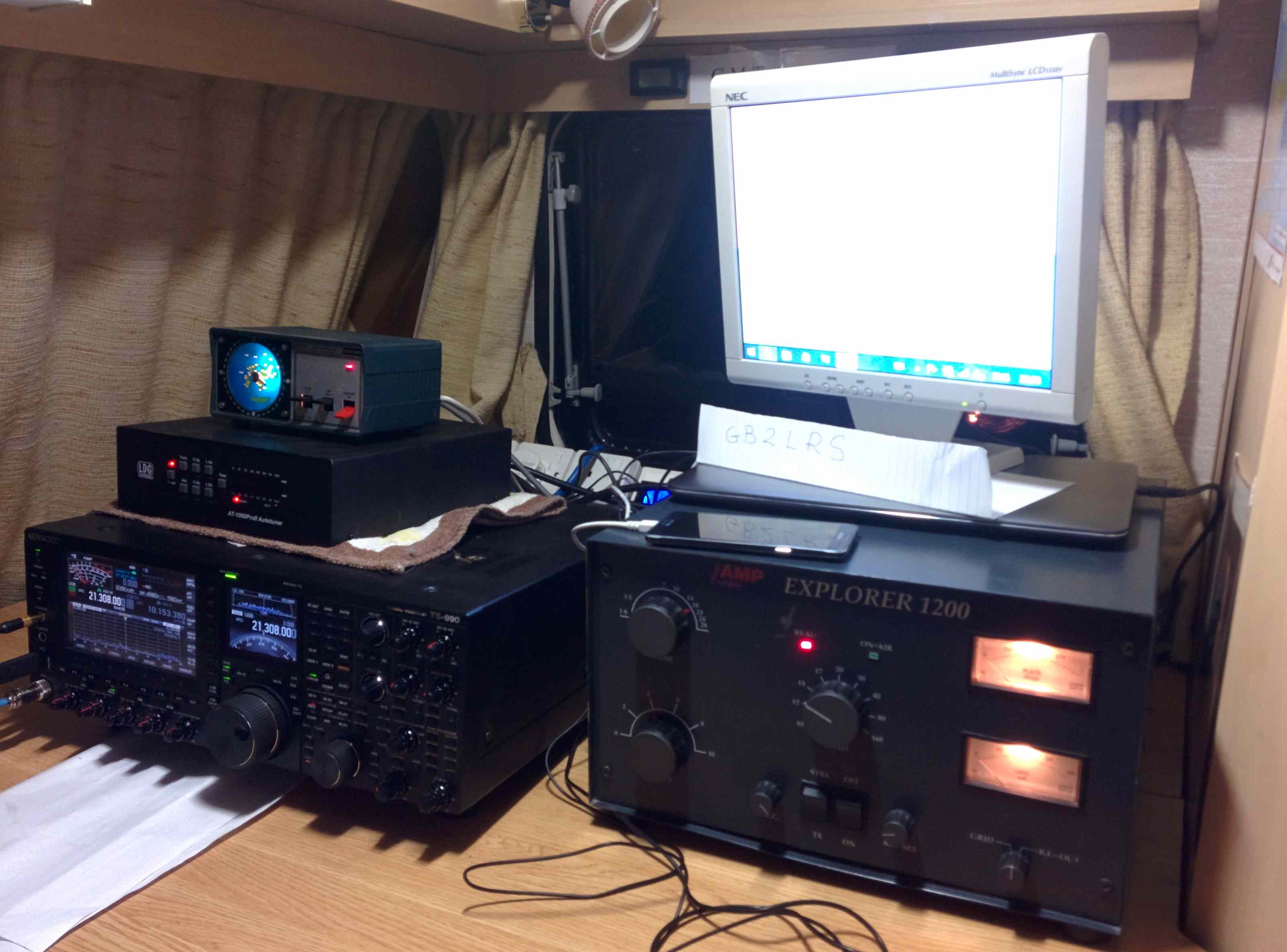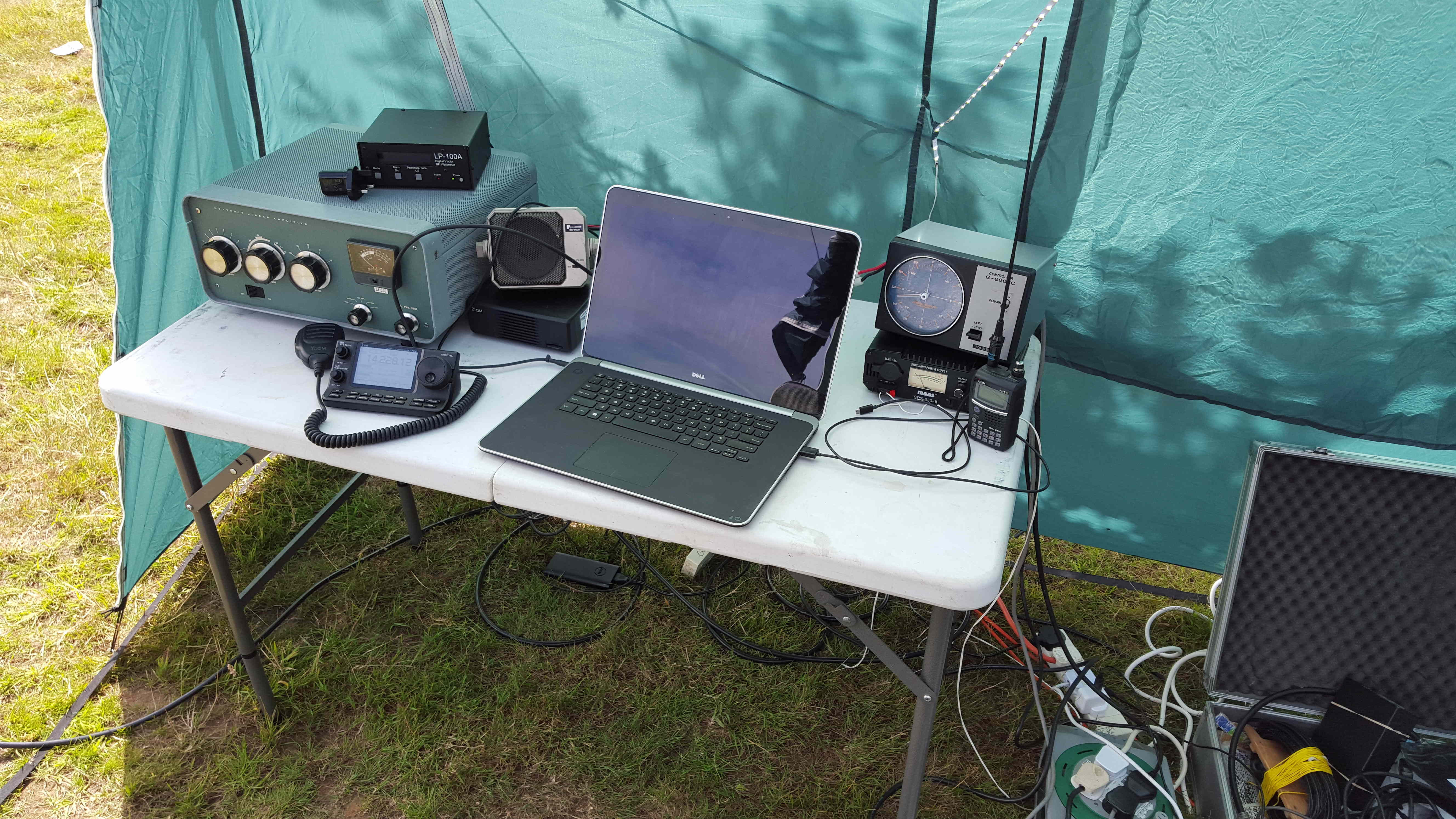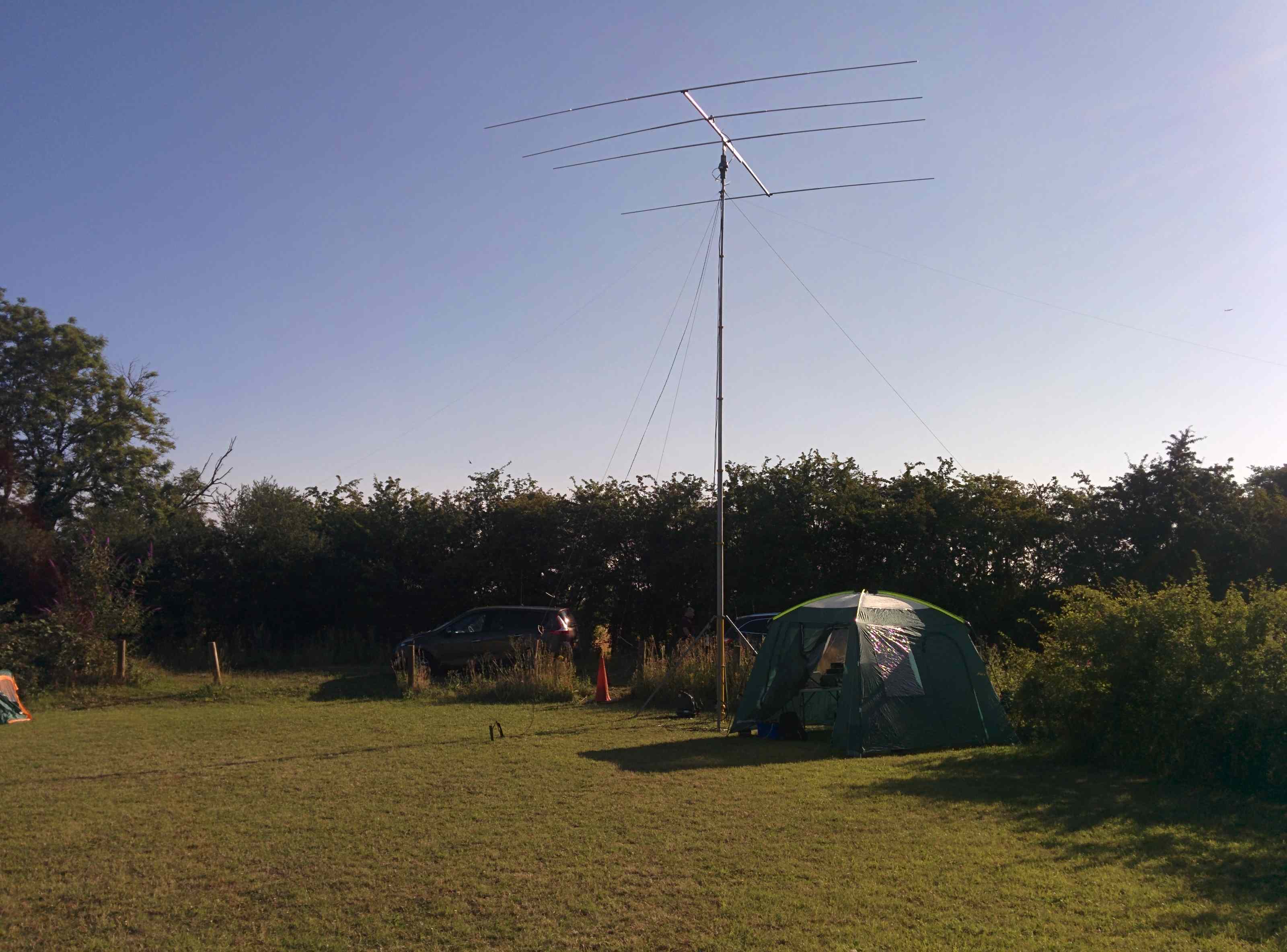 The antennas are homebrew, the 20 metre 3-element was designed and built by myself and Dad (G8OCV) a few years back. The 15 metre 4-element was made by Dave M0TAZ to a DK7ZB design. It is a monoband 3 element yagi, which performs very well. It's pictured below atop of our SCAM12 (ex-British Army pneumatic mast).  We have several sets of elements tuned for 20, 17 and 15 metres, although changing band requires dropping the beam down and swapping out the wire elements.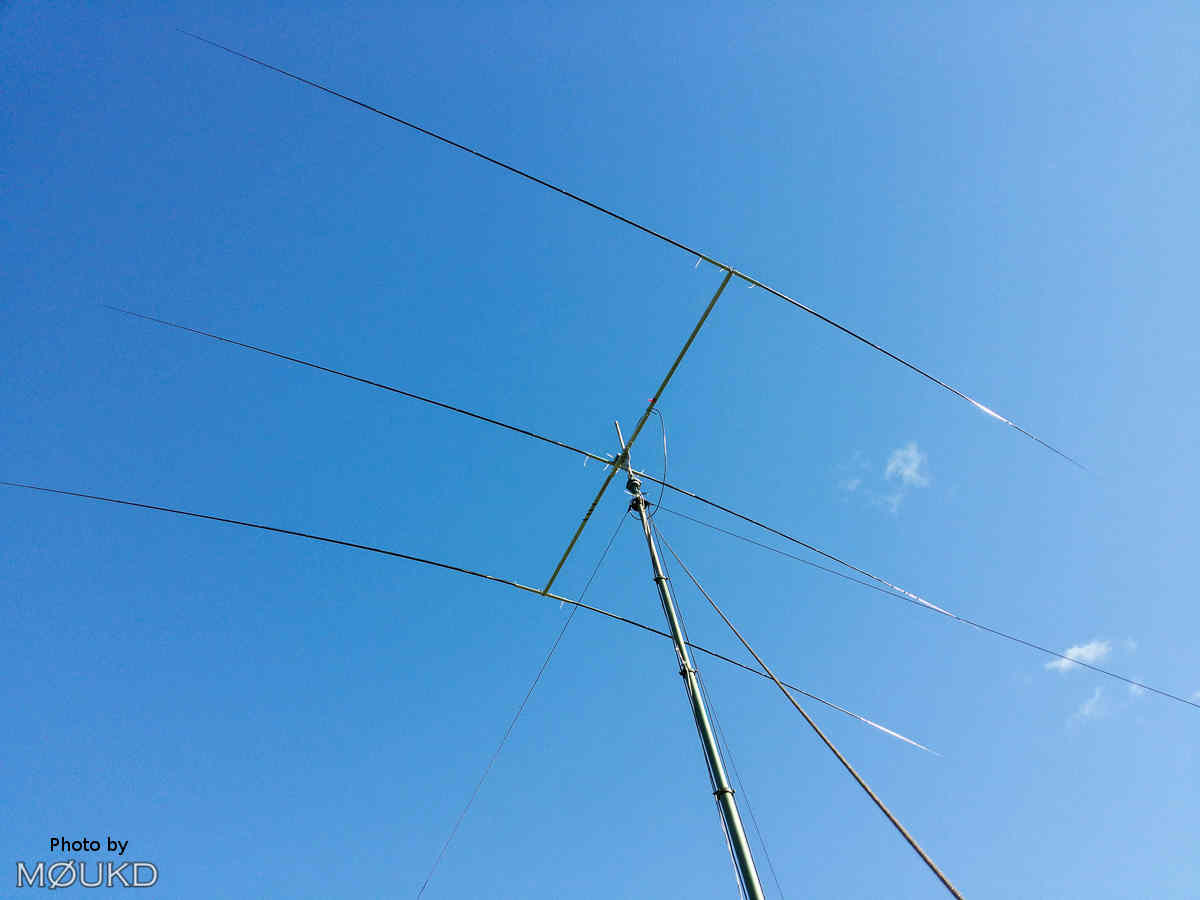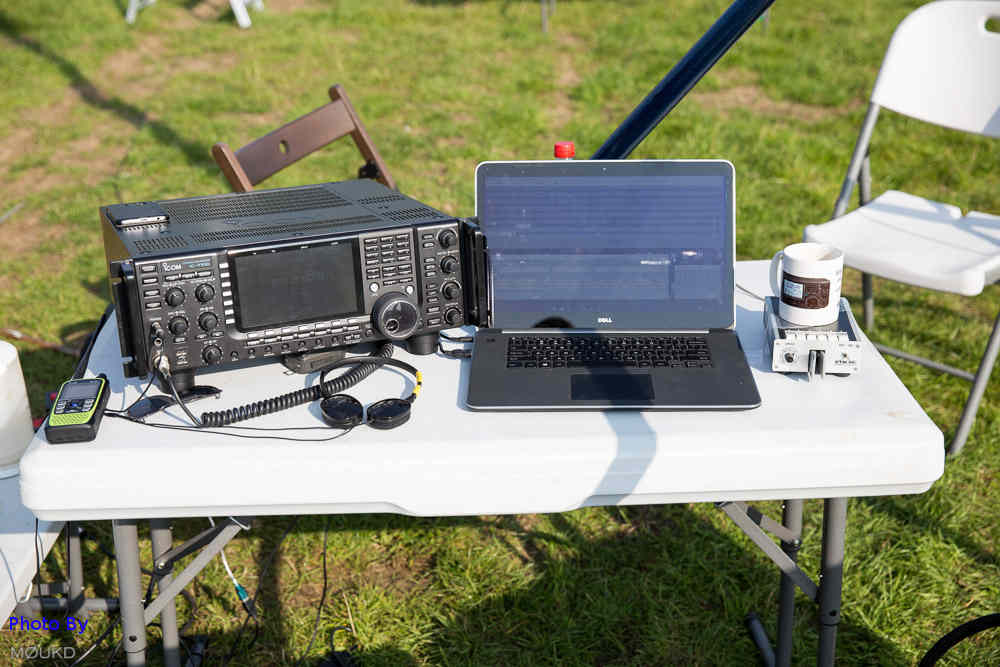 Interests in Radio
My main interests are in digital modes and VHF/UHF SSB. I run an APRS IGate (M1GEO) as well as having an APRS node setup in my car (M1GEO-7). I am the repeater keeper for Kelvedon Hatch multimode digital voice repeater GB7KH.
I also have an interest in WSPR and am active on there as and when time permits. I like designing and building electronic things; radio related or otherwise.
I am often found on the UKAC contests on Tuesday evenings operating G3XBF/p, or on HF with the setups above with a special event call (usually GB0SNB, MX0SNB, GB2LRS, GB2TBW, GB4MW, etc).
Please feel free to visit my website: it has a bit more about me, about my technical adventures, and some useful information: My Homepage.  There is also an interactive log book for M1GEO.
Other Involvements, Clubs & Events
I hold the callsign G3UCL for University College London, as well as MB7UCL for my APRS gateway on the university building in central London (IO91WM). I am a founding member (and secretary) of the Secret Nuclear Bunker Contest Group (MX0SNB), a member of the Loughton & Epping Forest Amateur Radio Society (GX4ONP), the Camb-Hams (GX3PYE), the EssexHam Group (MX0SXA), the Norfolk and District ARC (GX6NRC) and the (now defunct) Barking Radio and Electronics Society (GX3XBF).
Collectables
I collect WAB squares and mine is TM18 (TQ58 before 02/02/2016). I hold book number 19613 (June 2012).
QRA locator is JO02ok (JO01cn before 02/02/2016).
IOTA number is EU-005 (Great Britian [mainland]).
ITU zone 27.
CQ zone 14.
I collect QSL cards (see below).
QSL Information
I appreciate any cards and always reply with a card. If you're requesting a direct card for another callsign, you can see the QSL policy here: SNBCG > QSL Info.
Recent QSOs
You can see my whole logbook here. Otherwise, here's the last few from HRDLOG.
Certificates & Awards
A couple of recent certificiates from CQWW and CQWPX Contests.
Below, the certificate for the Powditch Trophy : Leading UK Multi-op station achieving the highest score on 28MHz. With the help of the team, M0TAZ, M0UKD and G3SVK (G8OCV in support).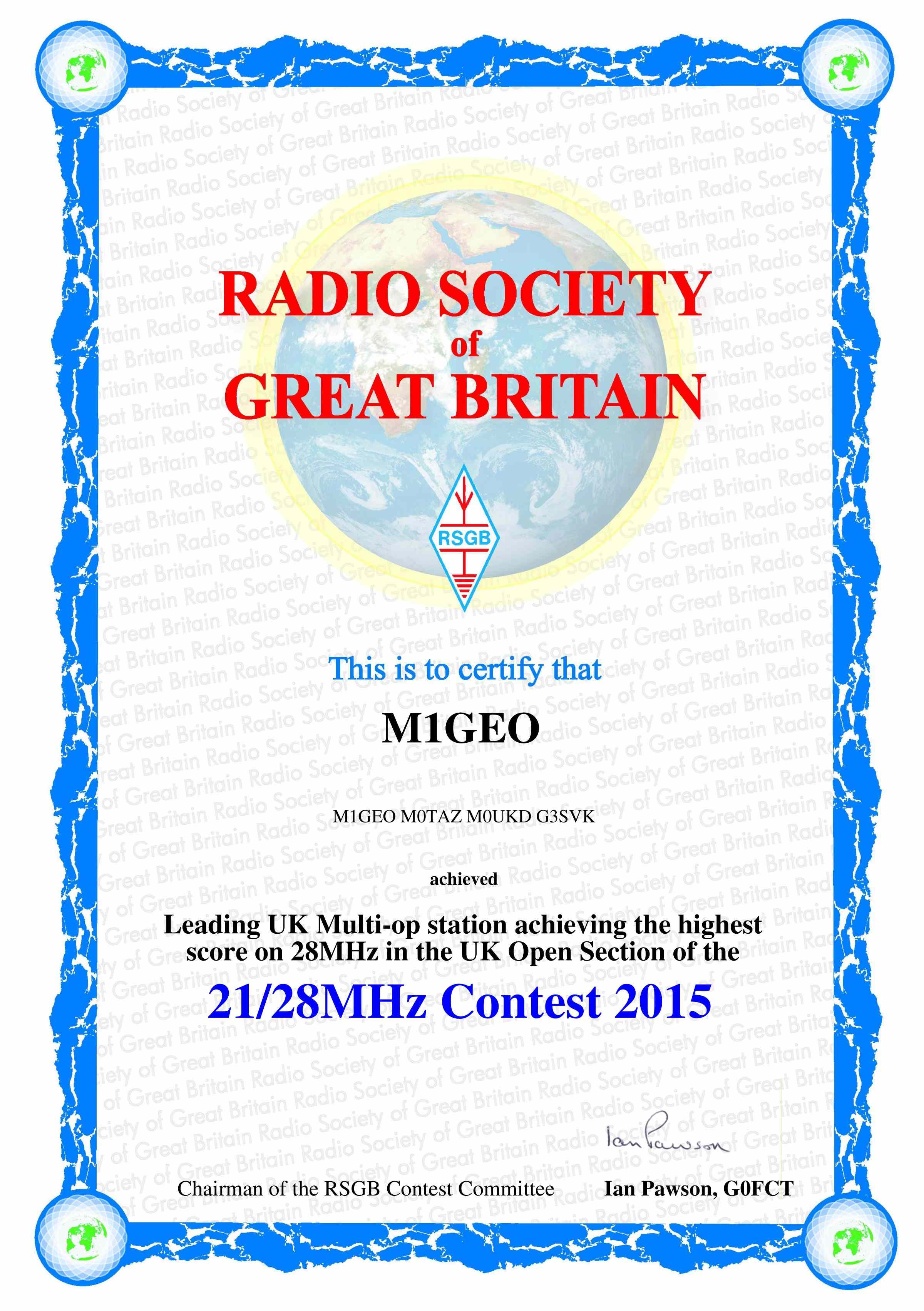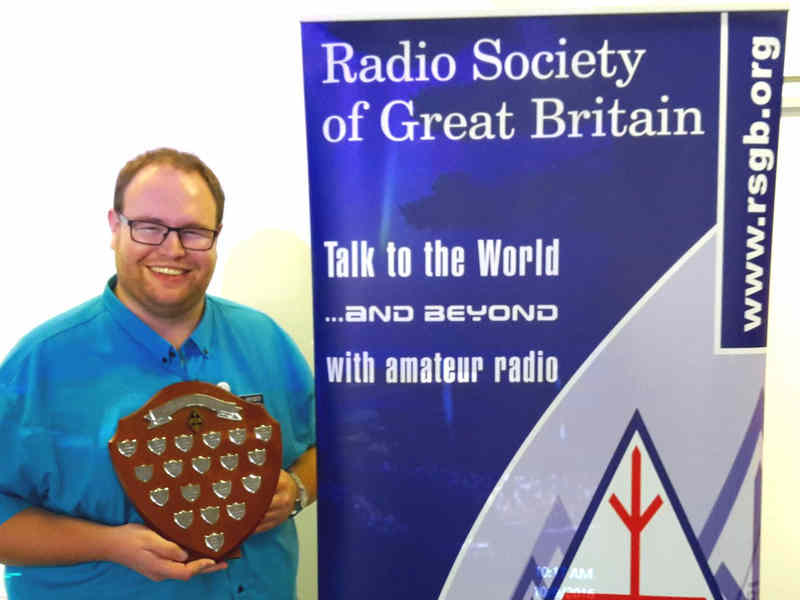 During an industrial secondment from my university to ARM Limited from September to December 2014, I was based in Fulbourn, Cambridge, UK (JO02CE), and regulary attended the Camb-Hambs socials and UKAC evenings as G3PYE/p. When the guys, along with van "Flossie" picked up a couple of certificates, my meagre bit of operating had got my name on the certificates.  Since these are the only certificates I've won in Amateur Radio, I'm making the most of them!
I recently acheived mixed DXCC after around 18 months of very casual operating. I don't use my own callsign much, so it was nice to acheive something with my own call, rather than a club, contest, or special event station callsign!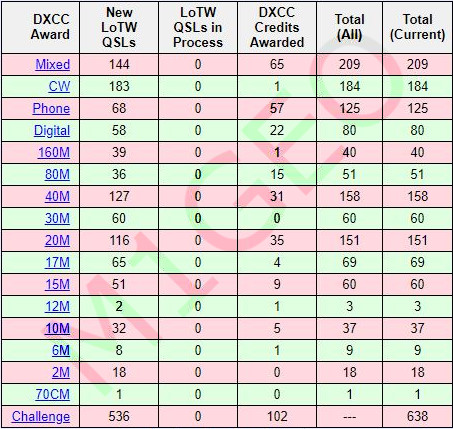 QSL Cards
My standard QSL card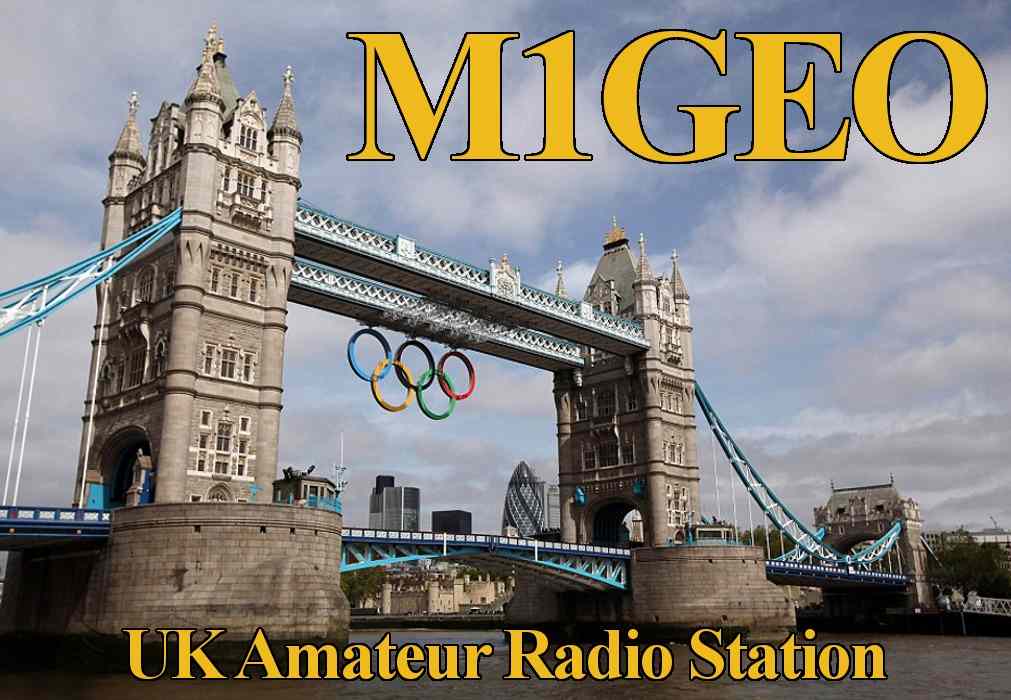 The Queen's Diamond Jubilee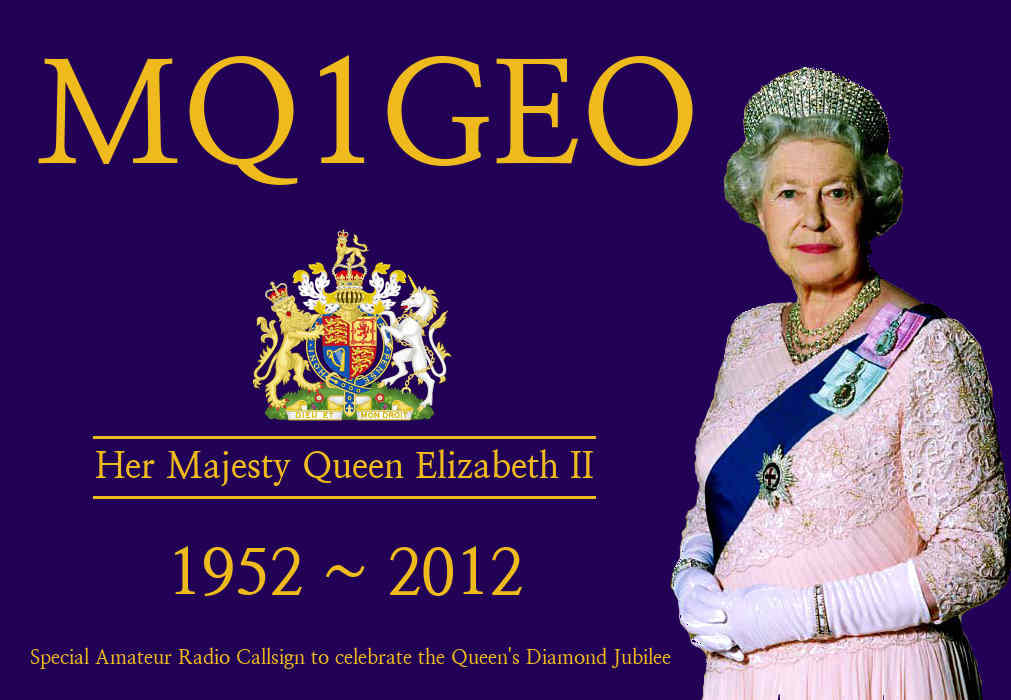 The London 2012 Olympic and Paralympic Games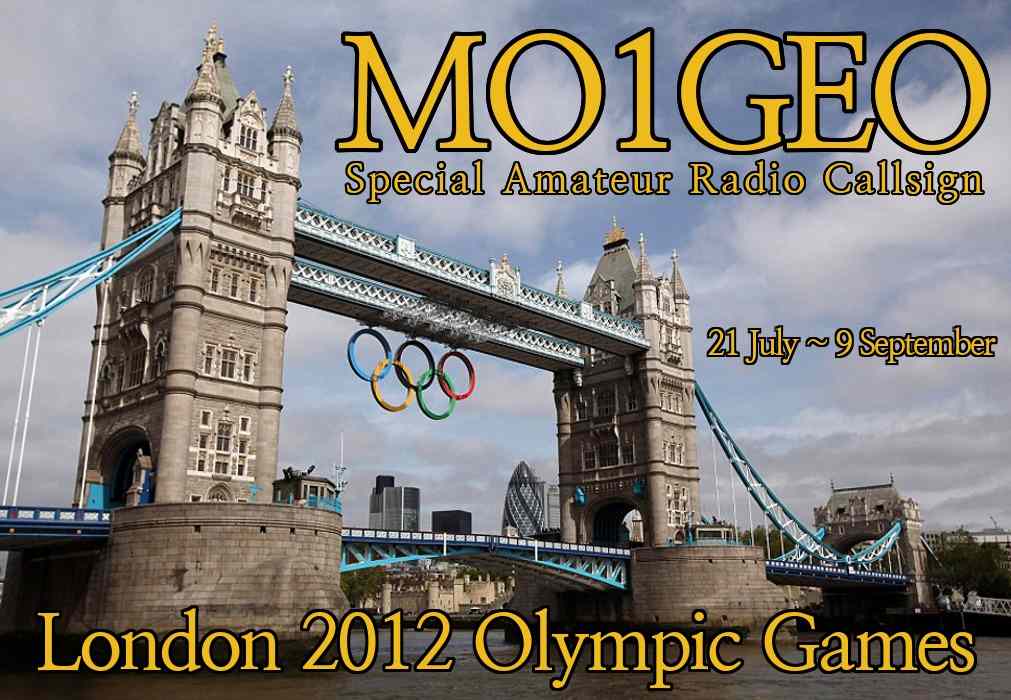 73's
Thanks for stopping by. I look forward to working you in the future!