Hello and thanks for stopping by my QRZ page. I have been interested in this hobby for the last 38 years. My interests in this hobby are collecting DXCC and exchanging QSL cards, paper and electronic, going for awards and meeting like minded people on the bands. I am active on Digital, Data modes, Satellite and Phone. My working conditions here consist of a Yaesu FT-2000 attached too a ground mounted Hustler 6BTV+17m kit and a Kenwood TS-2000 connected too an Antron-99 for 10m and 12m and a Comet GP-15n collinear for 6m 2m and 70cm, also A Yaesu G-5500 Rotator and LVB sat tracker with satpc32 software with a 10 ellement 2m beam and a 15 ellement 70cm beam which are all work in progress at the moment. I also make use of a Kenwood TH-D72 HT and an Arrow 10WBp 2m 70cm cross polarized hand held anntena for when the AOS times are favourable. I am a proud member of the GM2T Contest team since 2014 and Cockenzie and Port Seton Amateur Radio Club, www.cpsarc.com , my Locator is IO85wv and my WAB square is NT96 my EPC # 23001 UK.SC.SB and my Elevation is 70m above sea level. I also welcome any SWL QSL reports. 73 and hope to work you soon.
EPC # 23001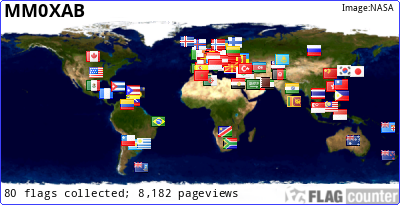 MM0XAB
8592787 Last modified: 2018-01-20 11:20:53, 5180 bytes
Login Required

Login is required for additional detail.
You must be logged in to file a report on this page
Public Logbook data is temporarily not available for this user
DX World Award

#5034


Granted: 2017-01-30 12:12:01 (MM0XAB)



Endorsements:

Grid Squared Award

#8296


Granted: 2015-07-11 18:13:45 (MM0XAB)



Endorsements:

World Continents Award

#311


Granted: 2015-01-15 17:42:36 (MM0XAB)



Endorsements:

10 Meters Digital

15 Meters Digital

17 Meters Digital

40 Meters Digital

10 Meters Mixed

15 Meters Mixed

17 Meters Mixed

40 Meters Mixed