THE FINAL COURTESY OF A QSO IS A QSL .QSO IS SHORT QSL IS FOREVER !
I prefer paper QSL cards - via buro or direct (see address above) .For direct QSL please include SAE and sufficient return postage - one IRC or 2 USD .
LOTW and eQSL.cc(AG) is also ok. SWL reports are wellcome !
 
My Log online:http://www.hamlog.eu/mylog/UX7IW
This log is updated once a week.


Hi dear OM`s.Best regards from Ukraine!!
Thanks for looking up my callsign.
My name is Sergey (nickname on air - Serge). I was born october 1961.
Ham license UX7IW since 2000 . Previous call UR7ISB.
I am member - EPC # 10283 ( EU UR09) ,   30MDG # 3642 ,   DMC # 2817.
My WW Loc- KN88ts and my URDA- DO31.
My primary HF rig is Yaesu FT-950 about 100 watts and backup radio Kenwood TS-480HX about 200 watts .
Time to time I using home made PA on GU-74B tube.
All my antennas is home made : 160 mtrs - inverted L . 80 mtrs - GP , dipole . 40 mtrs - GP , dipole. 30 mtrs - dipole.
17 and 12 mtrs - trap. dipole.
20,15 and 10 mtrs -home made 9 elements tribander (see foto below) , includes 2 elements for 20 mtrs , 3 elements for 15
mtrs and 4 elements for 10 mtrs.
I likes CW ,DX-hunting and contesting. I have: worked - 330 and confirmed - 324 countries for DXCC.
My best wishes from Ukraine and hope to meet you soon on air !
de UX7IW , Serge .
     My tribander - 2 el. for 20 mtrs , 3el. for 15 mtrs and 4 el. for 10 mtrs.
                                                     CW FOREVER   



My QTH.
I living in Kramatorsk. Kramatorsk is a city in the eastern Ukraine within Donetsk Oblast. Its population about 200,000 people.It is an important machinery building center of the region and Ukraine in general.
Kramatorsk - Park street. (foto by UR7IOD)
I UPLOAD MY LOGS TO eQSL.cc(AG) AND LOTW.




 
ARE YUO IN MY LOG ?
Member of the European PSK Club - look here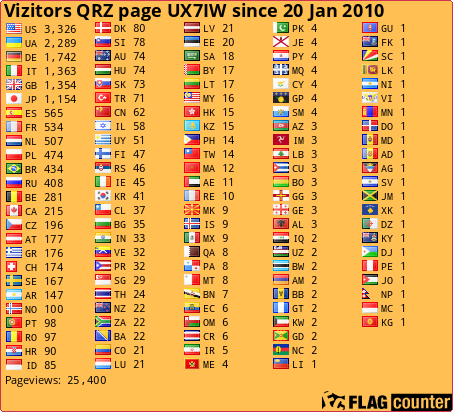 �
�
�
�
�
�
�
�
�
�
�
�
�
�
�
�
�
�
�
�
�
�
�
�
�
�
�
�
�
�
�
�
�
�
�
�
�
�
�
�
�
�
�
�
�
�
�
�
�
�
�
�
�
�
�
�
�
�
�
�
�
�
�
�
�
�
�
�
�
�
�
�
�
�
�
�
�
�
�
�
�
�
�
�
�
�
�
�
�
�
�
�
�
�
�
�
�
�
�
�
�
�
�
�
�
�
�
�
�
�
�
�
�
�
�
�
�
�
�
�
�
�
�
�
�
�
�
�
�
�
�
�
�
�
�
�
�
�
�
�
�
�
�
�
�
�
�
�
�
�
�
�
�
�
�
�
�
�
�
�
�
�
�
�
�
�
�
�
�
�
�
�
�
�
�
�
�
�
�
�
�
�
�
�
�
�
�
�
�
�
�
�