VK5GR IOTA News
UPDATE: January 2018 - we are off again!
My next expedition will be to Vanuatu, staying on the island of Efate (OC-035) from the 16th-30th April 2018. The callsign will be YJ0AG (TBC). Details on my YJ0AG QRZ.com page.
This image was originally posted to Flickr by PhillipC at https://www.flickr.com/photos/42033648@N00/159872550under the Creative Commons Attribution 2.0 Generic license
---
I have become very interested in IOTA and activating exotic places. My second expedition was to Niue in September 2017 where I operated as E6AG OC-040. Full details of that trip can be found on my trip website - http://e6ag.net/ 
Prior to that I also activated OC-139 Kangaroo Island as VK5GR/P. please check the following QRZ.com page: http://www.qrz.com/db/vk5gr/p for details of that actrivity and for searching the IOTA log for confirmation details.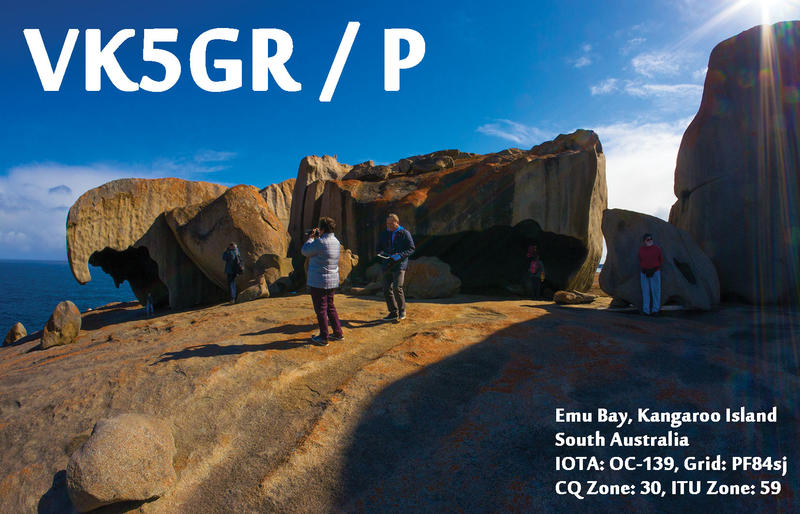 ---
Welcome to VK5GR - South Australia
Hello and welcome to station VK5GR. 
QSL Production Update: December 2017 -
 
VK5GR: QSLs for 2016 contacts received as of December 2017 received direct, via OQRS or via the Bureau have now been sent out. QSLs for 2017 contacts received direct or via OQRS have also been sent. I have a small number of bureau cards left to do before I will need to do a new card print run. Apologies for the delays but I think I am now on top of things! Contacts are loaded at least once a week into LoTW and eQSL.
VK5GR/P OC-139 Expedition: Direct QSLs and OQRS have all been answered. I ran out of blank cards and have just had these reprinted so if you are still looking for a card from OC-139 let me know as I can now send them again. LoTW and eQSL are up to date.
AX5GR: Special Callsign allowed to be used 3 times a year thanks to the WIA and ACMA - eQSL and LoTW are up to date. I have just done a small print run of these cards and have a couple of bureau requests that I will send out by the end of January 2018 from the 2017 activations.
E6AG OC-040 Expedition: All Direct and OQRS request cards have been dispatched from my QSL manager Charles M0OXO. New requests are processed promptly. Bureau requests (available for free) made via M0OXO OQRS (http://www.m0oxo.com/oqrs/logsearch.php) will be sent in early 2018. NOTE if you want to send E6AG a card for a bureau reply, route it via VK5GR or IT WILL NEVER GET HERE. Do not send them via M0OXO - I cant access the RSGB bureau and they will not reach me.
---
I was first licensed in Sept 1986 as VK5ZWI whilst in Year 10 in High School and primarily operated ATV, VHF RTTY and AX.25 VHF Packet radio as well as Amateur Foxhunting from 1987 to ~2003.I took a break from the hobby, maintaining only a basic 2m/70cm mobile station between 2003 and 2008. 
In 2008 I upgraded my callsign to VK5GR.
Today I am a committee member for the Amateur Radio Experimenters Group (AREG) (www.areg.org.au) based in Adelaide, South Australia.
I enjoy:
contesting (John Moyle Field Day, Remembrance Day Contest, Oceania DX Contest (through AREG) and several digital contests
High altitude balloon flights - doing flight operations and tracking/recovery
community event communications - RPM200 Canoe Marathon event comms network design and coordination (with AREG)
HF Digital Mode Operation (the more exotic, the more fun!)
VHF/UHF Mobile (find me on VK5RSB in Adelaide on 439.900 -5MHz 91.5Hz CTCSS)
APRS (I run VK5GR-9 mobile and VK5GR-1 as a weather station)
Foxhunting (vehicle based variety)
After being licensed for 29 years I finally established a modest HF station at home in 2016 and am having lots of fun trying to work out how these HF bands work. I already have returned to my first love of RTTY, but have also played with PSK31/63/125, MFSK16, THOR16/22, Helschrieber, SSTV, Olivia, JT65/9 and others. I am chasing a digital DXCC at this time - will see how we go.
In 2017 the modest HF station grew as I became more fascinated by the workings of HF. The station now has 400W, a new antenna array and new transceivers. There is more work to do to gain access to more bands such as 476kHz and 1.8MHz (and regain access to 3.5MHz which failed in a storm a few months ago) and more DX to chase :-)
I am also starting to think of HF portable ops more often and may join the merry band of Parks 'n' Peaks operators on weekends (a good excuse to get the family out for a picnic and to combine that with some radio). Long term I want to try my hand at IOTA activations - with the bucket list goal of going somewhere exotic and sought after. (Will see how that pans out).
So look out for VK5GR on HF Digital (and now CW and SSB) calling CQDX!
HexBeam for 20-6m and 40/30m nested delta loop antennas hanging in the gum tree at the back of the yard.
Logs & QSLing
You can query my Clublog log here. I will answer OQRS requests via Clublog.
I also do Logbook of the World, eQSL.cc and Clublog so electronic confirmations are available via those means.
Antenna Array
The following are some of the photos of my antennas currently.
20-6m Hexbeam @ 10m
My current lowband antennas are a pair of 40/30m Delta loops strung 15m from a gum tree. (Photo to follow). Still looking at what I can do with 80/160m here.
Previously I have used  currently is a 6 band fan dipole - 80-15m. This is home brewed and is 12m high at the centre, about 16m high at one end and about 8m high at the other. It is built out of irrigation parts and some twin flex from the local hardware store. This has given me a resonant antenna now on 80/40/30/20/17 and 15m - and is working a treat! My 80m DX chasing took off on JT65 with about 20 countries worked until it fell out of the gumtree in a storm. I havent put it back yet. The following are photos of the dipole antenna.
Prior to this I used a TF2D Buxxcom Dipole 55ft up a gum tree! The rope holding the BuxComm T2FD broke after a series of vicious storms blew through Adelaide in the spring of 2016. I woke one morning to the antenna lying on the ground. 
Here is another view before it fell down.
If you worked me portable in the earlier half of 2016 I probably was using this:
4 band dipole and 10m fibreglass support pole (160/80/40/20 + tunes ok on 15m (via 40m).)
This photo was taken from Kangaroo Island while I was operating as VK5GR/P IOTA OC-139
Awards
I am working on my IOTA Awards now and also my DXCC. I also love contesting. Here are some of the awards I have attained in 2016/2017. I also am on eQSL.cc
Other Activities
On VHF/UHF I run a packet radio BBS and a DXCluster. The details are:   [BBS is OFF AIR CURRENTLY waiting new antennas]
147.575MHz 1200bps - VK5GR - FBB BBS, VK5GR-2 - DxSpider DXCluster, VK5GR-10 - NET/ROM node
The packet BBS runs the following services:
The DXCluster is available on the Internet as gate.vk5gr.id.au - port 7300
AXUDP Gateway - links available via the Internet. Contact me if you wish to setup a link.
F6FBB Packet BBS with mail forwarding is also running
Other sites of of mine that may interest you: