Amateur Radio Station W3BIG
QTH UPDATE:  Now located in Upper Chichester Township, Delaware County, Pennsylvania. Grid square:  FM29gt57. Antennas include 10-80m OCF dipole, G5RV, 17m dipole, 20m dipole and VHF/UHF verticals.
AMATEUR HISTORY: Have been an amateur since 1978 and 2013 was my 35 year anniversary. Initially issued callsign KA3BIG, I operated under that call for 24 years, enjoying 5 months as a novice, before upgrading to general class, when 13 wpm Morse code was required for the ticket. I worked nearly 50 countries on CW QRP as a novice and increased my speed to 20-25 WPM. The intensive CW as a novice invested me with a fondness for this traditional mode and I still practice the art right along with SSB, FM, RTTY and the exciting digital modes like PSK-31 and FT-8. I enjoy QRP operations and frequently take my Yaesu FT-817 along on canoe expeditions in the backcountry and in the Canadian wilderness. I love to explore wild rivers and having the QRP rig along keeps me in touch with civilization. But, part of the allure of Amateur Radio is talking with people in faraway lands and I've been thrilled to have QSOs with fellow hams on every continent and such exotic places as Antarctica, Tristan da Cunha - the most remote island in the world and Pitcairn Island, where I chatted with a descendant of Fletcher Christian, who led the infamous mutiny on HMS Bounty in 1789. I enjoy conversing with fellow hams around the world and learning about them and their area's geography.
VHF and UHF SSB mountain-topping is also a lot of fun. From the outset, I have been fascinated with low power operations and have enjoyed making contacts all over the world with just a handful of Watts. That puts a premium on understanding and designing effective antenna systems and establishing excellent operating procedures. My first rig was a Heathkit HW-8, a CW-only radio which I built and operated for many years. The versatile FT-817 I use now has made QRP a pleasure and I continue to be thrilled with QRP DX. During Field Day you can usually find me operating as a Class 1B-Battery station. I use the event as a drill, operating in the field under actual emergency conditions with sealed lead-acid cells powering the HF rig. Antenna in the field is most often a G5RV or dipole in NVIS configuration.
MILITARY SERVICE: I served in the United States Navy as a photographer and traveled the world making documentary films with the Atlantic Fleet Combat Camera Group, the Navy's elite photographic unit. One production won a Thomas Jefferson Award for military broadcasting (the DOD equivalent of an Emmy), for which I was awarded the Navy Achievement Medal. I also managed the American Forces TV station aboard the USS John F. Kennedy (CV-67) and served as an aircrewman flying aerial recon missions from the carrier. Aboard Kennedy, I operated HF from our hamshack and sometimes managed to operate 6 meters from the flight deck when we were in port or in coastal waters. I was also stationed on Ford Island in Pearl Harbor, ground zero for the infamous December 7 attack. One of the honors of which I am most proud is meeting Admiral John S. McCain, CINCPAC during the Vietnam War, who personally recognized my service. After serving in the Navy, I graduated from West Chester University with a BA in Political Science. Exploiting a life-long fascination with photography, I worked for a number of years in the retail photo industry, managing a camera store in the western suburbs of Philadelphia. I also assisted my father with his business filming professional and college sports for MLB, the NFL, the NHL, the NBA, PGA, NCAA and NYRA. After receiving certification to teach social studies I also served as a substitute teacher in the Philadelphia suburbs. I now serve as Assistant General Manager for a major airline at PHL Airport.
OTHER INTERESTS: Besides amateur radio and canoeing, I enjoy fly-fishing for smallmouth bass, golf and writing. In 2004, I published my first book, Eyes of the Serpent, a suspense novel set in the mysterious pine barrens of New Jersey. The book is available online from Barnes and Noble, AuthorHouse as well as several other booksellers worldwide. I have two more novels in the works, including one featuring amateur radio. Photography remains a passion.
PUBLIC SERVICE: I am active with the ARES-RACES team in Delaware County, Pennsylvania (delcoares.org) and am certified for emergency communications. I was appointed Emergency Coordinator for Delaware County in May 2008 and served in that role for seven years. My unit has made a positive impact increasing the readiness of our team. Projects included evaluating NVIS (Near-Vertical-Incidence-Skywave) antennas in the field for rapid deployment in emergency scenarios combined with battery-powered HF operation. Other readiness projects include assembling and testing portable battery-powered WinLink-telpac stations for field use, intallation of two new D-STAR repeater systems dedicated to emergency communications and assembly of tactical field communication kits. Appointed by Section Manager as PIO for District 1 in the Eastern Pennsylvania Section (EPA) in September, 2010. I also serve as an Official Emergency Station (OES) in the ARRL Field Organization. Appointed RACES/ACS Officer for Delaware County in July, 2007. Certified APCO Telecommunicator.
EQUIPMENT: My present equipment complement includes a Yaesu FTDX-3000, a Yaesu FT-890AT, a Yaesu FT-897D with LDG AT-897 tuner, a Yaesu FT-100D (mobile), a Yaesu FT-817 (portable), two Icom ID-880H D-Star transceivers, an Icom ID-31A UHF D-Star HT, an Alinco DJ-G29T 220 / 902 dual-band HT, two Kenwood TM-D700A dual-banders, a Yaesu FT-5100 dual-bander, a Kenwood TM-G707A dual-bander, an Icom IC-3200A dual-banders, a Yaesu FT-51R dual-band HT, a RIGblaster Pro, LDG AT-200 Pro Autotuner, LDG DTS-6, LDG-Z11 PRO autotuner, Pakratt PK-232 TNC, two Kantronics KPC3+ TNCs, SignaLink USB,  a Rig Expert AA-230 Zoom antenna analyzer, an MFJ 259B antenna analyzer, Bencher and Vibroplex CW paddles, Bencher RJ-2 straight key, two Alinco DM-330MV power supplies, an Alinco DM-30T power supply, a Yaesu FP-800 power supply/speaker, Heil Pro-set Elite 6 headset-mic, Heil Pro Set 3 heaphones, two Heil BM-10 headset-mics and assorted station accessories to keep it all on the air. For EMCOMM operations, all field equipment is self-contained in Pelican cases with sealed lead-acid batteries for emergency power. The Kantronics KPC3+ and Yaesu FT-5100 are married for portable, battery-powered WinLink / TelPac operation. A second KPC3+ is mated with the IC-3200A as a backup. Antennas include a 10-80 meter OCF dipole, a full-size G5RV, 17 and 20 meter dipoles, a Buddipole for QRP portable operations, an Elk VHF/UHF portable Yagi, Diamond dual-band vertical for VHF and UHF, Cushcraft A27010S ten element Yagi for VHF and UHF mountain-topping, Cushcraft A2706S for emcomm use, Little Tarheel II for HF mobile, a Diamond SG-7500A dual-bander and Comet SBB2 dual-bander for the mobile, and Hamstick loaded-whip dipoles configured for emergency NVIS operation for 40m and 75m. I also have a pair of 2 meter Ringo Rangers for emergency deployment. You will note no linear amplifier listed in my equipment. All operation has been on 100 Watts or less and much on 2-5 Watts. Emergency power includes an ISOPWR configured with a 135 AH auxiliary battery for emergency HF, VHF and UHF operation for extended periods.
MEMBERSHIPS: ARRL, Adventure Radio Society, Delaware County ARES-RACES Team, Certified ARECC Level 1, FEMA NIMS IS-100, IS-200, IS-700, IS-800 and IS-802 certified, certified Skywarn Basic and Advanced Spotter, certified APCO Telecommunicator.
HAMS IN THE FAMILY: Fellow amateurs in my family include my brother, Bill, W3EMA and my cousin, Blane, K3LYE. It's a blessing to have a brother like Bill to share the hobby and we have worked together on many antenna projects over the years. Bill has retired to San Miguel de Allende in Mexico and now has his XE license. XE1/W3EMA. Blane is retired Navy and is living in Jacksonville, Florida. My uncle, Harry Altman (formerly K3LYE) is now a silent key, but was instrumental in encouraging me to become a ham. Blane's dad, Charlie, a lifelong radio enthusiast, was also a great influence. Afternoons spent in his basement shop watching him tinkering with radios and listening to my brother's shortwave receiver as a young boy sparked my interest in the radio hobby.
WILLIAM G. WILSON (1917-2007): My father, William G. Wilson, though never licensed, was a constant source of encouragement and helped me erect antennas and assisted me with other radio projects. His career as a sports cinematographer was remarkable and he was nominated for an Emmy and was recognized for his groundbreaking techniques in sports filming. He was a first place award winner in the National Press Photographers Association competition in the sports category and was inducted into the Delaware County Sports Hall of Fame.He filmed 25 baseball World Series, 20 baseball All-Star games, 30 Kentucky Derbies, 15 Masters golf tournaments, 15 U.S. Opens, 6 Stanley Cups and more than 500 college football games as well as hundreds of pro football games including Super Bowl I and II. In addition to filming sports he worked on scores of commercials and industrial films. He worked on a few feature films as a second-unit cinematographer including the film noir classic The Burglar, starring Jayne Mansfield and Dan Duryea. He was also an excellent second-baseman and was invited to a tryout by the New York Giants, but the war put the brakes on a fledgling baseball career. During World War II, he served as a Marine Corps aviator and combat cameraman with the 1st and 2nd Marine Air Wings in the South Pacific. He saw duty on Guadalcanal, Bougainville, Peleliu, Munda, Espiritu Santo, Rabaul, Leyte Gulf and New Georgia in the British Solomon Islands. He was personally awarded a medal by Admiral Chester W. Nimitz for courage under fire and one of his photographs of a fierce night battle at Bloody Nose Ridge on Peleliu, published in over 500 newspapers, was recognized by Commander Edward Steichen, Chief of Naval Photography, as one of the best pictures depicting action in the Pacific theater. He continued filming into his mid seventies. His fascinating life reached its conclusion on October 28, 2007. Semper Fi, Dad.
See Wikipedia article on: (William G. Wilson)
WILLIAM G. WILSON, RECORDING HISTORY IN WAR AND PEACE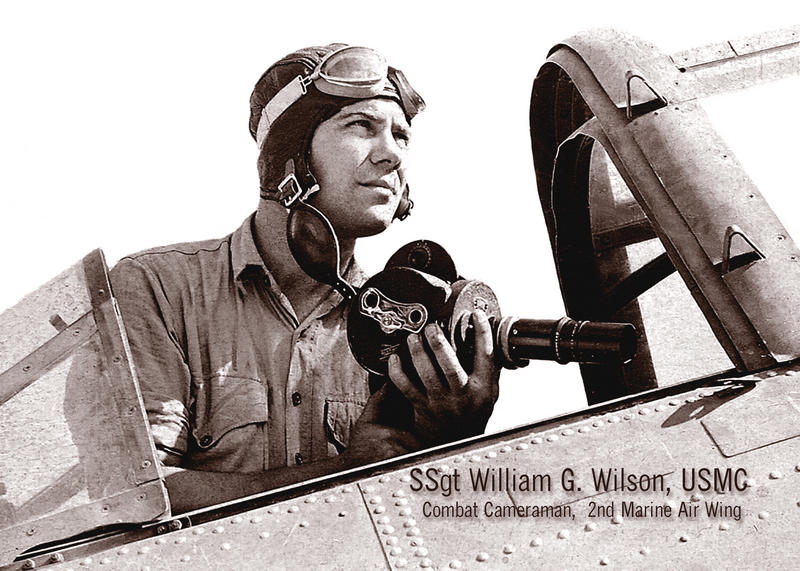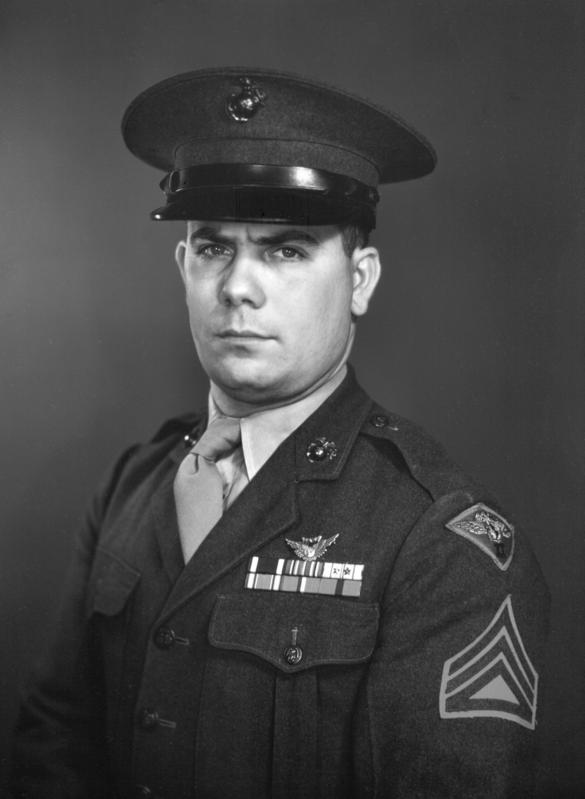 This dramatic time exposure made in the Fall of 1944 records a fierce night assault by entrenched Japanese forces against U.S. Marines on Peleliu in the Palau Islands. Japanese ground units were dug in behind infamous Bloody Nose Ridge, visible below a night sky illuminated by parachute flares. The long straight lines are tracer shells from Japanese gunners firing on Marine aircraft. At the right edge of the photo a Marine machine gun is firing. The headlights of a passing Jeep are recorded. The wavy line is from a flashlight carried by a Marine as he runs for cover. The bright burst of light at the lower right is from a motion picture projector showing a movie just prior to the attack. This remarkable picture was made by Staff Sergeant Willima G. Wilson, USMC, a combat cameraman and aviator with the 2nd Marine Air Wing. The photograph was published in hundreds of newspapers and was recognized by CDR Edward Steichen, Chief of Naval Photography, as one of the best pictures depicting action in the Pacific theater.
* * * * * * * * *
FINAL THOUGHT: Amateur Radio is a wonderful hobby of exploration and accomplishment. But it can't only be about individual achievement. We have a responsibility to serve the public in times of emergency and should hone our skills to that purpose. We must also aspire to promote friendship and community with fellow hams wherever our signals can be heard. Amateur Radio is a fraternity and we must never forget that we are all brothers. We should live by the words of one of our greatest presidents, Abraham Lincoln, "With malice toward none, with charity for all."
73 DE W3BIG, Bob.