W3VD once was the call sign for the Applied Physics Laboratory Amateur Radio Club at Johns Hopkins University. They are known for operating beacon stations.
Their new call sign is W3APL.
I am NOT personally affiliated with the APL in any way.
---
QSL Instructions:
- I think Log Book of The World is awesome and upload all log entries daily, but I still like paper QSL cards too.
- USA stations: When sending direct, please include a Self Addressed Stamped Envelope. Thank You!
- Non-USA stations: Thank You for sending a QSL card! Please include postage if possible (NO IRC's!)
- I will QSL via bureau, but prefer not to use them. Please use direct or LoTW if at all possible.
- I do not like using eqsl.cc and do not consider it to be a valid QSL service. However, as a courtesy to other stations, I am "AG" on that site and I do upload my log on a monthly basis.
---
Current HF station consists of: FLEX 5000A radio, AudioTechnica AT2020 XLR microphone, DBX Mic Pre-amp/Processor model 286s, Heathkit SB-200 amplifier, Palstar BT1500A balanced tuner (80-30m), MFJ 976 balanced tuner (20-10m), Maco 30 Amp PSU, and Boston Acoustics "Digital Media Theater" computer speakers for HF audio out.
The three homemade wire antennas are fed with 450 ohm balanced line going straight to the tuner in the shack, are run multibanded, and use banana jacks to switch feedlines:
80m inverted V (+ 40m and 30m)
40m delta loop (+ 20m, 15m, and 10m)
20m delta loop (+ 17m, 12m, and 10m)
Here's a current picture of the shack. One of these days, I'm going to paint the room and build a new ham desk. Note the pill bottle PTT switch and the toggle switch mounted to the desk used to bypass the radio keying line for the SB-200. Having a second floor shack, I use a MFJ-931 along with a 80m 1/4 wavelength piece of wire running outside as an RF ground. VHF/UHF radios are an ICOM 2820, Alinco DR-235, and Uniden BCD996XT Scanner.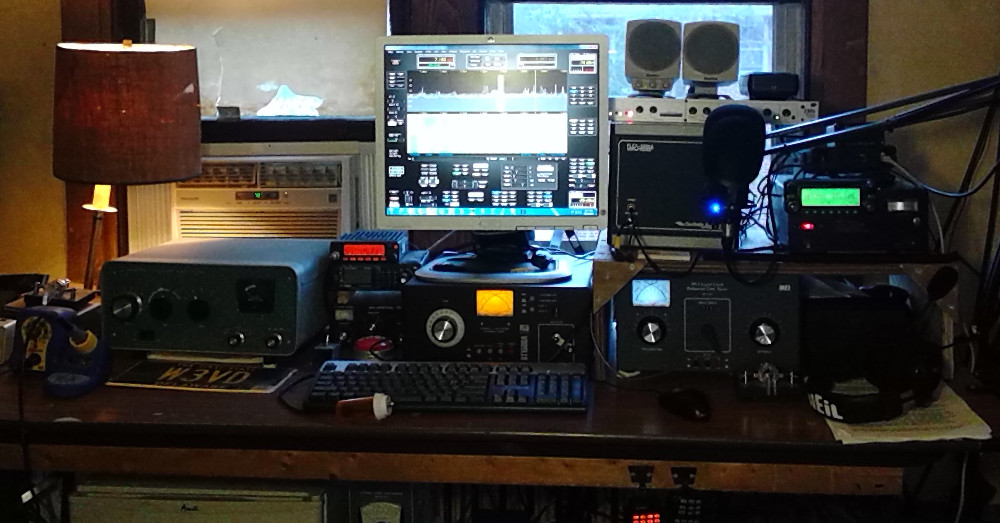 ---
I regularly check into the following nets as often as I am able to:
The Rooster Net (3.990 MHz @ 06:00 EST) Rooster #1373
The Brothers Net (7.192 MHz @ 19:00 EST) Lifetime Member #622
The Delaware Traffic Net (3.905 MHz @ 18:30 EST)
The NighWatch Net (7.192 MHz @ 17:00 EST)
---
DXCC #59,794
WAS #58,677
---
I like clublog.org for dxcc log analysis and think you should check it out. (Note: This list is not updated in real time.)
---
Are you excited to see pictures of my Diamond X300 2m/70cm antenna? No? Well you should be!
---
I also have a Diamond D3000N discone. Take a look at it.
---
Grid Square FM29er, New Castle County.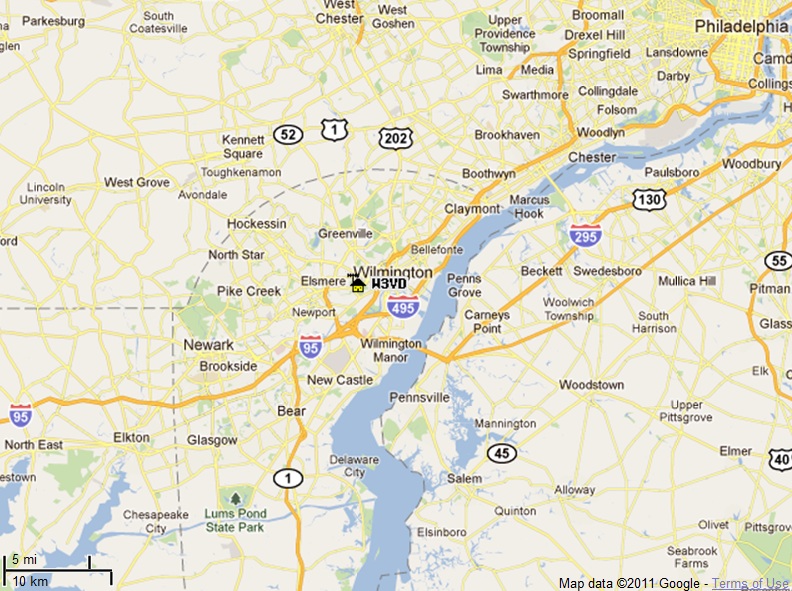 ---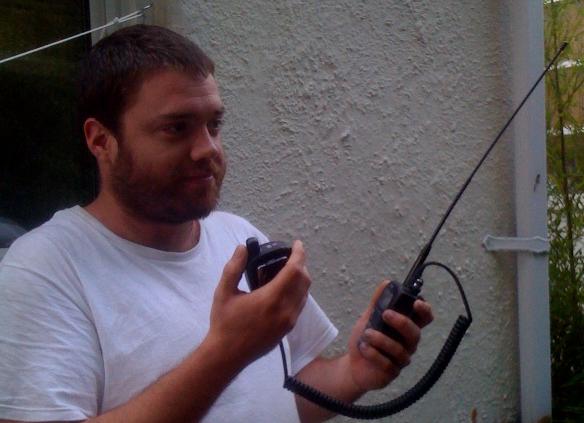 ---
Here is the image that I put on the front of my QSL cards. Special thanks to Dawn, the artist!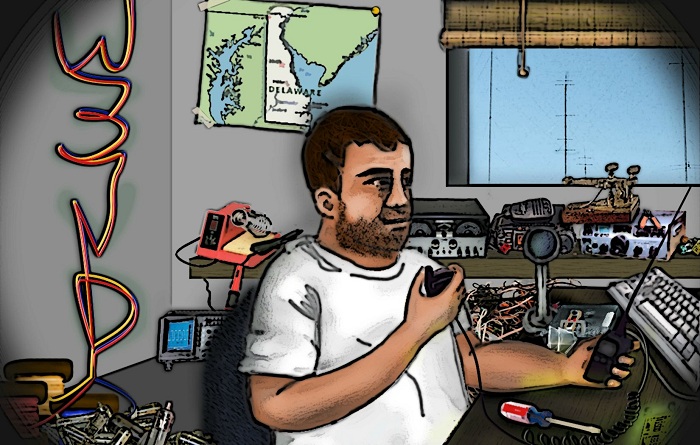 ---
This is the semi-famous 2m J-Pole antenna I made from 1/2" copper pipe. It has a few battle scars, but RF doesn't care about looks. The feedpoint was made by milling a small piece of copper plate to accept an SO-239 connector. I then used silver brazing alloy to attach the plate to the pipe. Standard bronze brazing rod would also work well, but I had none at the time. I chose brazing over solder because it is mechanically stronger and will not melt when soldering the elbow to the pipe.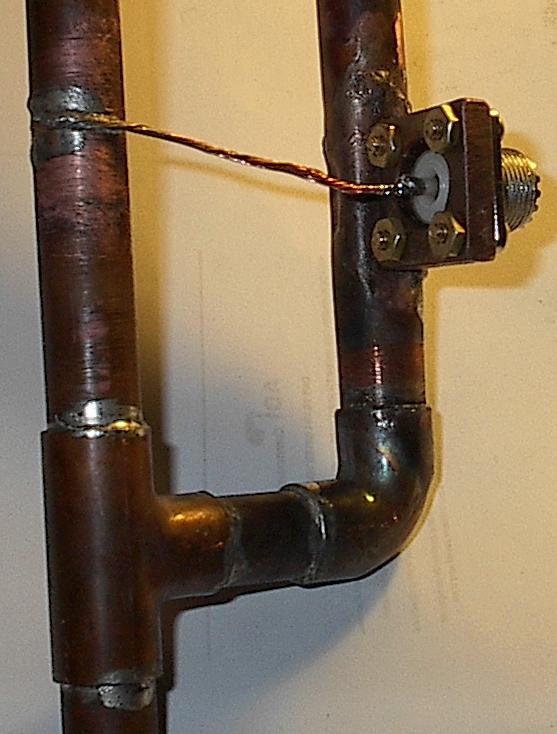 ---
Picture of Center City Philadelphia I took from atop the W3DRA Wilmington repeater tower.
---