​Aloha from Honolulu, Hawai'i on the island of O'ahu!
(All photos on this page by--WH7W--except as noted.)
The Pacific Paradise a 79' fishing boat ran aground in Waikiki just before midnight October 10, 2017. In the process of removing the boat from the reef, a fire broke out October 14. The fire reportedly started from gasoline powered dewatering pump. I was documenting the salvage efforts and got these frame grab images as workers had to jump overboard. The boat was not removed until the 7:00AM high tide of December 7. The event also focused concern on the poorly compensated foreign fishermen that work on these boats in Hawai'i. The Honolulu Fire Department opted to use one of it's helicopters to drop water to help knock down the fire. The helicopter returned again on October 15 for a second series of water drops.
http://www.kitv.com/story/36595681/efforts-to-re-float-boat-run-aground-of-waikiki-unsuccessful
http://www.hawaiinewsnow.com/story/37008888/after-nearly-2-months-pacific-paradise-could-finally-be-removed
QSL via LoTW, direct, eQSL, Club Log (OQRS), QRZ.com, or bureau.
LoTW is the fastest and easiest if you do not want a paper card. I upload my log regularly.
If you choose to QSL direct, a self addressed envelope is appreciated. Stamp/IRC/$ not required for U.S., DX stations, or SWL reports. I will pay return postage.
QSL cards are still a fun part of amateur radio and you can expect a prompt reply to your card.
QSL via Bureau is slow and not preferred. I do make a strong effort reply to bureau cards, but be prepared to wait.
I can also QSL via Online QSL Request (OQRS) through ClubLog.
JAアマチュア無線仲間の皆様へ
私はこの2年間で1000以上のJA(JARL) のQSLに返信をしてまいりました。多くのカードは、コンテスト後、自動的にコンピュータにて作成されている様です。全てのカードに返信する努力を続けてきましたが、大変な時間がかかってしまいます。そこで、申し訳ありませんが、あなたがDX局で返信を望まれるなら、あなたのQSLを直接私のQRZ.comアドレスへ送って頂けませんでしょうか。お金やIRCは送って頂かなくて結構ですが、返信先の住所と宛名を書いた封筒を同封していただければ幸いです。返信用の切手はこちらで用意させて頂きますし、直接送られてきたQSLは、受け取った48時間以内に返信させていただきます。JA局から送られてきた手書きのQSLにはこれまで通り返信させていただきますが、コンピューターにて自動作成されたQSLには返信を控えさせていただこうと思いますので、どうぞご了承ください。
CW Skimmer server (QS1R SDR and Clifton Labs Z10042A amplifier) is again (January 2018) connected to Reverse Beacon Network at all times unless I am operating. Antenna is usually a 40/80M inverted vee. The QS1R had been sitting around and decided to once again put it to good use. Last time it was connected to the RBN was 2014.
 http://www.reversebeacon.net/dxsd1/dxsd1.php?f=0&c=wh7w&t=de
Wide angle night shot looking toward Waikiki. Hint of Diamondhead in middle background and Orion and Sirius high in the sky. Distortion from 14mm lens is evident lower right.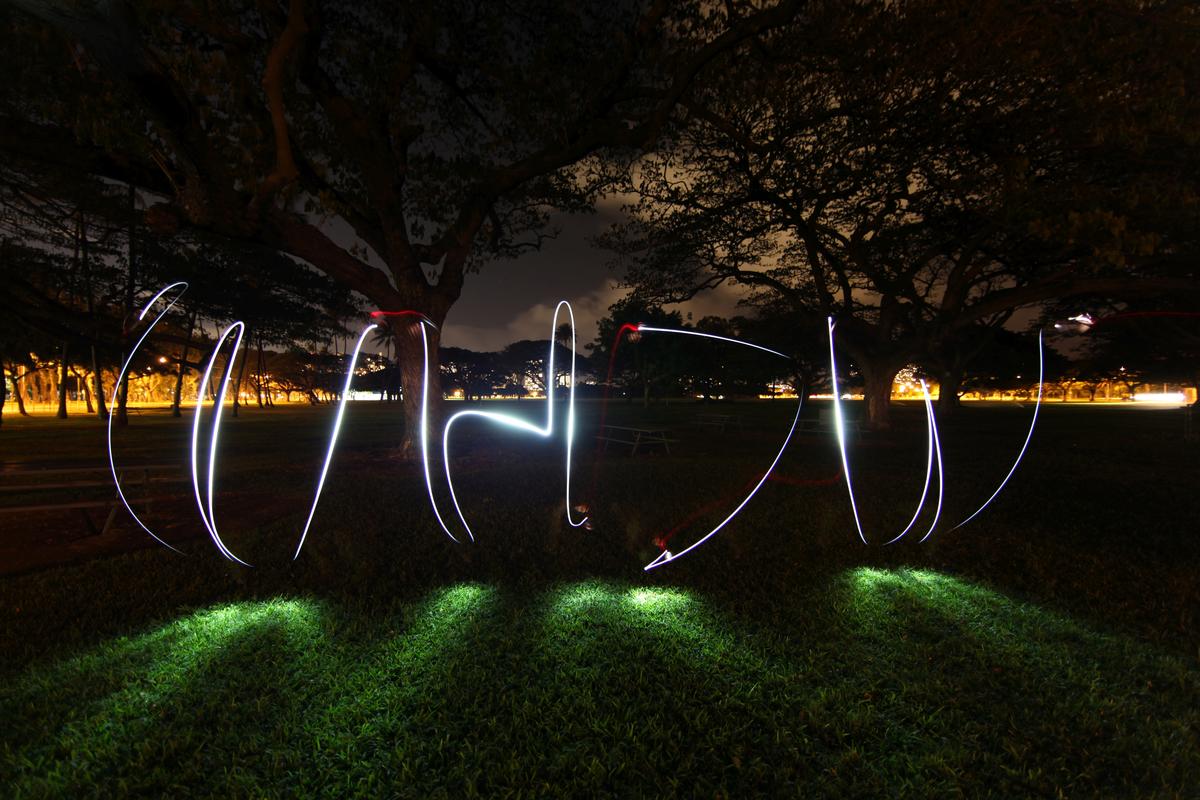 Trying to get creative for new QSL card with light writing----mildly interesting. Should have been wearing dark pants.
The Nippon Maru Training Ship visiting the islands (January 2018) commemorating the 150th anniversary of the arrival of the first Japanese immigrants to Hawai'i in 1868.
The Hawaiian Monk Seals
"Kaimana" (Hawaiian monk seal) at 2 months old. She was relocated from busy/crowded Kaimana Beach in Waikiki, 12 August 2017, a day after being weaned by her mom. She was transported to a less populated undisclosed location  by NOAA (Marine Mammals Team). In addition to getting measurements, blood samples, immunization against Morbillivirus, she was tagged and a transponder was glued to her back. The battery will die and the entire unit will fall of after her first molt (shed of fur) or sooner due to wear and tear. I am sure there a plenty of funny ham radio captions to go with this photo. Photo credit http://monksealmania.blogspot.com 
"Rocky" monk seal RH58 had a new pup 29 June 2017 on the beach in Waikiki--an extremely rare event. This is thought to be Rocky's 10th pup. She usually swims to Kaua'i to deliver her pups but ended up on Kaimana Beach this time. This is a very popular beach in Waikiki--not too far from the Waikiki Aquarium and Natatorium. On 4 July, "Kaiwi" RK96 paid "Rocky" and her new pup a visit. "Rocky" barked a little at "Kaiwi" and then did not seem to mind her presence, though "Kaiwi" kept her distance. Usually, mom seals are very protective of their young. "Kaiwi" had her first pup almost a year ago on Sandy Beach (south Oahu).  Despite suspicions that "Kaiwi" may have been pregnant, she was not as she molted (shed her fur) the second week of July. 
http://www.hawaiinewsnow.com/story/35784989/in-a-rare-sight-hawaiian-monk-seal-and-her-pup-make-waikiki-beach-home
"Rocky" (RH58) and her pup "Kaimana" (PO3) July 23, 2017. "Kaimana" is now about 25 days old. "Kaimana" is also a female and already has demonstrated an amazing affinity for the ocean including night swims with mom.
"Kaimana" hauling out on Kaimana Beach for the last time August 12, 2017. Now 44 days old. She grew like a weed- no longer jet black, silver belly and very plump.
NOAA Marine Mammals Team scooped up "Kaimana" and safely transported her to her new home.
"Kaiwi"---just hauled out 25 June 2017. 
Solar eclipse from Honolulu- 21 August 2017 ~1700UTC. Sunspot groups 2671 and 2672 reasonably well imaged given that the sun was only about 10 degrees above the horizon. The two vertical "smudges" are thin clouds. I rotated the image to match the true solar poles. Maximum coverage was 27% in Hawai'i. Astrophysics Traveler 600mm, TeleVue 2X Barlow, Canon 5DMkII and Baader solar film. 1/1000 second exposure.
Nagaoka Fireworks over Waikiki-Honolulu Festival March 13, 2016
If never seen, please consider a visit to the DX Code of Conduct website. Worth the time and quick read. Every sport/hobby has etiquette. Sportsmanship and integrity do matter.
Operating Position 
Elecraft K3--> IF out to an RFSpace NetSDR+.  Panadapter software is Spectravue (RFSpace) as it interfaces well with the K3. Custom touch keyer and 900 MHz Digimesh XBee remote antenna switching hardware/software package all from KH6MB (now AI5IN). Station configuration is/was a near mirror of KH6MB to support internet remote operation. Solid state amplifier completed May 2016 with majority of components from W6PQL.
Amplifier uses (2) BLF188xr LDMOS transistors. The 50 VDC supply is a retired HP 3KW server power supply. I spent approximately 2.5 months of evenings and weekends building the "kit". Heatsink does get hot while contesting and while amp does fine with RTTY, I would have to cut back power to operate a RTTY contest. There is no air conditioning at my QTH--ambient air temperature can get up to 86F/30C--does not help the cooling situation. The ferrite beads on the red wire (Vdd) were extras that found a home on the ~14" piece of #6 wire which acts as my 0.5 milliohm shunt for the front panel current meter. I do not think they were necessary, but no harm. Virtually all DC/control lines have a ferrite bead. I added a pair of USB relays to remotely turn amp Off/On and from Standby/Operate. Automatic band switching accomplished via Unified Microsystems BCD-14. Complete detailed amplifier write-up at http://www.w6pql.com.
**Images from Hawaii**
Hawaiian monk seal sunning on the beach in Waikiki. Life is good in Hawai'i. Not a bad way to spend the day. Note that the monk seal is endangered. More at these links:
http://en.wikipedia.org/wiki/Hawaiian_monk_seal
https://pifsc-www.irc.noaa.gov/hawaiian_monk_seal/natural_history.php
This monk seal has decided to take a nearly 4 week vacation on a beach near my QTH. In the first photo, her fur appears to be peeling off or that she was attacked. In fact nothing is wrong. Monk seals molt (shed skin/fur) once a year. In the second and third photos below, her skin is now light gray and smoother as she has finished molting. She has been hanging out here for so long, her daily routine includes a morning swim along the reef foraging for food, then sunning on the beach for the rest of the day. As sun sets, she wiggles her way higher up away from the water on the dry sand. Volunteers from NOAA Fisheries Marine Mammals set up signs around the seal to keep people from getting too close since they are protected.
This seal's name is "Kaiwi" according to the volunteers who have been watching her. She does have an ID tag on her tail. She had her first pup this June 2016. 
https://www.youtube.com/watch?v=k-i39x0R_L4
Diamond Head/Waikiki Panorama--distorted view.

Honolulu-Waikiki city lights.

King Kamehameha I (in front of Ali'iolani Hale). This photo is a few days after Kamehameha Day (11 June) so there are lots of leis draped over the statue. Kamehameha I is also known as Kamehameha the Great and is credited with the unification of the Hawaiian Islands. https://en.wikipedia.org/wiki/Kamehameha_I
The Duke Kahanamoku statue in Waikiki. https://en.wikipedia.org/wiki/Duke_Kahanamoku
Previous QSL cards.
Panoramic view from Diamond Head Lookout (distorted as you can see East to West and illusion that center of the island is narrow--it is not.)
Another view from Diamond Head Lookout.
It was a wetter than usual summer 2014--> Diamond Head is usually brown until winter rainy season. HDR (high dynamic range) photo.
Cool retro HDR photo of Diamond Head from Tantalus Lookout (Pu'u 'Ualaka'a State Park).
Late afternoon.
10 minutes after sunset. Original unretouched photo.
HDR image of Honolulu as sun rising.
Mobile near Sandy Beach, O'ahu.
Passing morning shower with frequently seen rainbow.
The largest swell in a decade arrived from a storm below New Zealand and hit south shores of the Hawaiian Islands August 30, 2011. Waikiki almost looked like the North Shore in Winter.
Another awesome summer swell from 2009. Wanted to surf that day, but had accepted offer to go out sailing. Leaving the Ala Wai Boat Harbor, we all knew that getting back in was going to be a trick. That is me, second from the left, heading to the back of the catamaran to keep the hull from "pearling" (and secretly to consider options to bail out). We made it without incident but numerous photos made their way around the internet/print media including Surfer Magazine. I suspect the face of the wave was about 12-15 feet. How did I get this photo? When the waves are good, there are many photographers both in the water and on land. The surf community is fairly well connected so it was not difficult to get numerous photos including video. As far I know, it was not our intent to catch a wave into the harbor!
First attempt at a sunset panorama of Honolulu. Needs some work but not bad without tripod and exposure on AUTO.
iPhone panorama at 'Ehukai Beach Park on North Shore of O'ahu. Photo is looking directly out at the "Banzai Pipeline". The beach is linear--the image is distorted. Wind was onshore with a building swell. Not too many surfers out due to poor conditions. Still was a beautiful winter day in Hawai'i.
Portion of double rainbow over Diamondhead.
Interesting lighting, clouds, and ocean conditions with another morning shower.
Moonrise over Diamondhead.
Honolulu from cell phone.
Directly abeam the HNL "Reef Runway" 26L.
**Initiation into Astrophotography**
Just getting started in astrophotography. First attempt at well known and one of the most imaged targets, the Orion Nebula (M42). This image is a result of 10-thirty second exposures at ISO 1600, 15 darks frames and 15 bias frames with an unmodified Canon 5DMkII. Telescope is an Astro-Physics 105mm Traveler f/6 on AP Mach1 GTO mount guided with PHD2. The 40 images were stacked and processed (very basically) in PixInsight. More to come......
My QTH on O'ahu. Image from http://earthobservatory.nasa.gov/.