Please
add your callsign
to my
"Web"
tab above. Thank you...
Welcome to Amateur Radio Station, WY2G – 
My journey into Amateur Radio began early in my youth. I got my first start in the 70's by becoming an SWL, WDX2RRQ, and later by getting my CB license, KADJ9746, with a profound interest in electronics in my high school years. From that point onward I was hooked on technology, and made my way into a profession in the telecommunications field. The 80's were fun and exciting times in the communications sector, where I started my own radio and electronics company, and operated an SMR-IMTS-CELLULAR mobile radio telephone systems for sixteen years. There after went on to develop wide area communication networks, and tracking systems.
I have been licensed since 1997, and currently hold an Extra Class license. I enjoy operating Stateside and DX contacts throughout the bands, with 40, 20, and 17 meters being my favorite ones. My lifelong interest in electronics and communications keeps me up to date with technology, but I have a passion for tube-type radio and audio equipment, and also like building and experimenting with electronic gear and antenna systems.
The station is located on top of Onondaga Hill in Syracuse, New York, at an elevation of 1450ft./442m. resulting in a gradual drop favoring communications with North and South America, Europe and Asia.
I feel fortunate and privileged to be an Amateur Radio Operator, and have been involved in many aspects of technical, educational, and mentoring to our future generations. Most of all, I enjoy the fellowship of old friends that I've made over the years, and the making of new friends in this great hobby and service; we call Ham Radio. Thank you for looking me up, and I look forward to meet you on the bands.
73,
John WY2G      
EX:

N7EGX 

SKYWARN:

77

AMSAT:

33173

TEN-TEN:

75104

SIX METERS:

251
LAKEVIEW OF THE CITY AND ONONDAGA HILL
FLEX 6500,  KENWOOD TS-990S,  E/V RE20,  ACOM 2000A
ICOM IC-7600, YAESU FT-450D,  PALSTAR HF-AUTO,  ACOM 1000
DRAKE TR-4 / RV-4,  E/V 619
CONSTRUCTION AND TESTING SHORT BOOM ( TRAP-LESS ) VERSION OF HOMEBREW 40-6 METERS YAGI-UDA ANTENNA
Experimenting and Testing with HI-Q Series Planar Spiral resonators for 40 Meters - ( Not yet innstalled )
Coil inductance it's unaffected by ( I ) - self-resonant, greater efficiency and power handling
CONSTRUCTION AND TESTING ( TRAP ) VERSION OF HOMEBREW 40-6 METERS YAGI-UDA ANTENNA
• Experiment
 Concept
 Theory
 Math 
 Simulation 
 Design 
 Construction 
 Optimization by Testing...and repeat again!
HF-VHF-UHF
FLEX- 6500
ICOM IC-7600
YAESU FT-450D
KENWOOD TS-990S
KENWOOD TS-2000LE/X                                                                         
DRAKE R-4B
DRAKE TR-4 / RV-4
Hallicrafters SX-140
Hallicrafters SX-100 Mk II

KENWOOD TS-830S * 

G

 / SM-220 * 

BS-8

 / VFO-230 / AT-230 / SP-230                                                                                     
MICROPHONES
ICOM SM-20

KENWOOD MC-50

Marshall MXL-2003

Electro-Voice RE-20

Electro-Voice EV-619

 

                                                                                     

               
VOICE PROCESSORS
Symetrix 528E

dbx-286s

* Vocal Channel Strip

                                                                                       

 
MFJ

-921

. 2m.

 / 1.25m. VHF tuner
PALSTAR HF-AUTO. 160 - 6m. Stepper tuning network 

                                                                                                                                
HF
160m / 80m. (Shunt-fed)          
80 - 10m. OCF (Windom) @

62ft. / 19m.

40 - 6m. Yagi-Uda

(Homebrew - Under Construction)

17 - 6m. A/S MS-119

(Modified

) Electronic sector - Phased Vertical delta array                                                                                                                                                                    
VHF-UHF
2m. CELWAVE Station Master

(Modified

) Vertical collinear 

2m. / 70cm. / 23cm. DIAMOND X6000A Vertical collinear
---
   http://www.arrl.org/amateur-radio-parity-act
THE AMATEUR RADIO PARITY ACT OF 2017
If enacted, it would direct the FCC to extend the reasonable accomodation protections to those amateurs who are living in deed restricted communities.  Known as "CC&R" (Common Covenant and Restraint) these are the prohibitions and limitations placed on properties by builders or home-owner associations (HOAs) which prevent licensed Amateurs from erecting even modest antennas.
" Much has been said that this new law might help the Ham community. Although I supprt it, there are questions in the wording that may need to be addresed and improvised for the behalf of Hams that live in deed restricted communities, in wich sometime in our lifes may also impact all of us. Transparency, ethics and character make good governance, secrecy does not." 
On January 13, 2017, Representative Adam Kinzinger (R-IL-16) introduced the "Amateur Radio Parity Act of 2017" into the new 115th Congress.

On Monday January 23, 2017 the US House of Representatives suspended their rules and passed the Amateur Radio Parity Act of 2017 by unanimous consent. This action now sends the bill to the US Senate for its consideration.  

On July 12, 2017 S. 1534 was introduced in the US Senate, marking another step forward for this landmark legislation. Senators Roger Wicker (R-MS) and Richard Blumenthal (D-CT) are the Senate sponsors.
In a statement, ARRL said it looks forward to working with the bipartisan leadership of the Senate and the Commerce Committee to help move the Wicker-Blumenthal legislation through the Senate and to the President's desk.
"ISSUES OF TRANSPARENCY" 
​The feeling that we are not being told the whole story in League reporting has long been a concern among our resident ARRL followers. Alternative versions of events offered by independent sources have confirmed the validity of this skepticism time and again. The ARRL "spin" on the late-hour changes to HR555 was proven false and deceptive. Antenna Zoning experts K1VR and N3JT credibly argue the bill leaves those of us in HOA limiting situations worse off with passage of this legislation. We thank Director Woolweaver for blowing the whistle on the deception and the secrecy surrounding this action. - A more troubling trend has been the complete absence of information from ARRL HQ explaining governance decisions, and also appointments to the Ethics and Elections Committee without oversight by the full Board provides an opportunity for political positioning which is not in the best interests of good governance.
ARRL
GL - Since: July 06, 2010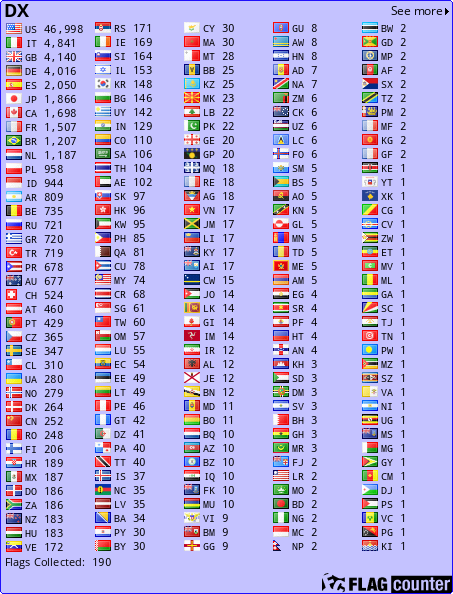 Thank You for visiting my page - Happy DX'ing!

73, John WY2G
© 2010 - 2018 by WY2G
.