CLUBLOG,eQSL,HRDLOG.net & LoTW confirmation
    PLS confirm our QSO on QRZ.com logbook
With many Radio Contacts in the Log it is impossible to QSL all of them Via the Bureau.  QSL cards send via the bureau it will take time, so saving time the best way is direct mail.  
For QSL Card please send Direct request with SAE + founds to cover the mailing cost.
QSL for US and JA-AF-SA: SAE + 3$    Europe: SAE + 2$  (For EU cost 1$ is not enough for covering the cost for replay  )
Pls no IRC coupons coz Post Office in my country doesn`t work with them.
`73 de Z31NA Simeon
https://www.facebook.com/Z31NA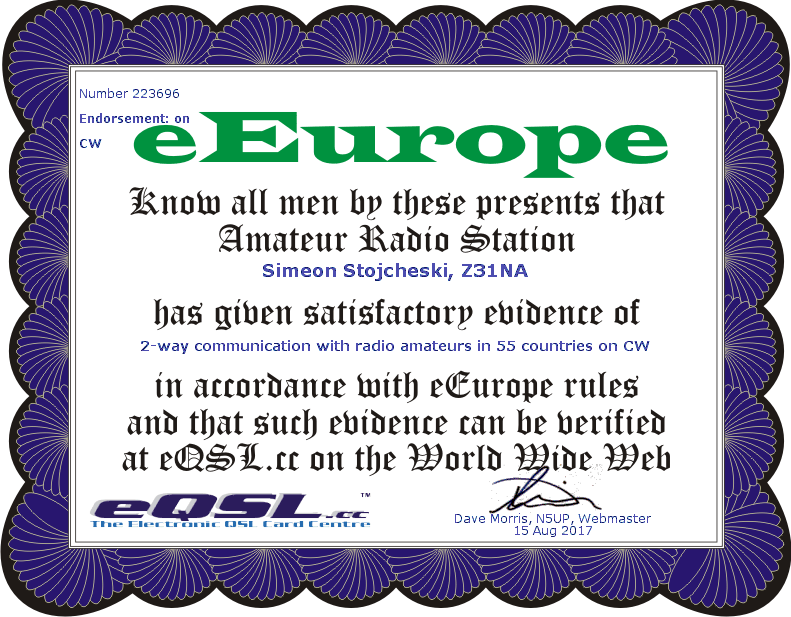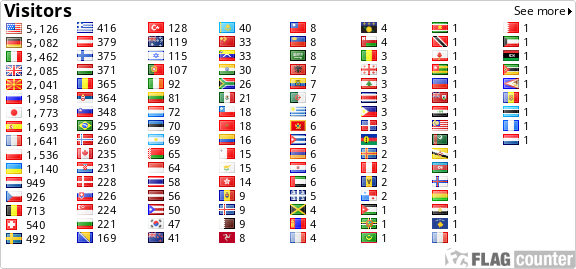 DIPLOMA AWARD MANAGER FOR Z3FF & WCA - MACEDONIA
MEMBER OF RSM (RADIOAMATEUR SOCIETY OF MACEDONIA ) & Radio Amateur Club "Nikola Tesla" - Z37FEF Prilep, Republic of Macedonia since 1981 (ex call signs YU5EFI, YU5NA/X, 4N5NA)
After a long period of absence again reactivated in 2015 year on the air 
Part of  Z3F Contest Team (Z37FEF)
and Macedonian HQ team Z30HQ
Im using the cluster on:    
3th place in world in category SOSB 40m LP MIX BSCC Member. And 1st in Z3
"400th Anniversary of the death of Miguel de Cervantes"
                              PLATINUM, GOLD & SILVER
Another nice award. Thanks to the activators.
19.08.2016 Pretor - Activation on Prespa Lake Z3FF-0012 and BOTA Z3/PL006 ... FT-897 MP1@10W CW - 20W SSB..... CW 113 QSO... SSB 45 QSO TOTAL 158 QSOs...
2016/08/09 - My first BOTA (beaches on the air) activation from St.Stefan beach on the Ohrid Lake in Macedonia as a staton-guest to Z35M Vlado.
Sprecial eQSL card for this activation ... 725 QSO`s CW made + 50-60 QSO`s who didn't get in the log because they where double or even triple on the same band.  Worked only CW on 40,20,30,17 and 10m. 6 P2P QSO`
Z30HQ Team 2016 80m CW - Z31NA & Z31WW
01.04.2016 activating SOTA Z3/WM-049 KN01RJ
(first time activation of this Sota ref.)
03.12.2015 from 09.40 to 12.00 UTC - Z31NA/P WCAG #139 at the activaton on Kicevo Fortress - Kitino Kale, Kicevo - Macedonia for WCA with ref. No. Z3-00005
09.11.2015 / as a part of ARO team of Z37FEF Radio Club "Nikola Tesla" from Prilep, today I had the honor to take a part of the CERAC COUNCIL OF EUROPE AVENUE DE L'EUROPE STRASBOURG France DXpedition 07 nov-13.nov 2015 Macedonia and Radio Amateur Society of Macedonia working under call sign Z38CE
 #357 in the International CQCW Independent CW Club                                       
At the invitation of Croatian Telegraphy Club - CTC, and at the same time member of the European CW Association - EUCWA I became a member with their membership number CTC # 3.125
On 26.09.2015 as Z31NA/P was active from the Sport Airfield Prilep, Macedonia ( even the wheather conditions was not on my side) where it was the opening of the FAI OPEN INTERNATIONAL FREE FLIGHT AEROMODELLING CONTEST 2015 - PRILEP WORLD CUP "TROPHY OF PRILEP"
I was on the air from 08.00 to 11.00 UTC on 20, 30 & 40 m band manage to contact 64 QSO`s ..eq.FT-897 @ 10W, MP-1 ANT...QSL Cards will be send with FAI WORLD CUP-Prilep, Macedonia
 `73  de Z31NA