QSL Information
General Policy
For all my contacts, paper QSL cards are hearty welcomed. Please send me your piece of art, I'm still collecting. For direct QSLs, no payment is required - if you send me one, I will send you one - without any charge for sure! For OQRS click on the picture to the left. The upload to eQSL.cc and HRDLog.net is done in real-time, to QRZ.com only once a day/week. Sorry, no LoTW by now.
SWL Reports
I always welcome genuine SWL reports, and I will be happy to QSL, if I can find a match in my log - and the QSO wasn't only cribbed from the Cluster, ok?
Special Notice and Appeal
If you hear me operating '/portable', please add me to the Cluster. This might help others to find my week signal in the noise. Check out my secondary site on QRZ.com also. The portable log and some additional information about my outdoor activities (fieldday, ...) can be found there.
Also, please give me an honest signal report - be sure I will not be offended at all if I receive a 54 or a 55 if that is my real signal strength. Please don't just give me a 59 to be polite or to boost my ego, because this doesn't really help me understand my propagation and keeps me from making unnecessary QRM by calling DX-stations far beyond my power!
I support the DX Code of Conduct! If every ham would join in, DX-life would become much easier and enjoyable for a little pistol like me!
Something about Me and My Working Conditions
I am from Lienz, a small city in Osttirol (East Tyrol), S/W corner of Austria, on the southern side of the alps surrounded by the real big mountains of the Dolomites and the Hohe Tauern. No perfect place for hamradio but great for all kind of outdoor sports. So unsurprisingly, besides my obsession with amateur radio, I enjoy mountainbiking, hiking, geocaching and nature photography.
I got my license in 1999, but I dropped out of hamradio for about 10 years. I'm back although it is not always easy and sometimes really frustrating. I'm now living downstairs in an apartment house with really annoying antenna restrictions. That's why I am quite rare on the air and every QSO is highly appreciated!
As a fulltime paramedic and accountant at the district office of the Austrian Red Cross I'm integrated in the local emergency and disaster relief communication. So it might be possible that you can hear me as an operator of OE7XPH.
I am no technician or electronics engineer! Sorry, but I'm really not the right man for long in-depth discussions on technical issues on the air. Nevertheless, I enjoy building all kind of (wire-)antennas and doing some simple experiments with my basic knowledge and limited skills. I love the smell of smoke and solder, but I'm rather a computer/software guy. Yes, there is a little Nerd in me, LOL!
My Little Box of Toys
My Main HF Equipment @ Home
Kenwood TS-590S

(fantastic rig, tnx Kenwood)

with
Heil PR-781 Microphone (sounds excellent with EQ)
Baby-Loop 6,6 to 29,5 MHz by I3VHF (for small places)
Lenovo ThinkPad T420 + Win10 (works properly)
Backup and Emergency Communication
Yaesu FT-857D (fine little rig, for digimodes)
Codan NGT SR + Codan 9360 (commercial Trx)
VHF & UHF (analog & digital)
Icom IC-E2820 (D-Star and VHF/UHF) into a
EAntenna J-Pole Duoband Vertikal
Raspberry Pi + DV-Mega (private Hotspot)
Main Software
I am no avid DXer, no award hunter and no contester! I'm quite happy just to go on the air with my station every now and then and have a fine little chat or two. You can find me on all HF bands except the top band.
VHF & UHF
On VHF and UHF I've not been really active in the past. And it's not that long ago when I started playing around with D-Star and DMR to make me familiar with the new digital 'era' in hamradio. I really hope that all the digital systems find a way to co-exist and we hams find a way to merge them all together.
OE7XLI - Hochstein (Local Multimode Repeater)
AUSTRIA / LIENZ / TIROL / LOC JN66it / 2.023 m / Sysop: OE7JTK
REFLECTOR
| MODE | BAND | QRG |   | CTCSS | SYSTEM | Reflector |
| --- | --- | --- | --- | --- | --- | --- |
| FM | 2 m | 145,70000 | -0.6 Mhz |   | Motorola |   |
| D-Star | 2 m | 145,72500 | -0.6 Mhz |   | UP4DAR | DCS009 B (Austria) |
| D-Star | 70 cm | 438,57500 | -7.6 Mhz |   | Icom | DCS009 T (Tirol) |
| DMR | 70 cm | 438,30000 | -7.6 Mhz |   | Motorola DMR-MARC | OE 4198 (Kärnten) |
| DMR (FM) | 70 cm | 438,87500 | -7.6 Mhz | FM 77.0 Hz | Hytera DMRplus | OE 4197 (Tirol) |
| C4FM (FM) | 70 cm | 439,07500 | -7.6 Mhz |   | Yaesu System Fusion |   |
Impressions of the new multimode-repeater OE7XLI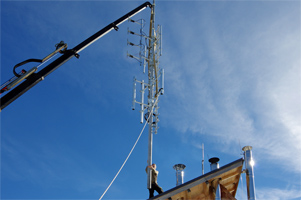 See you ...
I know my possibilities are rather limited - especially for DXing. But nevertheless, I always will try to catch some new countries (or entities, if you like) and find new friends all over the world. Ham radio is a contact sport. So I'm looking forward to meet you somewhere on the bands. But please be patient, I have a lack of practice!
Calling CQ