Thank you for visiting, I have passed the UK Full License Exam and am now M0FLF. Please Click Here to have a look at my QRZ page for my new call sign
Hi, my name is Craig Wilson and I live in a small coastal town called Hornsea in East Yorkshire, England
I first became licensed in May 2015 (M6FLF) and have since passed the intermediate license in March 2016. I will take the Full license exam but I still have a lot to learn
My station consists of the following equipment:
In July 2016 I bought the ICOM IC-7300, this radio is nothing short of amazing. The CAT control and digi modes audio using only one USB cable is so much easier than my previous rig (FT-857D). The waterfall display is brilliant for "at a glance" signal hunting, while the incredible filtering make this radio an absolute pleasure to use
Since passing the Intermediate exam, I can now use up to 50 watts, this is 5 times the allowance I had with the M6 license but I still only use around 10 Watts as I spend a lot of time doing digi modes
I have a few hand held radios that I generally use around the house with my AllStar/Echolink gateway
These are the Kenwood TH-K40E that I won at the Barnsley Lamfest in 2015, a Baofeng UV-5RG and a couple of Baofeng bf-888s
Strangely, the best audio reports come from the UV-5RG, for the money, these Chinese radios can't be faulted
In my car for VHF/UHF I use a QYT KT-8900 with an SG-7200 antenna. The little radio performs very well considering the price and I often get good audio reports
I have an older manual antenna tuner that I will never sell, it's the Yaesu FC-700. I only have a small garden so am restricted to what antennas I can erect and if I ever have another radio without a built in ATU then the FC-700 is perfect for the job. I have a homebrew Half Wave 20m Dipole and an Antron 99 vertical. I can safely transmit on all the bands but neither antenna is much good for 160 metres. I also have an X50 collinear for 2m and 70cms
I own an AW07A 160m to 70cms Antenna Analyser as I enjoy building antennas. I have made a few antennas that I have some good results with. My 20m half wave dipole is just 2 peices of wire and some coax and it works very well on 20m, it is decidedly average on 40m and totally rubbish on 80m or 160m
I will be building a Fan Dipole that will have wires for 80m to 6m in the coming months
I have also made a Magnetic Loop out of copper pipe and an air variable capacitor and again it works quite well on 20m but I need to add more capacitance for 40m
My locaI repeater is plagued with idiots and at times is completely unusable so I built an AllStar/Echolink Voice Gateway
This is absolutely fantastic, it allows me to chat to other amateurs all over the world using any UHF radio, I can even walk around the house or garden using a hand held and still be talking to someone thousands of miles away. The gateway consists of a Raspberry Pi 3, a Baofeng 888, a USB sound fob and an internet connection. It is able to connect to AllStar, Echolink and IRLP nodes or connected repeaters and cost under £100 to make. Feel free to call in anytime for a chat. AllStar node number 42483 and Echolink 2E0FLF-L (640009)
----  UPDATE  ----
I now have an NOV in place to allow the AllStar/Echolink gateway to be used by other license holders in the local area. The callsign is MB7ALF and you can access it via RF on 430.0125 - NFM - 88.5Hz
To learn more about the AllStar micro node, come and join the AllStar, Echolink and IRLP group on Facebook. There are instructional videos and plenty of knowledgeable people willing to help get you on the many available networks.
I Use HRDlog.net as my log book and all QSOs are logged in QRZ.com.
I am happy to swap QSL cards either via eQSL, direct or LotW but I don not use the bureau.
eQSL and LotW cards are automatically sent at the end of any QSO as I also use Log4OM so everything is integrated.
Have a look at my eQSL statistics here http://www.eqsl.cc/Member.cfm?2E0FLF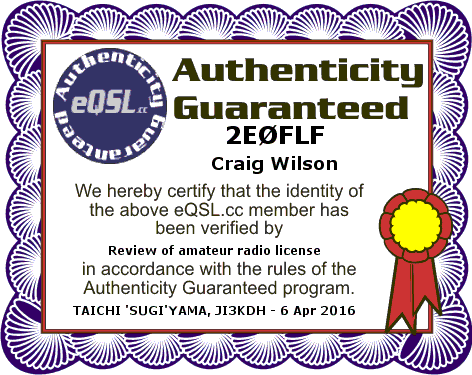 I am also a member of The European Phase Shift Keying Club #25381

Check out my YouTube channel to see some of my radio related videos. I also enjoy building 3D aquarium backgrounds and sand waterfalls so there may be something of interest to you.
73 Craig 2E0FLF
EPC Awards
To see my eQSL cards Click Here