ROTUMA DXPEDITION 2018 NEWS (as of 10 February 2018): Due to unforeseen work commitments, the 3D2AG Rotuma Dxpedition has been postponed to later this year. However the 3D2EU Rotuma operation is still scheduled for 23rd February to 16th March 2018 and will have a high focus on low-bands. See the 3D2EU website for more information. 
T2AR TUVALU (FUNAFUTI, OC-015) MINI DXPEDITION (tentatively now set to 1st to 8th April 2018): 3D2AG wll be on duty travel to Tuvalu again this year. Please see T2AR listing for details! 
Look for us also on 6m, HF, JT65 and 60m/80m from Fiji (mostly on weekends)! We are looking for a 2m linear to activate EME from Fiji and Rotuma.
QSL INFORMATION: via PayPal or direct using IRC preferably to: nyeurt@gmail.com. If you cannot send via PayPal and must send by postal mail, please register if possible and conceal well postage. There is a very high rate of stealing of mail in Fiji. Please note that only paper QSLs are now issued. Donations towards DXpedition costs are most welcome to above Email address!
For first-class postage and QSL printing costs, suggested $3.00 ($4.00 DXpedition); please do not forget to include your call, full QSO data including date and time, and your mailing address in transaction comments (if you do not state your mailing address, looking it up manually on QRZ.com will delay your reply. If you omit QSO data, an Email will have to be sent asking you for it). Optionally please also drop your QSL card only either via postcard mail or buro, as we do value your card for our collection. Direct postal requests at your own risk: For first-class airmail reply please include at least two green stamps or one valid IRC with a self-adhesive Airmail SAE. No calls on enveloppe, do not fold SAE in half. Apparently about 50 to 60% of SASEs sent to me never reach my P.O. Box! To combat chronic mail theft by postal employees please use IRCs or send if possible by Registered Mail. Sending postage by PayPal and your postcard only via mail is another way to discourage theft. Only paper logs are used by 3D2AG since 1988, and all QSLs are filled by hand with a personal touch. If you do not get a reply within 2 to 3 months, it usually unfortunately means your mail was lost on the way to my mailbox. While 3D2AG's QSL turnaround time is only a few days, Airmail from Europe / USA to Fiji can take 4 to 16 weeks or more each way to reach so please be patient! Thank you very much for your cooperation and VY 73!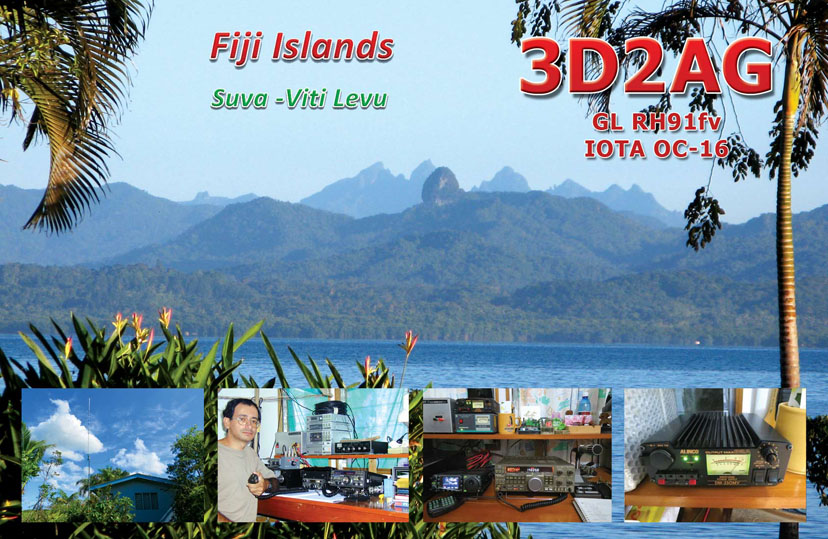 Licensed since 1988, 3D2AG operates both from Fiji and Rotuma (latter as 3D2AG/p) and is QRV 3.5-50 MHz, on SSB, CW, RTTY, PSK31, JT65 and other digital modes. Main radio interests are DX, VHF (6m) long-distance propagation monitoring, and antenna testing and construction. Preferred modes are CW and RTTY.
The OM also held the callsign FO0DER (later upgraded to FO5RK) and was QRV from Mangareva Island (IOTA OC-063) from November 14-22, 2000. Other calls include ZK1AGG Rarotonga South Cook Islands, T30AR from Tarawa, Western Kiribati and FK/FO5RK from Nouméa, New Caledonia; some of the QSL cards are shown above. QSL for all these operations is via 3D2AG. There are no managers; before 1988 W9TU / K6AG held the 3D2AG call and cards should not be sent to them. Sam FK8DD was kindly QSL manager for a time between 2008 and 2011.
For information, here below are the dates for 3D2AG/p (Rotuma, OC-060) operations over the years for which (paper) logs are still open (other periods than those listed count as Fiji, OC-016):
ROTUMA 3D2AG/p: 02 Jul 1991 to 24 Jul 1991; 11 Dec 1991 to 29 May 1992; 30 Nov 1992 to 12 Feb 1993; 23 Sep 1993 to 26 Feb 1994; 29 Nov 1996 to 09 Jan 1997; 14 Dec 1997 to 11 Jan 1998; 12 Dec 1998 to 13 Jan 1999; 11 Dec 1999 to 21 Jan 2000; 12 Jan 2001 to 19 Apr 2001; 19 Nov 2001 to 24 Jan 2002; 15 Dec 2007 to 13 Feb 2008; 13 December 2011 to 9 January 2012; 20 September 2014 to 25 September 2014; 21 December 2015 to 22 January 2016; 02 April to 27 April 2017.
All Rotuma operations are entirely Solar-Powered using Sustainable Renewable Energy! Barefoot 100 Watts.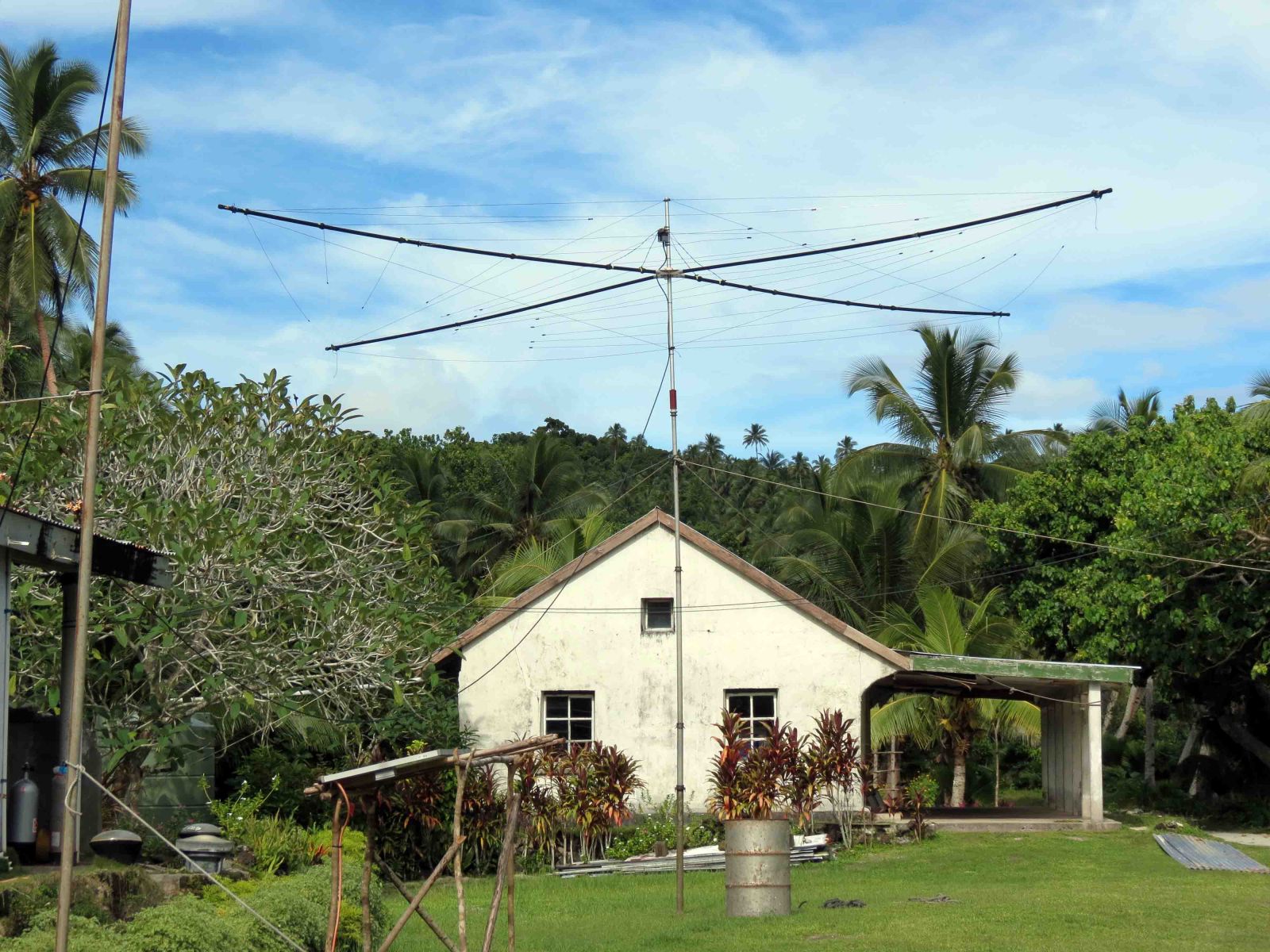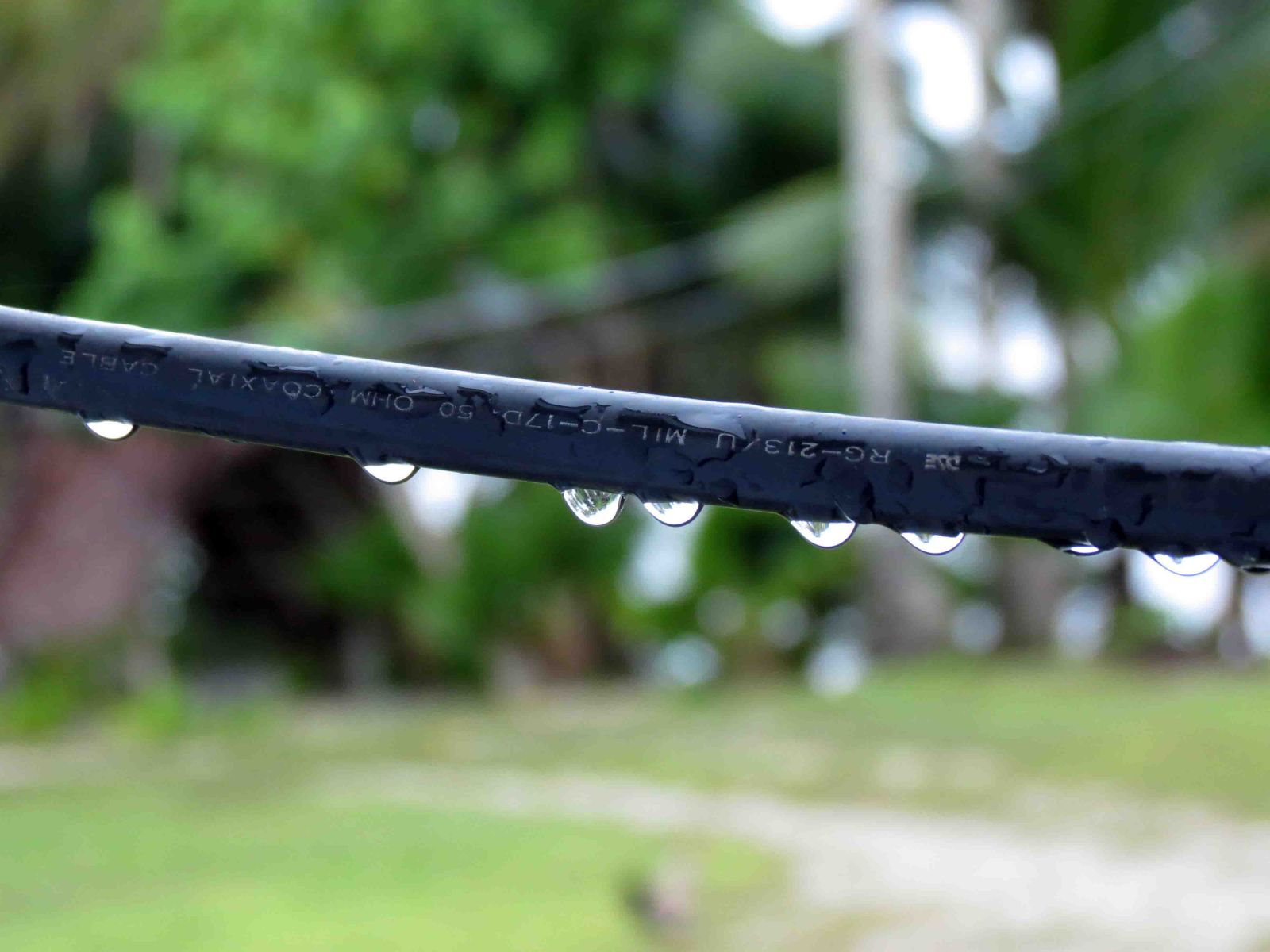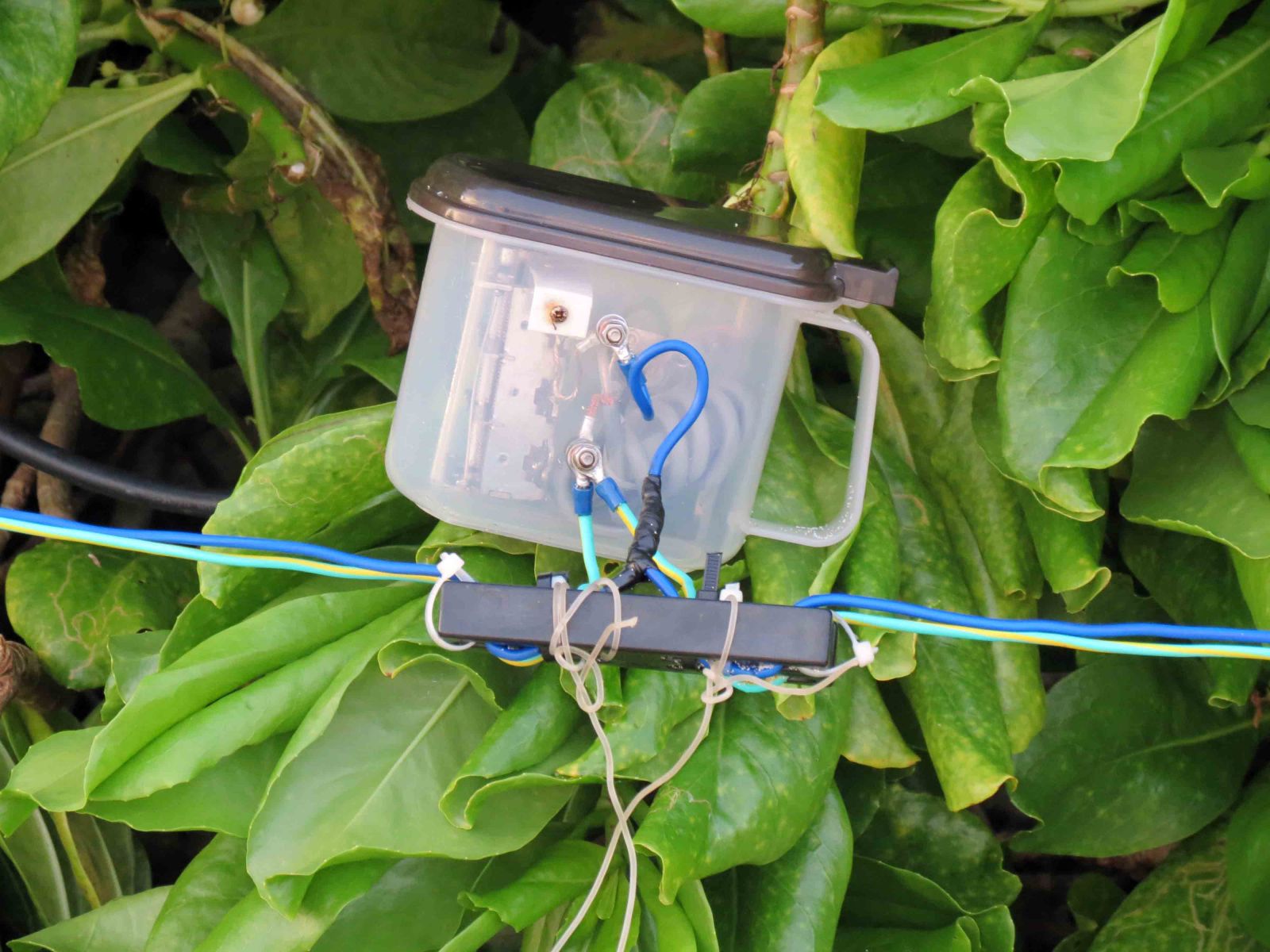 Following the passage of the deadly Category 5 tropical cyclone Winston that hit Fiji in February 2016, there was major damage to our antenna systems but repairs are due to be completed very shortly. Sadly we recently lost one of our skilled Fiji-based Radio Amateurs, Dick Best 3D2BA (sk). His logs are now under the custody of 3D2AG if anyone requires a QSL for past contacts with either 3D2BA or ZK1CC.
The 2015-2016 Rotuma DXpedition was quite successful, 80m-6m with nearly 8,000 QSOs on CW, SSB, RTTY and JT65 modes. First QSO was on 21st December at 05:20 UTC and last QSO on 22nd January at 07:49 UTC. Main antennas were down on the 20th January when the boat left Suva for Rotuma but limited operations continued on the 80m inverted-V while waiting for the boat to return to Fiji. Propagation on 6m, 30m and 20m was very good while 80m, 40m and 10m were not so good. Thanks to all operators for their kind support and for being in the pileups!
Please note that 3D2AG has managed to bring back with him outstanding QSL requests for 3D2RI Rotuma High School dating back to 2011 and these are now all mailed out (with 'slight' delay!). Currently there is nobody at the 3D2RI station knowledgeable of amateur radio and QSL requests had been ignored for the past several years and were on the verge of being discarded until 3D2AG managed to visit the station. Teachers trained by the 3D2R team have since been transferred, including the former Principal of RHS. Efforts are underway to revive interest in amateur radio at the school, and in general in Fiji as a whole, as part of a DRM network.
3D2AG is also QRV from the home QTH (FIJI, OC-016) using IC-7300 / FT-757GX / TS-440S and Hustler 4BTV or home-brew OCFD 80-10m antennas, and with 5- to 10-el yagis on 6m and 2m. Operating times are limited but usually on 7 MHz between 0930 and 1130 UTC and 14 MHz  between 0530 UTC and 1400 UTC. Also present on weekends on the ANZA Net on 14.183 MHz starting 0500 UTC. The 60m operating times are 0530 to 0700 UTC (For EU and USA) and 1000 to 1200 UTC (for USA), on 5357 KHz JT65 mode or 5358.5 / 5405 KHz CW (please note that JT65 is much more effective on 60m than FT8 mode). On weekends, please look for 3D2AG on 15, 17 and 10m between 1900 and 2100 UTC longpath, then shortpath afterwards, and also on 14.076 JT65 mode and 14.074 FT8 mode. Beware of pirates! If in doubt of a QSO, please email me first.
FT8 Etiquette for DXers by 3D2AG
The new digital mode 'FT8' being all the rage, below are some tips to make our mutual experience of this exercise the most enjoyable and productive:
1. Foremost, PLEASE CALL THE DX STATION SPLIT! Otherwise it will be impossible for the DX to decode your signal among the many calling on his frequency. Do not call on his frequency. Select a clear spot on the waterfall in the Wide Graph to set your transmit frequency, and call the DX there.
2. When calling the DX, SEND A REPORT, not your grid, along with your call (e.g. W1AW 3D2AG -17). This will greatly reduce the number of exchanges and time per QSO, enabling more stations to work the DX in the available propagation window. Click the "Next" button under "Generate Std Msgs" for the "Tx2" message.  This will generate a signal report with your call instead of a grid square. Major DXpeditions will now usually not respond to calls with a grid.
Typical FT8 'ideal' short QSO (75 Seconds long):
CQ 3D2AG RH91
3D2AG W1AW -17
W1AW 3D2AG R-20
W1AW 3D2AG RR73
3D2AG W1AW 73
Extended long QSO (105 seconds):
CQ 3D2AG RH91
3D2AG N6TE DM12
N6TE 3D2AG -20
3D2AG N6TE R-15
N6TE 3D2AG RRR
3D2AG N6TE 73
N6TE 3D2AG 73
Note that the above times can be much longer if there are improper decodes needing repetitions (please refer to point (1) above!). Please note that for a good QSO, the '73' is optional, so if you cannot manage to copy the final '73' do not worry you are in the log. Usually after attempting to send 3 or 4 times the final 'RR73', the DX will move on to the next station.
3. If you do not intend to stick around, please do not call! A FT8 QSO takes a minimum of 60 to 105 seconds, and if there are repetions, up to 2 or 3 minutes, even 5. A lot of patience is required. If there are 4 or 5 stations calling at the same time (hopefully split!) the DX station will answer them in the order they appear on his waterfall, so your turn will come. The DX could be wasting a lot of precious on-air time calling absentee stations!
4. To make the QSOs smoother and faster during a DXpedition, the 'RRR' and '73' lines are usually combined as 'RR73' so please be prepared for this. For proper interpretation of 'RR73' please always use the latest version of WSJTx: (https://physics.princeton.edu/pulsar/k1jt/wsjtx.html). 
5. Last, but not least: after making a simplex QSO with the DX, please QSY - DO NOT start calling CQ on his frequency forcing him to shift elsewhere (yes, this happens too often!!). The FT8 spectrum is already very crowded as it is, so please do not deprive the DX of his hard-earned 'parking space'! Thank you very much and let's enjoy FT8 Mode!
DONATIONS towards QSL postage and DXpedition costs can also be sent directly via PayPal to the following Email address: nyeurt@gmail.com. If you make any donation, please comment with full QSO data so that it can be linked to your call. Thank you very much for all kind donations already received!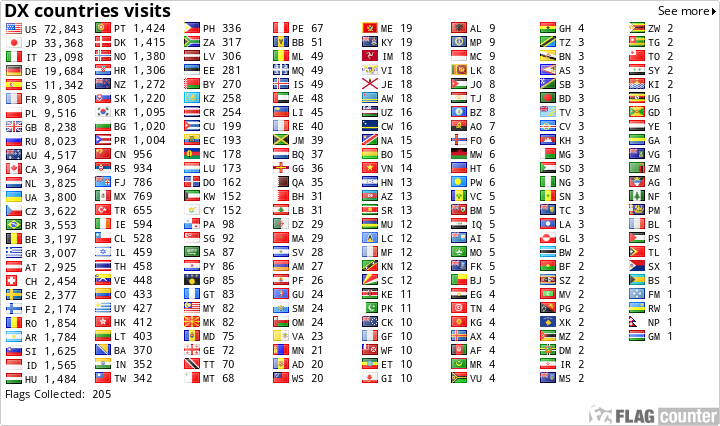 We Love 6m DX!
Free counters
For DXpeditions we use IC7000bkt CAT software by IZ2BKT: http://www.maniaradio.it/en/ic7000bkt.html