Welcome to QRZ for AC6ZM,
AC6ZM QSO's are available on LoTW, QRZ.com, Clublog, and eQSL. QSL cards are always welcome via the BURO or Direct postal mail service (SASE).
SWL listener reports are always welcomed and will be provided a QSL card "free of charge" anywhere in the world.
I am the QSL manager/operator for 7J6CEC (IOTA AS-017). QSL is through the BURO, LoTW, eQSL, or Direct mail with a SASE.
I am participating in the ARRL Centennial QSO Party. My QSO is worth 5 points (Volunteer Examiner).
In honor of the ARRL 100th Annivesary I will send this special QSL card.
For a direct QSL card please confim your QSO log entry via email to ac6zm@arrl.net
Search Clublog for your QSO and request a free QSL Card via the Online QSL Request Service (OQRS):
My working conditions are:
Rig: Kenwood TS-590S
Tuner: PalstarAT2K
Amp: Ameritron AL-80B
Antennas: Carolina Windom (160-10 meters) & CushCraft A50-5s (6 meter)
Microphones: Heil Mic (HM-12) & Heil Proset (HC-6) & Astatic D-104
CW Keyer: Begali (Stradivarius)
HF Digital: Rigblaster Advantage running FLDigi and JT-65HF (v1.0.93)
VHF Digital: AEA PK-232MBX
Logging SW: Amateur Contact Log
2014 Dayton Hamvention Moments:
AC6ZM operating the W100AW/8 Special Event station at the Dayton Hamvention on May 17th (10 & 20 meter SSB).
Sharing technical information with Bob Heil (K9EID) on audio quality for HF microphones.
I started to use LoTW in the Fall of 2013. My goal was to achieve DXCC and 1000 confirmed QSO's in LoTW before the 100th Anniversary Celebration of the ARRL at the Dayton Hamvention in 2014. Pictured below at the Dayton Hamvention is a confirmed 20 meter SSB QSO in LoTW with W3IZ. I reached my goal of DXCC (see certificate below) and hit 999 confirmed QSL's in LoTW. The day is still young and I only need one more QSL to reach 1K in LoTW!
Here I am with Mr. Pietro Begali (I2RTF) at the 2014 Dayton Hamvention purchasing my dream CW key. I am the proud owner of a "Stradivarius" (serial no. 136). The key is engraved with my callsign and was delivered to me in time for Field Day 2014. The name "Stradivarius" has become a superlative often associated with excellence; to be called "Stradivarius" in any field is to be deemed the finest there is. This is truly a great instrument. I hope to work you with this special CW key.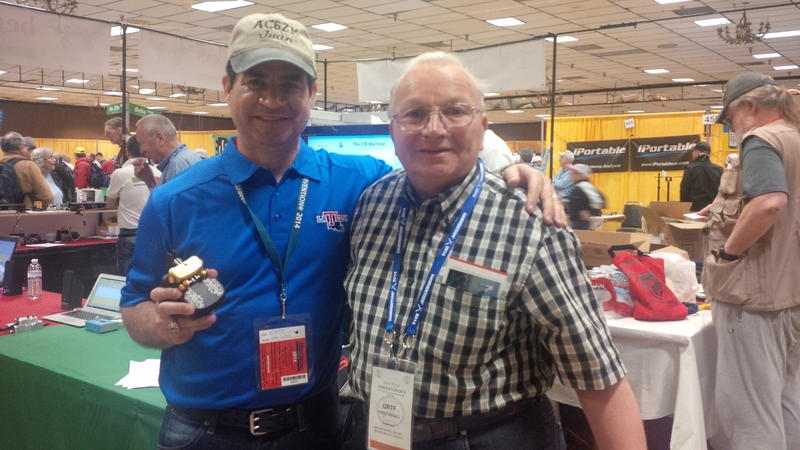 ---
My QTH in Beavercreek is the largest city in Greene County, Ohio, and is the second largest suburb of Dayton. As of the 2010 census, the population is over 45,000. Beavercreek is part of the Dayton Metropolitan Area and was settled in the early 1800s. The city boasts two
golf courses and many residents work on the nearby Wright-Patterson Air Force Base. In 2007, Beavercreek ranked 84th in Money's Top 100 places to live. The United States Air Force Museum is also lcoated between Beavercreek and Wright Patterson Air Force Base. Dayton, Ohio is also host to the largest Hamvention. I attend every year to search for new Ham Radio toys. Send me an email if you plan to attend the Dayton Hamvention. I would be glad to have a meal and host you as a guest operator at my Amateur Radio Station.
73 es Gud DX...AC6ZM