​

Its not the class of license the Amaetur holds but the class of the Amaetur that holds the license

 
                                 
You truly deeply appreciate things so much more when your money comes so hard to you and you put all of your bloood sweat and tears into A project, the one you only dreamed of but could not do because of finances and living situations and the physical disability challenges I have. These are the obsticles I had to endure and had to overcome to make my dream come true. Thats the story of my shack. APRIL 2017 PAGE 79 QST MAGAZINE ( skys the limit )  Im a retired Railroad Conductor from Metro North Railroad in N.Y. Im finally in my new house as of July 15th 2017 WOO HOO. Many thanks to Steve KC4THS Butch K4BCO and Alivin N4RWK for helping me with tower project number 2. ​My shack consists of a Yaesu FTDX 5000 Limited, Yaesu MD-100 desk mic An Ameritron AL-80B with an AR 704B . A diawa CN 801 HP3 meter for HF and a Diawa CN 801 V for 2-440. On my 50 ft. tower my antennas are a Tennadyne T-11 log periodic for 6 to 20M at 55 ft. and an MFJ 17 ft verticle colinear for 2-440 at 90 ft. They both share the same 24 ft mast. All of that sits in my Yaesy G-800DXA rotor and thats bolted to my 12 Volt RT Razor elevator system which raises and lowers my antenna system to ground level.. A G5RV at 55 ft for 40 and 80 M. For 2-440 I have an Alinco DR 735 T. My monitor is a 32 inch samsung.
   I have loved radios since 1975 and it all started with a Midland walkie Talkie with A black body A chrome face and A very long chrome telescoping antenna. Back then I worked my lifelong friend Frankie Fatigate KD2DBW on said walkie talkie ( his son Little Cheech is in the first photo ) who was only 5 miles away and I was hooked.  I worked 11m untill march of 1995 when I got my Tech. I worked real hard till i got my extra 8 months later in Nov 1995. Ontop of my deep love for Ham radio I have loved weight lifting since 13 y.o. joiend a gym at 16 and im still in the gym 5 days a week. I eat and live A healthy life style. I enjoy my 2nd amendment and wear my springfield 45 semi auto, we have open carry in Georgia.
​Im on the right​​
​Da Shack
Alinco DR 735T
​​CQ Maps Yaesu rotor face
​My castle  
tennadyne 11 element Log periodic
​Log north all photos at 55 ft omni at 90
​​From the  front yard
​​Guyed top side 50 ft
elevator going up next floor top side
​Red 12 v jumper box ​​​
​RT Razor 12 V elevator system​

​

 

 

​Poncho and Diesel they are my life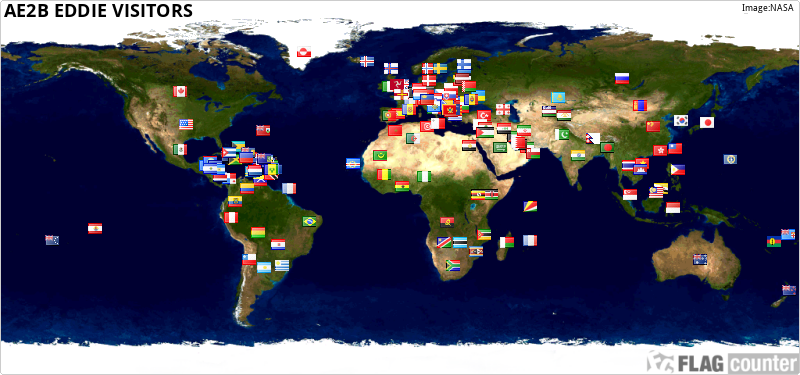 a href="http://cooltext.com">                                                                                                                             
8609140 Last modified: 2018-01-27 20:39:09, 11236 bytes
Login Required

Login is required for additional detail.
You must be logged in to file a report on this page
Public Logbook data is temporarily not available for this user
United States Counties Award

#1081


Granted: 2016-07-19 18:06:55 (AE2B)



Endorsements:

100 Counties Mixed

250 Counties Mixed

DX World Award

#3755


Granted: 2016-05-14 17:47:00 (AE2B)



Endorsements:

World Continents Award

#9747


Granted: 2015-07-15 01:49:46 (AE2B)



Endorsements:

17 Meters Mixed

20 Meters Mixed

Grid Squared Award

#2703


Granted: 2015-02-13 15:50:35 (AE2B)



Endorsements:

15 Meters Mixed

20 Meters Mixed