I do QSL processing monthly : I preferring LoTW and / or E.QSL (AG) + CLUBLOG, the fastest and best way to confirm QSOs !
When paper QSL needed via the bureau, I will send back paper QSL via the bureau if requested !
Please use Clublog QSL service (OQRS), your paper card is not needfully, thanks in advance.
!! If you send QSL direct please note that's included a SAE or a self-adhesive address label !!
(CLICK ON THE PHOTO BELOW FOR INFORMATIONS ABOUT MY CITY)

Dear OM, thank you that you have visited my little webpage.
(CLICK ON THE COAT OF ARMS ABOVE FOR INFOS ABOUT MY DOK)
DF2F - Clubstation and the Contest Team ( found Autumn 2014 by DF2SD )   FOX 2 FOX 
DF2SD/p, in several times I will try to activate different DLFF areas around my QTH.
Planed are:
DLFF-0140   Nature Reserve " Bislicher Insel "
DLFF-0110   Nature Park " Schwalm-Nette "
DLFF-0164   Nature Reserve " Ilvericher Altrheinschlinge "
DLFF-0233   Nature Reserve " NSG Rheinaue Walsum "
DLFF-0321   Nature Reserve " NSG Latumer Bruch "
QSL via LoTW, e.QSL (AG) and if needed paper QSL direct (with sufficient return postage) or bureau.
LX/DF2SD, in several times every year. Also active upon LX8M
QSL via LoTW, e.QSL (AG) and if needed paper QSL direct (with sufficient return postage) or bureau.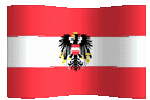 VACATION 2012, 2014 and 2016 - AUSTRIA, Kaernten (Carinthia) by OE8/DF2SD/p
go to :http://www.qrz.com/db/OE8/DF2SD
  VACATION 2011, 2013, 2015, 2017 - DENMARK, FANO ISLAND by OZ/DF2SD
go to : http://www.qrz.com/db/OZ/DF2SD
HAM RADIO 2016 - FRIEDRICHSHAFEN / GERMANY
... thanks for the nice time 
HAM RADIO 2015 - FRIEDRICHSHAFEN / GERMANY
... we've had a great time  
HAM RADIO 2014 - FRIEDRICHSHAFEN / GERMANY
 always an opportunity to meet old and new friends 
HAM RADIO 2012 - FRIEDRICHSHAFEN / GERMANY
DF2SD + JA5AQC Masaru San (the Date on Photos is wrong) OH6KN Veijo + DF2SD
DL1DTL Klaus + my WAG 2011 Trophy + DF2SD   L06 meeting: DJ7EC Hauke + DF2SD + DF2OF Matthias 
DF2SD + English Friends + DL1YFF Hans-Juergen R.I.P.     The Friday in the evening: RRDXA Meeting 
AT HOME
My rigs: ICOM IC-7400, ICOM IC-7600, Kenwood TS-480 SAT.
external power Amplifier : AMERITRON AL-80B (10m included, with 3-500Z tube for 1KW HF Power)
Microphones: HEIL Headset Pro Set Elite with Icom element, HEIL Headset Pro-Micro with HC-6 electret element, ICOM HM-36, Kenwood MC-43.
For Digital Modes: MICROHAM DIGI KEYER , MICROHAM MICRO KEYER II
Rotators: HAM IV, KENPRO KR-450XL
Antennas Control : AMERITRON RCS-8V Remote Coax Switch
using switching power supplies, adjustable 0-15V, with a duration power max. of 28 to 60A output.
for the Power and SWR control I prefer DAIWA meters.
For contesting I prefer my MFJ Voice-Keyer 434B. An excellent audio quality is his strongest point, and in connection with the MFJ-73 Remote Control easy and quick controllable.
My basically Log Book Software: UCX Log , N1MM Logger
MY ANTENNAS
VHF UHF : NIL
6m Band :  5 Element Yagi
10m Band - 12m Band - 15m Band - 17m Band - 20m Band : OPTIBEAM OB9-5
60m Band : Fullsize Dipole
40m Band and 80m Band :   Fullsize Dipoles fixed, Delta Loops and quarter waves
and sometimes I build in addition a vertical quarter wave with two radials for a better performance to east, here with my 12 meter high GFK Spiderbeam pole where the feed point is 2 meter over the ground, a very helpful support.
40 m Band Quarter Wave :
        30 m Band Quarter Wave :
40 m Band   3 Elements Inverted Vee : a great project and a fabulous performance.
I using those on fieldday and at home for contests fixed
installed to West or East, whichever contest is running for the best multipliers.
The right photo showing the best SWR on my RigExpert Analyzer.
160 m Band : NIL
About me :
I made my first licence in April 2009 (E-Class with DO6SD) and upgraded in December 2010 to Class A. Radio was always a passion to me and finally I put the crown of all with the HAM licence. When the time it allowed I try to catch new DXCC / WAE entities (319 worked currently) and IOTA's (591 IOTA worked currently) and of course new Radio Friends in the whole world. The short wave is my "playground" hi and I try on 10 bands my best luck. My antenna situations for the low bands are not the best (beaming south/north) but it's always better to have a fullsize wire in the air as somewhat shortened. So far I try to use in turns homebrewed Loops, Dipoles and Vertical Quarter Waves for the 30m, 40m, 60m and 80m band, just what my little garden will bear so and as long as my neighbors still smiling. The 6m Band is for me very interesting as well. 160m Band isn't possible because of too little space for reasonably suitable antennas. During my vacation, mostly in Summer, I try to run some little activations like SOTA, Flora & Fauna or IOTA or some other european countries where I have always with me my great helping family.
My passions belong to contesting and DXing. My favourite band is the 17m band.
My favourite modes are  SSB, RTTY, PSK, JT65A and the new mode FT8.
I hope we meet us soon on the frequency - wherever it will be ;-)
vy 73 de Dieter.
Federal State North Rhine Westphalia
( Nordrhein Westfalen )
My Job :
I am mechanical engineer by profession (technology development), and work as a logistics manager in my company.
Denmark 2011 - Fano Island ************************************** Austria 2012 - Carinthia (Kaernten)
Denmark 2013 - Fano Island
Austria 2014 - Carinthia (Kaernten)
Denmark 2015 - Fano Island
Austria 2016 - Carinthia (Kaernten)
Denmark 2017 - Fano Island
Working ARRL SSB Contest at DR1A
My QSL Cards (own design)
----------------------------------------------------------------------------------
MY e.QSL.cc AWARDS :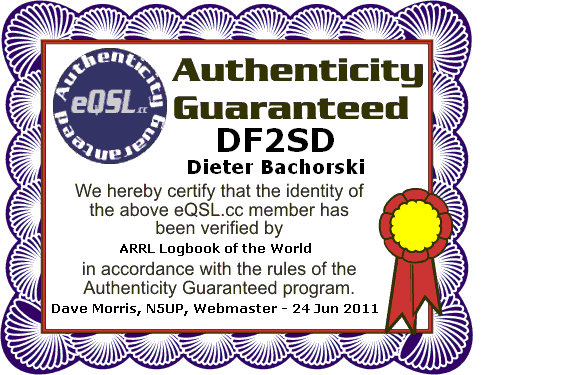 I AM A MEM

BER OF :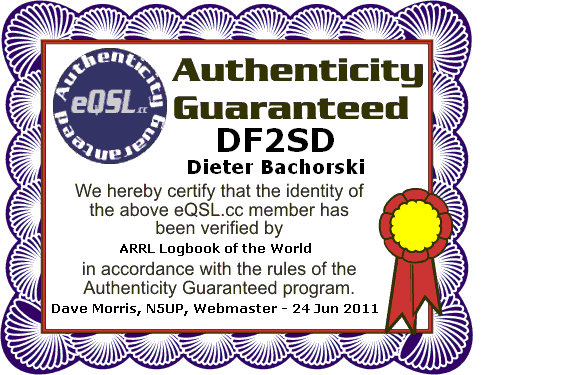 Skype: DF2SD_Dieter