http://AE1DJ.com                                 http://DJ1AE.de       
       
All paper QSL via Buro of DJ1AE
​DJ1AE Vacation calls
​PA/DJ1AE     Texel Island, Netherlands, IOTA EU-038
​EA8/DJ1AE   Canary Islands, La Palma, Spain, IOTA AF-004
Log
I am logging all QSO's by PC, electronic records only. I upload my logs almost daily to LotW; eQSL; QRZ; ClubLog; HRDlog. Here the bad news. I must admit, my paper QSL response is kind of a mess. Though all preconditions are perfect, QSL cards are at hand, club QSL manager does a perfect job, it would simply take someone to write the cards. My sincere apologies to all whom I owe a QSL card.

​
---
Dear Friends, dear QSO Partners, dear Ham Radio Community,
welcome to the website of the German Amateur Radio Station DJ1AE, OP name is Michael. My club is P04 (papa-zero-four) registered in the city of Heidenheim, a suborganization of the governing body in Germany, the DARC / Deutscher Amateur Radio Club.

​I am a German radio amateur with focus on SDR technology. I was fascinated by wireless communication since my childhood. In the early 1970's, we kids played around with DX possibilities of handheld AM transceivers, not knowing anything about oscillator circuits. How far could it go? Though mankind visited the moon already, no one of us would have imagined the todays possibilities of band monitoring and real time DX prediction. Nobody could even think of a platform like PSK reporter.
​Growing older, I left my childhood behind, together with my dreams of DXing and the wireless experiments. Other subjects caught my interest, making money, spending money, preferably with young ladies and good friends.
​I reactivated my childhood dreams in the year 2006, achieved the class E license and operated the call DO6KMS for a few month. Later in the same year, I upgraded to class A, owning the call DJ1AE since then. Since August 2017, also maintaining the US call AE1DJ.
Today, I operate on all HF bands, also the new 60m band. Of course the bands above 15m are not so fruitful these days since the conditions are offering not too many opportunities. JT is my favorite mode these days. WSJT (also JT) is a weak signal communication developped by K1JT. You can also find me on DMR (digital mobile radio).
​Scrolling further down you will find some images of my favorite QSL cards and links to www pages that found my interest and that I can recommend. You will also find a download link to the photo story of the homebrew project "Christian Coupler". It tells the story of the onset of this useful symmetric matching unit, mainly illustrated with pictures. Thus it will be easy to understand though it's issued in German language. This symmetric coupler will bring you ON AIR throughout all HF bands with a simple dipole wire and a symmetric feed line. Low loss is a basic propperty of symmetric feed lines. This antenna system can deal with minor mismatch and it provides high efficiency. The antenna principle is known as DZEP (double zeppelin antenna) or LEVY antenna.
​The extent of my radio equipment is rather small. I am running an SDR TRX from Apache Labs, the ANAN100. My homebrew DZEP antenna is good for all HF bands, thanks to the symmetric coupler! On 10m / 15m / 20m I can alternatively use the FB33, a 3-el trap yagi. You will see pictures of my antenna farm further down.
​I am closing my introduction here and hope I could trigger your interest.

​For higher resolution pictures, you may have a look at: https://www.hamqth.com/DJ1AE
Are you interested in global weather activities? You may have a closer look into this subject here:
​See windyTV for information related to global weather, inluding atmospheric pressure, clouds, rain, temperature, wind. The graphic presentation is really neat. The below window shows the wind vectors only. If you would like to visualize the other parameter, visit windytv.com it's pretty cool!
​Simply move your mouse over the below window. Use the hand to zoom and move. Click once to receive information about one particular geographic location. An outstanding web performance, a great weather visualization platform.
Awesome site for DXpedition follower: http://www.dx-world.net/
​Don't miss these DXpeditions, see actual timetable: http://dx-world.net/timeline/dxw_timeline_1_1.php
​Contest schedules and rules: http://www.sk3bg.se/contest/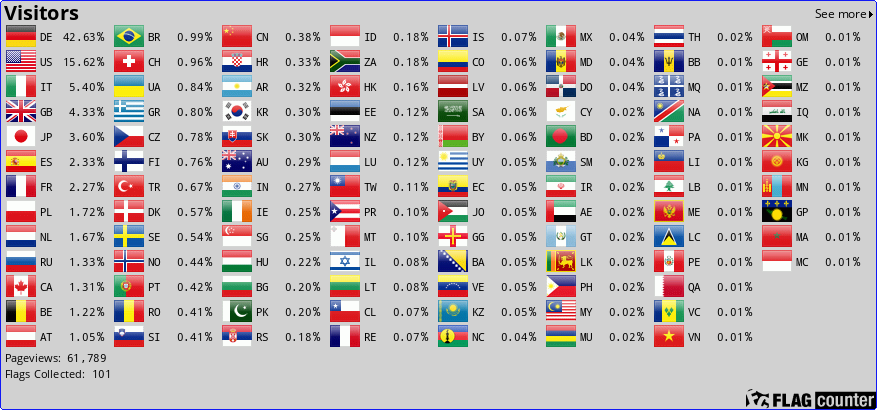 It's all about the propagation:
DX Propagation is a great tool provided by DR2W !
​The solar wind forecast for the next five days: http://www.swpc.noaa.gov/products/wsa-enlil-solar-wind-prediction
​You are looking for point to point prediction? I recommend VOACAP, here we go, bitteschoen:
http://www.voacap.com/prediction.html
 
Enquire your propagation at the beacon network of PSK REPORTER https://www.pskreporter.info/pskmap.html
DMR links:
Locate the repeaters in your area: https://dmr.dm7ds.de   
Brandmeister Network: https://brandmeister.network/​
DMR Dashboard: http://hamdmr.de/bm/index.php
DJ1AE antenna farm:
You will find higher resolution pictures here: https://www.hamqth.com/DJ1AE
Picture above
Electromagnetic Anechoic Chamber / respectively Microwave Chamber for the measurement of spurious emission of
mobile device e.g. cell phone and wifi / BT equipment in analogy to the ETSI standard.
OTA (over the air) measurements of wireless device.
----------------------------------------------------------------------------------------------------------------------------------------------
----------------------------------------------------------------------------------------------------------------------------------------------
Learn more about electromagnetic test facilities, EMC chambers and antenna test sites.
My QRL: http://www.albatross-projects.com
Outstanding performance certified according international standards e.g.
CISPR 16-1-4     Test environments for EMI
IEC-61000-4-3​    Test environments for EMS
MIL-461F            Test environments for military equipment​
IEEE-299            Shielding attenuation, zero noise rooms
CISPR-25​           Test environments for ​automotive / naval vehicles and components
TEMPEST          Information security, spy safe shielded enclosures, 
                           Top secret meeting rooms​ for embassies, encryption shells
                           http://www.emshield.de/                               
                                                                                                                                       BMW K1100LT - no beauty
My equipment, not all in use                                                                                          though very comfortable long distance ride companion

My shack - today's radio generation - all digital

, all visual !

FPGA heart beating inside my ANAN 100. Not seen on the picture since it's mounted in the legroom.
Antenna: 2x 21m DZEP tuned with ​Christian Koppler by DL3LAC and controller by IP controller by OV R25.
See the photo story of the symmetric coupler here:

https://www.dropbox.com/s/g5vgtq9kaabt5f2/2016-01-08%2C%20Fotodokumentation%20Koppler%20rev%202016.pdf?dl=0

http://www.r25.de/index.php/hardware-entwicklung/christian-koppler-steuergeraet

http://www.r25.de/index.php/hardware-entwicklung/christian-koppler-steuergeraet/bilder-und-schaltbilder
Above: Operator's view
Above: DX view* info (top left), JTDX wide graph (top right), HPSDR window (bottom right), Google earth connected to DX view* (bottom left).
​*) DX view is a software module of the "DX lab suite", a freeware logging software for hams.
Above: DX keeper (bottom left), JT Alert (top left), JTDX (right)
*) DX keeper is a software module of the "DX lab suite", a comprehensive logging freeware for hams.
Above: The BLA1000, a PA for HF bands, made by RMitaly. Below the controller I am using for the major SDR functions. It' the "DJ Control Compact" made by HERCULES. It can be connected to the HPSDR easily.
Above: The Retevis RT3, a very good low budget DMR radio. Are you interested in the DMR network structure? Look at this in real time:
https://brandmeister.network/?page=networkstructure
These culture historic artifacts were found in caves just a few km from my QTH !