UTC:                                                                                                  Photo taken by W3XAF
D L 0 G E O
HQ-Station of the GEO-DX Group
DOK: L03 / Loc: JO33rh
!! 20 yrs. GEO-DX Group !!
01. July 2017 - 31. December 2017
SPECIAL DOK: GEO20
All information about the event==> http://geo-dx-group.repage.de


DL 0 GEO - the friendly Club-Station from East Frisia/Lower Saxony
The Club-Station DL0GEO is working with all fairness and HAM-Spirit.
 Frequencies for 18. September 2017 DL0GEO OP: DL2YAK / L03+Z31:
Chief-OP: DL2YAK (HSC 1955.Uwe) DOK: L03+Z31 (President GEO-DX Group)
40m/80m CW + SSB on a daily basis = DL2YAK
40m/20m BPSK31+63 / 40m and 20m CW = DL2YAK
30m/15m CW = DL1XW
DL0GEO: 20th Anniversary GEO-DX Group
INFO: QSL Information please see below !!
For DOK-Hunter: DL2YAK also OP @ DK0LR / Z31 !! Please request QSO.
Responsible: DL2YAK & DL1XW (DL2YAK: dl2yak@dl0geo.de or dl2yak@darc.de)
( DOK L03/Z31 Loc: JO33RH / QTH: Moormerland, nr Leer/East Frisia )
EPC 21647  CLUBLOG
We do confirm log-entries from the QRZ.com logbook. Please do also !! READ QSL INFOS BELOW !!
DL2YAK & DL1XW are the founding members of the
GEO-DX Group
Active OP's @ DL0GEO:
+ DL2YAK / Uwe: GEO# 002 (President)
HSC 1955.Uwe, DIG 5263, AGCW 2272, PRL 589, EPC 21648, TRC #48 Germany, CTC #3143
+ DL1XW / HaPe: GEO# 001 (President)
AGCW 2067, RRDXA Hans-Peter, IDXA #5000
+ DL4ZBB / Uwe : GEO# 012
+ SWL OE60200755 / Chris: GEO# 015  Our EAR to the world !
QSL Information
Now also OQRS via ClubLog and uploaded QSO's to DCL
Bureau (will be answered automatically) & Direct ( via DL2YAK )
QSO's with DL2YAK and DOK Z31: ONLY DIRECT (2 green stamps) !! NO IRC's !!
!!! Direct QSL: 100% return with SAE + 2 green stamps.  Insufficient postage for direct QSL requests will be returned via bureau.   !!! NO IRC's...... NO IRC's !!!
!! eQSL accepted !! eQSL user please note: if your callsign shows not "Authenticity Guaranteed" please do not send any eQSL and please do not waste your time. I will reject your request because of an unusuable QSL-card for any awards (i.e. DXCC)/diplomas (DLD) !! TNX.
NOTE: AGAIN....AGAIN....and AGAIN !!! If you use eQSL...NO PROBLEM! If your call shows NOT the required AG ( Authenticity Guaranteed ) I WILL REJECT those QSL's. PLEASE DON'T WASTE THE TIME !!!!!!! Take the time to confirm your callsign @ eqsl.cc !!                                                
Donations to the GEO-DX Group for support, equipment and QSL-cards are welcome via PayPal / dl2yak@hotmail.de
OP: DL2YAK (President) @ DL0GEO / all HF Frequencies CW / SSB and now also BPSK31/RTTY / 6m + 60m-OP
OP: DL1XW (President) @ DL0GEO / all HF Frequencies CW only !!
OP: DL4ZBB @ DL0GEO/p / all HF Freq. BPSK31/RTTY/SSB !!
Pse work DL0GEO/p on 6m from our portable location (OP: DL4ZBB) in JN49MQ
 WE WORK DOK's for DLD in CW & SSB on 40m/80m and 6m/60m !
                             + + + + + + + + + + +
Pictures from left to right in first row:
Lambic Paddle MFJ 564 + Memory Pic Keyer (own development for older RIGs)
G5RV Antenna 10-80m and also used for 6m and 60m !! Works well :)
Kenwood TS 480 SAT (new Rig)
Pictures from left to right second row:
9-Element Tonna for 2m
Kenwood TS 700G + VOX-Unit + Dressler PA (350W)
Activities & Events from the past:
DL0GEO = ZK2GEO Niue Island/South Pacific ( 1999/2001 )
DL0GEO = Special Event Station of BUGA2000 in the City of Gelsenkirchen
Old QTH: Gelsenkirchen ( NRW / NorthRhine Westfalia ) JO31mm
New Location: Moormerland-Warsingsfehn (East Frisia/Lower Saxony) JO33rh
*+*+*+*+*+*+*+*+*+*+*+*+*+*+*+*+*+*+*+*+*+*+*+*+*+*+*+*+*+*+*+*+*+*+*+*+*+*+*+*+*+*+*+*+*+*+*+*+*+*+
20 years GEO-DX-Group (1997-2017)
Special DOK: GEO20 !!  Information http://geo-dx-group.repage.de
*+*+*+*+*+*+*+*+*+*+*+*+*+*+*+*+*+*+*+*+*+*+*+*+*+*+*+*+*+*+*+*+*+*+*+*+*+*+*+*+*+*+*+*+*+*+*+*+*+*+
Please have also a look to our other favorite hobby under www.mikrokopter.de !
That's FUN, BIG TIME ! ENJOY


*+*+*+*+*+*+*+*+*+*+*+*+*+*+*+*+*+*+*+*+*+*+*+*+*+*+*+*+*+*+*+*+*+*+*+*+*+*+*+*+*+*+*+*+*+*+*+*+*+*+
Hi to everybody,
first at all many thanks for having a look here to our information of DL0GEO. On the image you can see the both Chief-Operator of DL0GEO. On the left side OM Hans-Peter ( short: HaPe, DL1XW aka DL1EMH ) and on the right side OM Uwe ( DL2YAK ). We both are the founding members of the GEO-DX-Group in July 1997.
In 1999 ( March - April ) DL0GEO was to an DXepdition to Niue Island in the South-Pacific under the Call ZK2GEO. Logs, entries and information are still available under www.DL0GEO.de.
The GEO-DX-Group is interested in DXing, Contest-Activities, helping other HAM's with QSL-information and active to maintain protected nature areas and of course HAM-Spirit !! Everybody can join the group, of course for free. Just request to be a member and you will get your Member-Number. Requests to: dl2yak@dl0geo.de
JOIN THE GROUP. It's FUN !! ....and for free!
73's and all the time good DX
DL2YAK /Uwe (GEO-DX #002 ) & DL1XW /HaPe (GEO-DX #001)
Presidents of the GEO-DX-Group
( other members: i.e.: HC5EG, W3XAF, UA4SKW, ZL2PJ, ZL2JJ, DL4ZBB.... etc.. )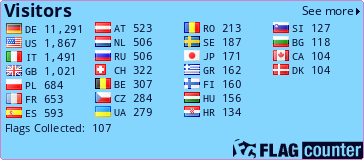 Large Visitor Globe