Hi guys ! bonjour !
I'm located 300 kms south from Paris, in middle part of France, French département number 63, Puy de Dôme, Auvergne.
I'm QRV QSL via bureau, direct, and LoTW.
 QSL MANAGER  J28UC J28NC FT5ZG    ( see infos  end of page) 
73's and enjoy !
My QSL:

F5RQQ-9
You can contact me on D-STAR when i'm "mobile station"  ( F5RQQ-9 )
 Reflector :  REF 001 C or DCS 033 N
tracking : APRS-FI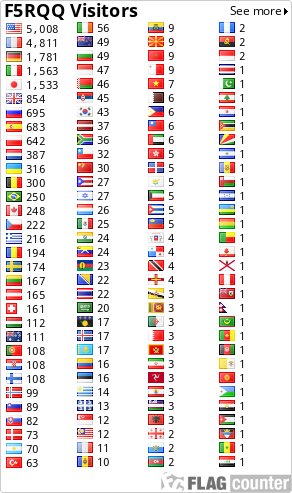 My CW Teacher station:
Nice ! F5IRO Freddy ham radio site, read that ! lot's of infos!  :
F8CRS David, another clipperton and F5KIN member:
My others ham activity:
.
QSL MANAGER INFOS J28UC J28NC FT5ZG
J28UC STOP HAM RADIO ACTIVITY SINCE 17/07/2013
J28NC STOP HAM RADIO ACTIVITY SINCE 27/06/2015
I'm QSL MANAGER of :J28UC  
and J28NC  
and FT5ZG
FT5ZG,J28UC and J28NC: via french bureau or direct with one IRC or 3$ +SAE or ETSA for french HAM
to :
F5RQQ
Jean-Marc VIGIER
4 impasse des lys
63800 Cournon d'Auvergne FRANCE
If you have any questions contact me :
73's !