QSL MANAGER FOR F4GTD AND TM2M.....NO BURO .....ONLY DIRECT ....!!!


pse visit at : f8ats.jimdo.com/
    

 

Hello guys, in few more than ten days Toni EA5RM and his group of operators will be leaving home on the way to Madrid.
If everything goes well, he expect to be on the air from Niamey on March 9th around 11 UTC.
    I am going to send to him a daily report of all intersting requests.
Toni expect to update online log three times by day.
All interesting information will be written here day after day.
Be attentive to the answers, sometimes it will not be made of individual response but made to target a group or a country or a continent ... avoid repeating yourself!
 

73 Tony

             
http://www.dxfriends.com/5u5r/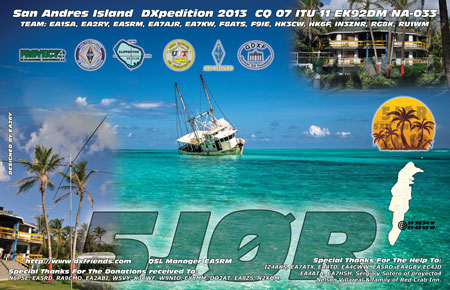 ********IMPORTANT****** IMPORTANT********IMPORTANT**********IMPORTANT********
Alls QSL must be sent via "REF" buro...via le  DPT - 78-  !!!
Dont forget to write after my call VIA "REF" BURO (the NATIONAL BURO).....IF NOT , CARDS ARE LOST.....
hi dear friends ,this is my simple qrz.com page but you can visit my personal web site at http://f8ats.jimdo.com/
--------------------------*****-------SKYPE VIDEO : f8ats.tony--------*******------------------------------------------------
******IMPORTANT******IMPORTANT********IMPORTANT**********IMPORTANT*************
MY OLD WEB SITE AT F8ATS.FREE.FR IS NO LONGER UPDATED....!!!
I m Tony radio-op since 1996 . i love radio transmmissions cw/ssb and Digital modes.
i m qrv on 160m , 80m , 40m with more dipoles in inverted vee.
i work with a fbdx506 , so a 3 elements for 10,15 and 20 meters with an additional kit of 2 elements for the 3 warc bands.
QRV also HF-50/144/432mhz - with Yaesu ft 100 D 100w/50w/20w for my mobil activitys
you see more pictures and moovies about vhf/uhf qso in my web site.....
Also i have a  YAESU FTDX 5000 and a Kenwood TS 480 SAT - 200 Watts for 50 MHZ with a 5 EL Tonna ABT 16 M UP
Started on 6M since -21 july 2013....
CUAGN ON THE MAGIC BAND
a cup of years ago , you listen to me with others callsigns...EA-CT-ON-LX-DL-HB9-M-3A-6W
Of course i had the possibility to transmited with "FBC8ATS" (1998) "CT1HTU"(since 2000)...
i was op by TM5S(EU-068) - TM5Y(EU-064) - F6KOP/P(EU-074) - M/F8ATS/P (EU-011)....TM1A(HF) - TM2A (THF)- TM9A(VHF-IARU) - TM200T - TM35KOP - TM35CDXC
TM29UFT - TM70UTAH - TM30UFT - TM90WARD - TM150ITU - TM90REF- TM16EFC-TM16EURO (Europeen Football Cup 2016)
PJ4C(SA-006) - 5J0R(NA-033) - 3G0ZC(SA-005) - 3W3MD + 3W3MD/P (AS-162)
and also OP of TM2M Contst station ....see you in our pile up!
******************************ATTENTION*******************************************
I i'm also qsl manager for activitys in 3A/CT/EA/HB9/ON/LX/DL/M/6W/CE3... and others mobile and castles activitys ,
i m really ok via the french REF buro via french departement 78 and not 91 or an other !!
If qso with me when i was in Portugal pse qsl via buro to my home call F8ATS  French REF Buro only
for all qsl request via buro,i send via the same way.
only via my home call if you need direct !!!
if not send qsl via "REF" buro
73 from tony F8ATS
ALSO MEMBER ABOUT F6KRK - NRA#068 - EPC#15981 - DMC#4528 - 30MDG#5121 - UFT#1289 - AGCW#3764 - TRC#031
NRA PN # 068    MDXC # 290  AGCW #3764   GPCW# 019    TRC # 031
UFT # 1289