TM900HAG ( nov-dec 2015) : SES to commemorate the 900th years of the city of HAGUENAU(dept 67).
Operators F5LGF christian and F8CRS david.
TM900HAG QSL's: OQRS ClubLog Bureau/Direct or Bureau (REF)/Direct 2$  and Lotw.
 NO  MORE QSL CARDS FOR TM900HAG
 http://www.gites-de-france.com/location-vacances-Pelvoux-Gite-05G9652.html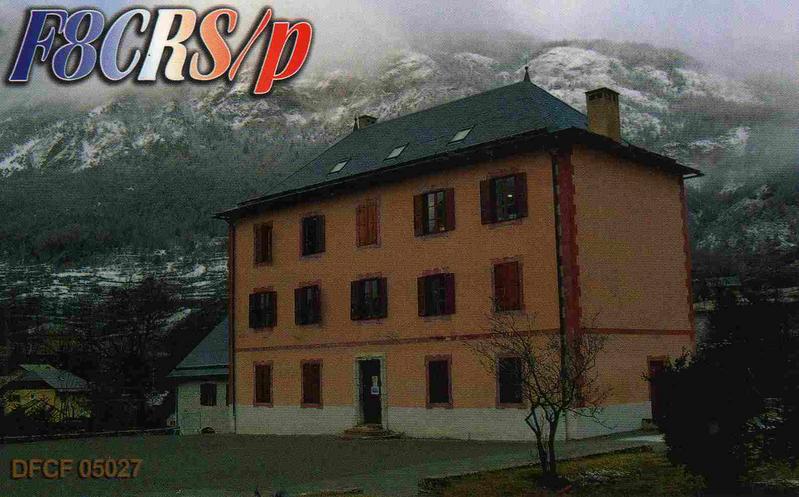 F8CRS/P - DFCF05027  
Nov 2014 OQRS CLUBLOG
Aug 2008 IOTA NA-102
With F5IRO IOTA SA-020 (FY)
Aug 2008 IOTA NA-114
Sept 2009 IOTA AF-016
Club station of the 28th signal corps
60th anniversary of the establishment  of the Signal corps (Via F5KIN)
F5KIN contest call
FT5GA IOTA AF-011
SES QSL via F5KBB
TM70TRS (REF CW 2012)
70th anniversary of the establishment of the Signal corp (12-14 July 2012) via F5KBB
TP8CE (27-28 july 2012) QSL Via F5LGF
 QSL via F5IRO
Operator at:
F5KIN 2000 to 2007 - TM5OLA/MM-- TM1Y--TM4Q--TO8S--TO7R-- TM9CDX-- TM44RT- -TM70TRS (REF CW 2012)- FT5GA- TM70TE - TP8CE--TP2CE (WPX CW 2013 with F5PAC,F6FQK,DF9TS,DL3HAH,DL1HBT) -- TM28BG -- TM900HAG -- TM50GR
Visited countries:
3A-5B-5U-6W-9A-DL-EA-EA6-FG-FH-FJ-FM-FO-FR-FS-FY-FT5G-G-GW-HB0-HB9-HI3-I-LX-PA-PJ7-OD5-OE-OK-ON-SV5-SV9-T9-TA4-TK-TL-TZ-VP2E-W8-YU8-Z3-ZC4-PY.
script tags are not allowed.
script tags are not allow