An eQSL.cc AG Station                                                                     WSPR around 14.097123 using club call M0VRC
        Save a Tree    
                                                     GEORGE Zero GUIDE DOG ASSOCIATION
Raising awareness of the Guide Dog Association and the excellent work thay do - Every hour in the U.K. someone goes blind 
Operator of Special Callsign G6XX on behalf of the RSGB in the monthly 80m contests using SSB and Data

                                         
    and thanks for stopping by
Decided work didn't agree with me so I retired around twelve years ago -- well you're only here once - and in May 2008 left Lancashire to move south to Kent - the county lies SE of London and covers an area of over 1400 sq miles or 2255 sq Klms with a coast line of over 350 miles or 565 klms. This is where the ancient Cantiaci  (Iron Age Celtic people) used to live pre Roman times. Durovernum Cantiacorum was their capital - now known as Canterbury. Kent is known as the garden of england and where Oast houses are found.. These buildings were used for drying hops prior to making beer ( it takes 1 hop to make 1 pint of beer ) but as the drying process has been changed now they have become redundant with nearly all being turned into private homes ( Example Pictures At the end - unfortunately none is my home as I didn't have enough gold doubloons - starting prices are about 700k GBP ). I bought a run down cottage ( similar to the houses on T.V. programmes ) and spent 2 1/2 years renovating & extending it. The QTH is on the top of a small rise around 67m asl, approx 8klms from the North Sea and 40 miles 65Klms south east of London
The cottage has 16 Solar Panels generating 4kw of power which makes us self sufficient in electricity during daylight hours and exports the excess to the national grid - it helps with the bills and pleases the tree huggers. Therefore the rig is being powered by the sun during the day - VERY ECO The Solar Panels face South East - 127 deg. ....Not the best orientation but can't be changed as the cottage is kind of grounded. There is a big increase in generating power when in sunshine which is great as we had to pay for the installation first. We receive 50 pence per Kw ( half a GBP ) generated plus the use of the electricity while it is being produced - so a little free power. It's estimated that the system pays for it's self over approx 7- 8 years then it's into profit . The payment is index linked and guaranteed for 25 years Yeh !
I live in a village where some houses were built as early as the 16th century so unfortunatly an aerial array wouldn't go down too well. We don't have any shops, pubs or even street lighting - If we go out walking at night we have to take a torch ( spooky ). We do however have an architect designed village hall, a phone box and a 13th century church made from flint.
I was off air due to work commitments and other things between 1996 and October 2010  coming back on the bands when the cottage was finished  - quite a break.
   Rsgb 21/28 Mhz Whitworth Trophy winning radio, single operator restricted 100w with a Windom dipole & Heil 781 mic      Now known as the Rsgb DX Contest
In my very green station I use the Yaesu(y) FTdx 3k - amazing rig - picked it up in Nov 2012 on the way to the Kempton Rally - and I believe it's the first one in captivity in the U.K. I chose it because it uses the receiver and filters of the 5000 at a more affordable price A couple of operators on Eham have complained about the small panadapter but with not a lot of space on the panel there is a physical limitation but since software upgrades It is fine. Personally I don't use it anyway as one spends more time chasing signals than operating. I use a Heil PR-781 mic and the rig is connect via a Palstar AT-500 ATU to the aerial - I only use the 100w pep ( 99.99w recurring ) . The antenna is a home made full size Windom Antenna - I miss my Cushcraft A3 tribander since moving but this bit of wire is doing me proud. --- Leaves a G5RV for DEAD - well it would. 
Data is run through an A-B cable from the laptop using the rigs built in interface.
I am informed the Carolina Windom was 1st designed and made in Elizabeth City N/Carolina. There are many versions of the Brilliant Windom Antenna and this is the one I chose. - - to the antenna aficionardos the following is probably up a gum tree .. but I can assure you it works exceptionally well on all bands - not just a couple --- Westflex 103 coax feeder to the base of a tree into a 1:1 balun - home made with FT 240-61 ferite ring - to make it work on 80m & 160 - then 22ft (6170mm ) measured coax up the tree to a 4:1 current balun purchased from The USA connected to an off set wire of 44' ft (13411 mm ) and a 88' ft (27127mm ) legs. One end is held up by another tree at the bottom of the garden and the longer leg by the cottage chimney - the highest point is about 24' ( 8m ). Just before the wires attach to the top balun they go through their own egg insulator which is attached to the tree each side so as to take the weight of the wires. The wire used is .25 plastic coated multistrand ( bought from a rally ) and the coax feeder needs to be about 80ft ( 24800 mm ) The aerial works on all bands except 6m including warc with only a little adjustment of the external atu - the aerial lies in a north east and south west direction decided by the garden layout.  6m is with a home made pa3hcm square halo at 3m.
2M is a Yaesu FT991 for FM through a Diamond X200 on the chimney - and both 2m and 70cms ssb through a dual band beam - works quite well with the open views to the east, north and west ( I can see accross to South End pier in Essex from the bedroom window ) The rig also doubles as a 40m portable station running off a car battery from a scrap yard, the aerial is - coax into a connector block of a straight cut centre fed dipole - 32'8"ft each leg ( 9996.8mm ) in an inverted V configeration held up in the centre by a fishing pole and tied off via egg insulators to what ever is available. Also I use the TW2010L Vertical Dipole see g0gda/p
I am one of the founding members of VARC - Virtual Amateur Radio Club  M0VRC
formed for DXpeditions and other operations. One of the 3 members of the dxpedition to Lundy Island May '16 as MX0VRC  & Ynys Gybi May '17 as MC0VRC. I am also a member of  MARTS - Medway Amateur Receiving and Transmitting Society G5MW.  I enjoy DX hunting, over 200 dxcc now - the most satisfying so far being South Cook, Tristan da Cunha, Ascension  & Hawai Islands - which ain't bad using a mic with a dipole. I like SSB competitions, data dx - PSK31, HELL, ROS & RTTY - unfortunatly my favourite mode AMTOR is no-longer heard on the bands and is Sadly missed,  I have also been known to partake in local rag chewing in the evening on 40m when the station manager is watching soaps. I gave Morse up as a bad job - much to the relief of the CW lads - its a bit dated now anyway  - techknowledgey has moved on.
I do some volunteer driving taking people on hospital or doctor appointments. I also like table tennis, sea fishing, photography, cycling and playing my electric USA Fender bass guitar > badly
                                                                    73's
                                                                      Nigel
                                                 George Zero Good DX-ing Amateur
  Remember - Do not attempt to adjust the illusion - If you're not living on the edge you are taking up too much room
                          All Contacts Uploaded to the Logbooks of  eQSL  QRZ  Clublog and QRZCQ
Windom Antenna disappearing into the middle tree from the cottage chimney - it then carries on to another tree in the bottom of the garden. Cracking Signal Gromit
                                      Same shot - but should be on a christmas card
6m is a home made pa3hcm square halo made of 15mm copper pipe and mounted on 3m of 40mm waste pipe - best dx so far 1676 klm into Serbia
            2m/70cms beam on a Yaesu G-650 rotator hidden in a tree supported by a tilt over scaffolding pole all painted brown
                                                         PORTABLE OPERATIONS SEE G0GDA/P on QRZ
Portable station FT857 running off car battery- 40m Home Brew antenna tied to post - Height about 7m - Location Bluebell Hill Between Aylesford Maidstone and Walderslade Approx 200m ASL  JO 01 GH  Wab TQ 76
I also try a bit of SOTA Portable from Thurnham Castle Ruins G/SE - 013   JO 01 HH   WAB TQ 85 about 180m ASL at Detling Hill near Maidstone Kent using my Home Modified Trans World Antenna TW 2010L making it run on 40m.
5Mhz is a new and interesting band for me and I use the Windom dipole which works fine. I find 60m is a bit quiet at the moment but with other countries amateurs being given permission to transmit on this band things are looking up.
                                          Below some local properties around the area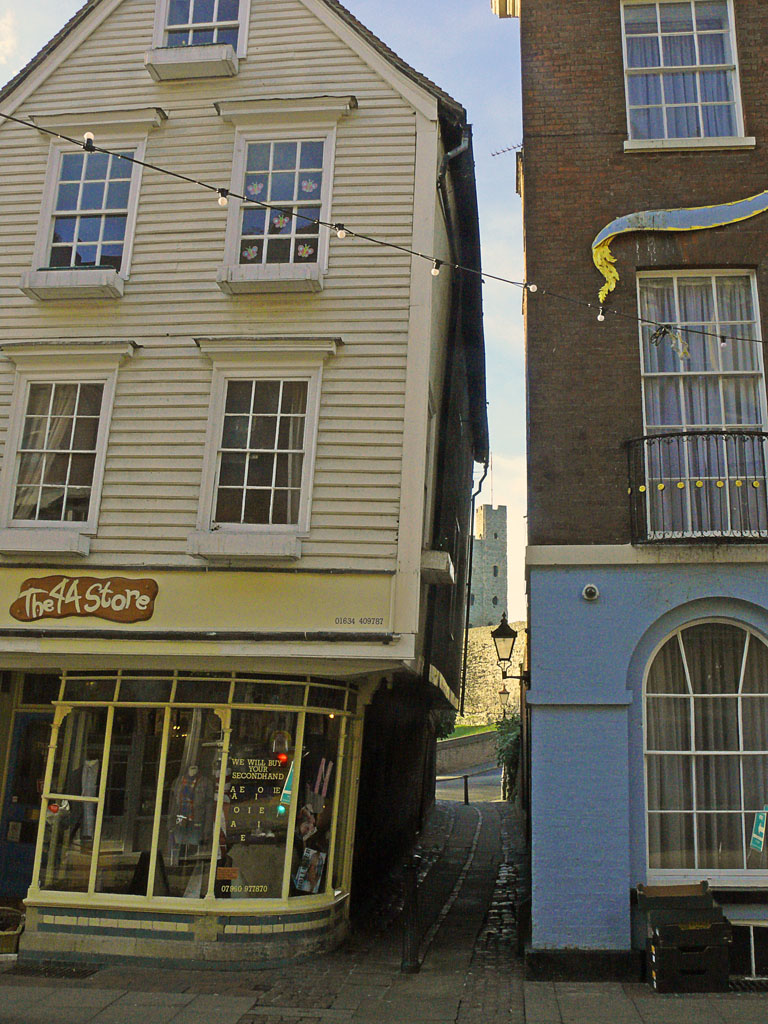 Many old properties in Kent - this is one on Rochester high street > Yes it is right hand down a bit - Part of Rochester Castle in the background. This is the writer Charles Dickens territory.
                                Crooked cottage in Wingham . a Kent heritage property
                                 Another heritage property in Charing
                              HIC ... Where is my spirit level - another Charing property
                                 Not a joke - below is a genuine shop door in Canterbury, Kent
                                   Below are two examples of Oast Houses

           Using a home made 5 ele Lfa beam
                                     Worked all Britain -  Book No. 20875 - Wab Sq TQ85
VISITORS since May 2011
                                        http://www.youtube.com/watch?v=wFl3_wrjdIQ
RSGB 21/28 SSB 12 hour contest October 2014 winner of the Whitworth Trophy in the restricted ssb only section
| | | | | | | | | | | | | | | | |
| --- | --- | --- | --- | --- | --- | --- | --- | --- | --- | --- | --- | --- | --- | --- | --- |
|  2 | G0GDA | SINGLE-OP SSB | 0 | 0 | 160 | 55 | 0 | 0 | 51 | 28 | 52,539 | 100 |   |   | G0GDA |
THE VERY BEST WISHES -YOU ARE ONLY HERE ONCE - THERE IS NO PRESENT LIKE THE TIME - SEE ON THE BAND - I AM NOT USUALLY VERY LOUD BUT I WILL WORK EVERYONE I CAN EITHER FROM HOME OR G0GDA/P  - HAVE FUN - TU - DIT DIT  73's
                                               Please pop me in your QRZ Logbook - Cheers
                                                YOU WILL OBEY because 5 out of 3 people think I'm crazy
                              

--... ...--

            
                            

RIP Malcolm Young  AC/DC