QSL MANAGER IS: W3HNK :
JOSEPH L ARCURE, JR W3HNK
PO BOX 68
Dallastown, PA 17313
USA
Hello and thank you for looking me up.
Welcome to my QRZ page at 8200' high. (2499m)
I'm new to Ecuador and building my shack and antenna farm every day and having a blast doing it.
Brought my XYL and furry friends down ( my family) and loving every day.
I love to make wire antennas, perfecting my shack layout. Love Dxing and the Rag-chewing. Hope to make a QSO with you soon!
Other items of interest:
 Gardening ( giving my hand at this different soil and no seasons) Baking and cooking at high Altitude and exploring this wonderful country that is the size of Nevada. 
My shack:
ICOM 7851 (main Rig)
AT-AUTO TUNER by Palstar
Alpha 8100 Amp
ICOM PROIII
ICOM 706MKIIg
Ten-Tec Centurion Amp
Antennas:
Glen Martin 60' tilt over tower with Hazer unit
Force 12 Magnum 240N two element 40 m Yagi
Force 12 C-3E Tribander
 260' long wire, end fed 
580' Beverage Antenna pointed north for Rag Chewing my old friends back in the states
DxEngineering Four Square Receiving Array (soon to be installed)
Every day is a day in Paradise.
 HC5DX follows the DX Code of Conduct
If everyone did, Ham radio would be near perfect!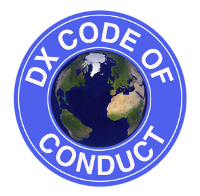 Looking forward to making a QSO with you soon.
Thx
73
One foggy morning with Force 12, Magnum 240N 40 meter, two element yagi. Had it down to adjust the VSWR.
My 16 year old Calypso.. Loves hanging with me to supervise any tower/antenna project.
Raising the 60' Glen Martin tower with Hazer. I'm securing the SS bolts and nuts to the tower base.
Looking down on the Yagi/tower from my shack. You can see the Force 12 C-3E in the background getting ready to hang.
Nothing like a double rainbow to make you smile!
David's Buttermilk biscuits at high altitude!
My first attempt at Challah with rasins!
Challah finished braided
The finished product. Two kinds of rasins. White and reg.
Morning sunshine
Another beautiful day in Ecuador!
My veiw out of the second story Shack.. not bad...
Morning clouds over a 14,000 foot high mountian.
A very cool Sunset in Ecuador.
Both Yagis up and you can see the invert "L"
Yagis up and a rainbow!
Thx
73
David
Great coffee in Ecuador, so stay awake and work some DX!