Hi to all,
My name is Juan, John, for DXing. I was born on marzo 08 1962.
I started in radio world in early 1978 (San Francisco de Macoris), in Citizen Band, as many hams in Dominican Republic.
 I was retired from amateur radio from 1984 to 2005, New reencontrandome in 2005.
 Since 2005  I have been participating in various local radio clubs contest difrentes obtaining awards in the categories of 2 meters and HF., In 2013 I've dabbled in international competitions obtaining in some awards.
First licenced :  in 2005 HI8NGJ novice., Technician licence on december 2006 as HI8JSG in  Santo Domingo, capital city in Dominican Republic.
I´m a proud member of Dominican Radio Club,Inc
www.radioclubdominicano.com
Normally I work on phone and digital modes.
I appreciate very much your QSL card, SWL report are very welcome too.
All QSL received will be returned 100% via direct, eQSL, LotW; and now on, I´m starting use the bureau to reply QSL coming in this way.
If you make contact with me and don't get my card, please send me an email to let me know
My log book is online in  Qrz.com and HRD Lognet and Clublog, so you can take a look and see if you are on it.
My  ESTATION :  working conditions
Rigs are:
STATION HF. y 50 Mhz.
Yaesu FT-920
YAESU DC POWER Supply Model FP-1023
MACHING NETWOR MN-2000, DRAKE CO.
Laptop : DELL XPS M1210
TOKIO HY-POWER, HL-450B (hf power ampliifier)
IOTA Engenering. Power Supply DLS-
KENWOOD TS-680S  (Station Digital Mode HF and JT65)
KENWOOD PS-430
KENWOOD AUTOMATICT ANTENA TUNER AT-250
KENWOOD SP 430
ROTOR CD45 By hygain
TOWER 50 FT. RHONTOWER RHON 45G.
ANTENNA HF
SOMMER ANTENA XP708 Series Beam,6-10-12-15-17-20-40 Band
5 ELEMENT. HOME MADE, SIX METERS BAND
DIPOLE B & W BW90, 1.8mhz -50mhz
DIPOLE ROTATIVE CUSHHCRAFT D-3W, 10-15-20
ANTENNA SIRIO 827, 28 mhz
STATION VHF 2M.
ICOM IC-271-A
MIRAGE B215 G
ICOM IC-208H
ICOM V8000
ICOM IC 2100 ( Station Digital Mode VHF)
ANTENA VHF 
STAKING 22 ELEMET (Home Made)
GP-9 DUAL BAND
STATION 220 MHZ 1.25 cm
KENWOOD TM 631A
MIRAGE C3012
ANTENA 1.25 CM
A224WB CUSHCRAFT
G7 220 MHZ
STATION EMERGENCY 
YAESU FT-897D
Laptop IBM T-42
DIOLOLE YAESU YA30
STATION MOBILE
ICOM IC-706 MKIIG
KENWOOD DM 710A
Micro Trat RTG APRS
ANTENNA HUSTLER ALL BAND
www.hrdlog.net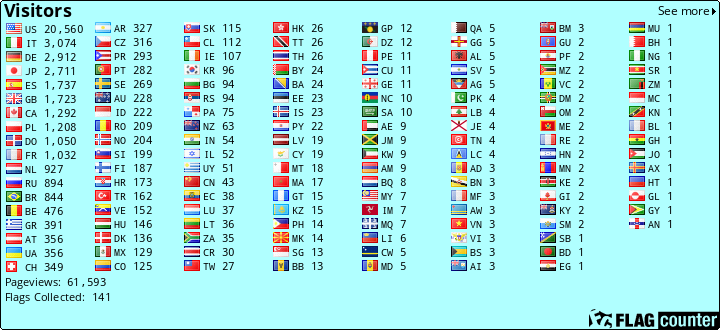 Since april 25, 2012.