Member of: FOC # 1999 - CWops # 1314 - A1 Op. Club - RNARS # 4903 - H.S.C. # 1888 - V.H.S.C. # 403 - S.H.S.C. # 175 - E.H.S.C. # 104 - FISTS # 14539 - Side Swiper Net - AGCW # 3560 - SKCC # 4331 - G-QRP # 12095 (Italy Representative) - Mountain QRP Club # 077 - 9A QRP  #  128 - Essex CW Club # 013 - RADIO CLUB 72 # 43 - QRP-ARCI # 15047 (Board Of Directors) - FLYING PIG # 2391 - CTC # 2532 - CRA Collins Radio Association # 1744 - CCA Collins Collectors Association (USA) - CCAE European Collins Collectors Association # 156 - ARRL member - ARRL VEC - ARRL Registered Licensing Instructor - RSGB member.
Former member of: INORC, A.R.M.I., I-QRP Club, ARI, ARS, MF-RUNDE.
*** 30 years of Ham Radio  1987 - 2017 ***
Personal web site: www.ik0ixi.it        
---
Questa pagina è in Inglese. Se vuoi avere informazioni in Italiano vai sul mio sito.
---
CW
Hi. I learned Morse code in 1980 at 12 years old. Then in 1981 I started on short waves listening broadcasting stations using an old home radio made by Grundig. In 1983 I got my first license as SWL I0-1366/RM, and my first receiver for 80m CW was a BC-652. Licensed as IK0IXI (with Morse code exams) in 1987 when I was 17 years old only. I'm an avid CW operator still today...
Since 80es I've made many more friends all over the world. In 2012 I joined the FOC - First Class CW Operators Club, the most prestigious CW Club in the world and the best achievement of my whole ham radio career.
I'm also life member of CWops Club, a very important CW association "born in the USA".
Member of FISTS, A1 Operator and many other Clubs. Each Club I belong is like a family, a group of people who share knowledge, love for radio, CW skill and friendship. What else?
Currently I am active on all HF bands mainly in CW, mostly "Ragchewing".
"Accuracy trascends speed, Courtesy At All Times"... (FISTS motto) so my cw speed usually is 25 W.P.M., more "on demand".
---
IK0IXI's thoughts
From I.T.U. Definition1.56 Amateur service :-

A radiocommunication service for the purpose of self-training, intercommunication and technical investigations

carried out by amateurs, that is, by duly authorized persons interested in radio technique solely with a personal aim and without pecuniary interest.
There is no need of Codes of conduct: - bully, selfish, ignorant do not read or understand it.

Read your license conditions, ask to understand it and obey it

. A Latin proverb says: QUI ROGAT NON ERRAT (One who asks does not err, and this also on the air).

The hobby means different thing to different peoples

. Everybody makes mistakes, and it is never completely known what there is on the others side. For many invalids and disabled, it may be the only activity, giving them few happy minutes, or relief from long suffering, exercise restraint.

Contests, seeking QSL cards and awards, Special events stations, Expeditions stations, or any special activity on the bands

, are not a by-law of any entity or the I.T.U., and

has no priority over any other simple basic contacts

. With respect to these, not all amateurs are using, or has available, a PC connected to the internet information, at any given moment. It will be a good, on the air, conduct, to supply basic information, at short intervals.

Never call a station resident in your continent while calling CQ DX

. For sure that station is looking for long distance contacts and you are so close to him that you can work him in other moments, everyday...

So let him alone!

When DX propagation will end, that station will be available for you.
Listen Listen Listen before calling. If don't understand CW and/or English, then learn them! Leave PC alone! Man made Morse code make you stronger, PC make you very stupid and "LID - 99 - IDIOT" collector...
QRP respect: As you know, there are some frequencies "reserved" to QRP; I am a QRPer so I am so happy for this. BUT you cannot force anyone to leave a QRP frequency (as any other) if it is already busy for QSO when you tune in. Band Plans and QRP Frequency are a question of "fair play", not law. You can only ask to leave frequency to QRP when QSO is over, never force to QRT an OM.
Correct answering: when you operate in CW and want to answer to a not-DX station calling CQ (like me), please

DO NOT SEND just your callsign

(MYCALL) but BE SURE to use the correct CW procedure " HISCALL DE MYCALL PSE K". I don't reply to any "short form answer".
When you are listening on a clean frequency and you hear someone asking "QRL?"

please don't send "NO" or other idiot signs (ex. ? or QRZ?)

....Please remain stand by and wait the following CQ.
---
DX
Although I never been a DX chaser, I got 305 DXCC entities confirmed in CW. Never asked for award endorsement, I don't like the "Baseball Cards" collecting" (HI!)...DX hunting is a popular trendy among hams, but I like to work DX occasionally, not a main occupation as most hams does. In 1926 a 15 years old boy wrote:
"The real thrill in amateur work comes not from talking to stations in distant lands (DX), although these are things to stir your imagination, but from knowing that by careful and painstaking work and by diligent and systematic study you have been able to accomplish some feat, or establish some fact that is a new step toward more perfect communication."
The young boy was Arthur A. Collins - 9CXX (later W0CXX), founder of the famous Collins Radio Company and I agree with this concept 100%.
I hold the following DX awards (CW): WAC - WAAC - WACA - WAS - WAZ - DXCC - QRP DXCC - 2XQRP WAC.
At end of '80es - early '90es I was very active on VHF (144 MHz) SSB and CW, working 32 DXCC via Sporadic E, Tropo and MS. For three years I was QRV via EME (Earth-Moon-Earth) working 12 DXCC countries on 2m. In 2007 I resumed my VHF rig to homebuilt one of the first italian stations on 4m (70 MHz), again working Sporadic E and MS. I hold the Italy - Guernsey (GU) New One on 4m.
---
QRQ
I like normal speed in CW, according to operator's skill. But if you like more speed, just ask "QRQ" to me, I will be happy to increase my speed as you prefer. I am a proudly WK3 user, the ultimate Morse keyer. 
---
VINTAGE HAM RADIO GEAR RESTORATION and COLLECTION
I like to own, repair and use commercial and amateur radio equipment made by Collins, Hallicrafters and Drake Co. .
For those who like Collins stuff, 7,165 kHz every Saturday Morning at 11:00am (Paris Time) is the Net frequency of the C.C.A.E. Collins Collectors Association of Europe
---
AM Phone (Amplitude Modulation)
Strictly connected with old ham radio gear restoration, there is a lot of AM phone activity all around the World.
In Italy, Military & Vintage users are used to meet on a couple of frequencies where some OMs still talks in AM mode about tubes, radio restoration, homebrewing, RF measurements, instruments.
My great passion is CW but sometimes you'll find me involved in AM roundtables around 7,195 kHz or 3,610 kHz. I like to meet other radio technicians on air, talking about old tube radios, their restoration and repairs. Most of them aren't CWers, so AM phone is the only way to keep in touch with them. Ham radio means learning...first.
I own an homemade Exciter plus PA - about 60W out in AM, while I like to receive with old tube receivers as the famous Collins 75A-4, 75A-2, 75S-3, KWM-2A or other "Old Glories", as Hallicrafters, Geloso or Surplus stuff. All repaired and restored by me. I am also owner of a nice couple of old Collins 32V-2 and a Johnson Ranger I transmitters, both overhauled and ready to use.
I am also member of CCAE - Collins Collectors Association of Europe, so you'll find me every Saturday morning on 7,165 kHz LSB at 11:00am (Paris time) on CCAE Net. My Collins SSB radios are KWM-2A transceiver, 75S-3 and 75A-4 receivers.
---
QRP
I am a homebrewer too and I like to built little transceivers for low power communications (QRP and QRPp). I love 2XQRP contact (both stations operating with less of 5 W). Please visit my homepage to know more. I am the G-QRP Club Representative for Italy and I took part to the 2014 G-QRP Convention in Rishworth, England. In 2014 we had the 40th Club Anniversary and 25th Convention Anniversary! A very good reason to meet my UK friends !!
Rev. George Dobbs G3RJV greets me with open arms to the 2014 G-QRP Convention - Rishworth School, Ripponden, UK (Oct. 25th , 2014).
Fabio IK0IXI, Rev. George Dobbs G3RJV (G-QRP Founder) and Graham Firth G3MFJ (Club Treasurer) - G-QRP stand at Rishworth School, Ripponden, UK (Oct. 25th , 2014).
---
Since October 2015 I am QRP-ARCI Board Of Directors member.
---
Member of the exclusive Russian QRP Club RADIO CLUB 72.
---
HOMEBREWING
I like to built my QRP equipment. I think that homebrewing is the "core business" of amateur radio activity.
"Learning by Doing ".
---
RF MEASUREMENTS
I worked as technician in workshops and naval electronics. In 1998 - 2001 I have took part to several Hewlett-Packard seminars in Rome about spectrum analysis and RF Power measurements. I own a cheap but interesting RF test & measurements setup today, but I use this equipment to align old radios and homebrewing, not for job.
---
US License
Since September 27, 2008 I am U.S. Amateur Radio Operator (Extra Class). My US callsign is K0IXI. I am also a VE (Volunteer Examiner) and Registered Licensing Instructor.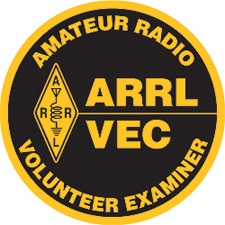 ---
---
MORSE KEY COLLECTION
I own a little MORSE KEY COLLECTION, please take a look.....
---
OUTDOOR RADIO OPERATIONS
I like summer portable HF&VHF/UHF operations from Campings and other interesting locations (Lakes, Sea shore, Mountains):
My female dog, MIMI !
---
THAT'S ALL FOLKS !!
Thanks for visit and I hope to meet you on air soon.
Usually you'll find me on 3565, 7025, 14025 kHz or QRP frequencies + or - QRN - QRL.
Very 161 (73+88) and GREETINGS FROM ITALY !